Roost.com, a real estate search site that features multiple listing service-based property listings information shared through partner brokers, has redesigned its Web site to feature synchronized displays of property maps, photos and basic listing data in the same screen view.
The site features millions of for-sale property listings from a variety of sources — most of which come from broker-to-broker data-sharing agreements in dozens of major metro areas across the country.
Roost also features information secured from other providers on new homes, foreclosure-related homes and for-sale-by-owner homes — in complying with MLS rules, Roost does not mix MLS-based data with displays of non-MLS data in search results.
On Friday evening the site reported an inventory of about 3.69 million property listings. First American CoreLogic provides Roost with data on foreclosure properties.
Alex Chang, Roost CEO, noted that the site redesign is the culmination of a year's worth of beta testing. "It's not going to feel like a search engine — it's more like an application," Chang said on Friday.
"We're doing a better job of integrating stuff like mapping and photos and listings."
The screen view automatically resizes to fit the user's window size, so that the window always features the same three elements: a text-based display of listings information; property photos; and an interactive map that displays the property's location. The site is designed to eliminate scrolling.
Clicking on a single property using any of those tools will result in a simultaneous display of that property in the three screen segments.
The design is also customizable for users that prefer a larger map view and those who prefer a larger view of the text-based listings information, Chang noted.
"The key is two dynamics: Some people are all about the map. Others say, "'I like the listings.' We're trying to balance the needs (of consumers) … and do a better job of that than what we think exists on the Web today."
While the site's revenue model has been focused on a cost-per-click model in delivering traffic to real estate companies, Chang said the new model will include some cost-per-click but will be more about cost-per-acquisition and cost-per-lead. As an example, Roost will charge when it delivers a request for a house tour to a company.
And brokers have an opportunity to brand search-results screens with their logo for searches in their operating areas.
In December, Roost announced that it had secured $8 million in an investment from Shasta Ventures, brining its investment total to $13.5 million (see story).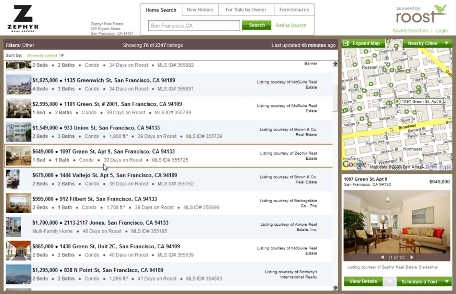 ***
What's your opinion? Leave your comments below or send a letter to the editor.