Vicki Cox Golder went into real estate, she says, for the same reason that many others cite: It seemed like a good place to make a lot of money.
But she had a lot more motivation than many other aspiring real estate agents. By the time she was 20, both of her parents had died and she faced the prospect of raising her three sisters, ages 9, 11, and 13, herself.
Today, she regards her unusual and occasionally rocky road through the parenting of her sisters and two now-grown sons as a success.
"Basically being a teenager myself, it was a challenge, but a challenge I would do all over again," says Golder.
And inarguably, real estate also ended up working out for her — she has long owned her own brokerage and now serves as the 2010 president of the National Association of Realtors.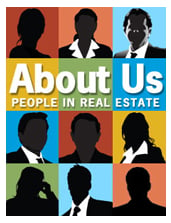 But in the beginning, there was a steep learning curve.
"I jumped into real estate at the wrong time," Golder, 59, recalls. "It was the early '70s. We were in a recession, though we didn't know it. I was so young I didn't even know what 'recession' meant."
Soaring interest rates were rapidly putting homes out of reach for many buyers, she recalls. Nonetheless, in her first four months at a Tucson, Ariz., brokerage, she managed to pull off five transactions.
"I hustled," she says. "I worked hard."
Prospects for making a living selling homes weren't terribly promising at the time, and she decided to take a mentor's advice and make the leap to handling land transactions, even though at the time the specialty — particularly syndication deals, in which she put together groups of investors — was a rather unusual one.
"There were a few people syndicating (land)," Golder recalls. "I was only 23 or 24 years old, putting together these complicated land transactions that are basically securities."
A few years into the business, land-syndication regulations tightened, and Golder said she needed to acquire a securities license. She also became a broker and at 25 formed her own company, Vicki L. Cox & Associates, specializing in land.
It was an eventful period in her non-business life, too. Wed very young to a serviceman, the marriage fell apart quickly under the stress and responsibility of raising her sisters. But soon after she went into real estate, she met a developer, Lloyd Golder, while negotiating a land deal. The deal never happened, but the two eventually married.
They settled on an 18,000-acre cattle ranch outside Tucson, about 9,000 acres of which the Golders have turned into residential and commercial developments over the years.
While commercial and other services have grown up in the vicinity over the years, the ranch remains remote.
"When I first lived out here, I would have to go 25 miles and … take a cooler to bring ice cream or meat home," she recalls. And she sometimes packs a gun when walking on the property because rattlesnakes are her neighbors.
Maintaining the ranch, the family and the business have always been complicated, but Golder added to the juggle over the years because of multiple civic and Realtor commitments, she said. …CONTINUED
At one point in 2004, she served on 22 commissions, boards and not-for-profit organizations.
"I'm just one of those personalities who gets involved, I guess," she says. "In high school I was president of this, president of that. I guess I'm just very competitive, plus I love being involved in this industry."
Long a leader in local and state Realtor association activities (she was Arizona president in 1994), she said she still "thought long and hard" before assuming the national presidency because of the frequent travel it would entail and how it would affect not only her business but her husband, who in recent years has developed dementia.
Reassurance came in the form of that longstanding sister bond, Golder says.
"I'm so lucky that I have so much family involvement," she says. "Having raised my sisters, it could have gone either way — the ties could be broken or they could be strengthened."
It turned out to be the latter. In order to help provide care for her husband, a sister who had recently retired moved into a guest house on the ranch property.
The business is on firm ground, she says, because another sister, Dawn Doubek, some years ago became the designated broker. The firm has six agents and specializes in land sales and custom building.
Arizona real estate has been among the leading exhibits in the roots of the recession, and its residential downturn has cascaded into commercial real estate and land.
Though Golder doesn't see a state turnaround in housing in the near term, "right now the market is hop-scotching along the bottom," she says. She notes, with a mix of acceptance and concern, that speculative investors — one of the major causes for spiraling prices during the boom — seem to have returned to Arizona, typically buying up several homes at a time.
Nationally, she sees improvement in residential inventory numbers and some price stabilization, "but it's not done, we're not out of this. I do believe we're going to have a better year this year, but the numbers I heard when we were in Washington recently (don't) look promising," she said.
When Golder took office at the NAR annual meeting in November, Congress had just revised and extended the tax-credit plan for homebuyers, but Washington, D.C., insiders told the Realtors at the time that further housing tax credits were highly unlikely.
That may change, Golder said.
"I think there's going to be another push in that direction, depending on what happens toward the spring of this year in terms of how the economy is looking," she said. "It would be silly not to look at another extension."
In the meantime, she says, her own business is literally laying the groundwork for an eventual economic recovery: She's developing land. The price is right, and subcontractors are hungry for work, she says.
"Now is the time to be putting infrastructure into the ground," she says. "If you've got the cash, to me, now is the time to invest in something."
Mary Umberger is a freelance writer in Chicago.
***
What's your opinion? Leave your comments below or send a letter to the editor.