In the world of real estate brokerage, Pam O'Connor is a quasi-civilian, a relatively neutral party who constantly finds herself talking tactics with the heads of some of the largest independents in the business.
"That's always my first question with them — how's business?" says O'Connor. "And they tell me a lot."
O'Connor is president and chief executive of Leading Real Estate Cos. of the World, a Chicago-based network of 600 realty firms that in aggregate produced $300 billion in sales in 2008.
Known largely for its longstanding relocation-management services (formerly RELO), the company renamed and rebranded itself about five years ago to reflect its goal of broadening its services to its members.
Domestically, that means O'Connor spends a lot of time touching base with the heads of the 50 companies that own LeadingRE, its own shorthand name.
She estimates that she spends 40 percent of her time on the road, getting a read on the industry that she entered by way of a journalism background. Others in the organization travel as much as she does or even more frequently, she says.
And how is business?
It's recovering — in a certain way, she says.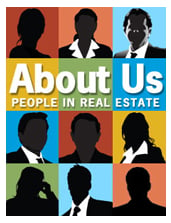 "I think last year everybody was at a fatigue point," O'Connor says of her broker brigade. "They had been cutting costs for so long to weather the storm.
"Thank goodness so many of them put away a lot of money in those good years," she says. "There are a lot of people out there who dug into their personal wealth to pay the bills."
Now, she says, she's seeing more optimism.
"There's this mindset that we're through the worst of this and now it's about top-line revenue. They're saying, we have to start building the business back."
This, however, is going to mean some serious changes for some of the firms, she says.
"They're rethinking the way they're operating their business," she says. "They're getting away from offices at every corner, all that bricks-and-mortar. Agents are working from home, so they're thinking about how to use that."
They're looking at more company-generated business, using their Web sites to drive more leads to agents — it's a way of adding value for the agents so they spend less time prospecting, she says.
Further, they're thinking longer and harder about who those agents should be, she says.
"They know they can't keep hiring everybody (who is) breathing, right off the streets," she jokes. "There's a lot of focus on Generations X and Y and how they can recruit those younger agents because the customer is going to be of that age."
Earlier in her career, O'Connor herself wrestled with company reinvention. …CONTINUED
Though she has a degree in journalism and has some newspaper and television experience, early in her career she handled communications for All Points Relocation Services in Atlanta.
She left that to work with a condo-conversion unit of Sam Zell's Equity Residential, and when the nonstop travel wore her down she and a partner founded Bryson O'Connor, a public relations company in Atlanta specializing in real estate.
"After about three years of that, when we were actually making a little money, I had an offer to return to All Points and be their CEO," she says. "I said, 'I don't know how to do that.' "
Nonetheless, she decided to try. What she soon learned was that All Points, in the five years she'd been gone, had developed a financial picture that was significantly un-rosy.
"They weren't bankrupt, but they didn't have a lot of money, so it was really a rebuilding process. I was rebuilding it from 1985 to 1996," she says.
RELO acquired All Points in 1997, and O'Connor became RELO's chief executive, moving with her husband, Tom, and young daughter from Atlanta to a Chicago suburb.
Soon after, it merged with Reliance Relocation Services, becoming the nation's largest relocation network. The new entity kept the RELO name and Chicago location.
And it kept O'Connor, who said that learning how to lead a business wasn't something she envisioned when she got a journalism degree from the University of Tennessee in 1972 and went to work for a local television station. In that job, making coffee went along with her secretarial job in the promotions department.
"It was a fun first job," she recalls. "All the big stars would come through on PR tours, promoting movies or whatever," she says. "I fed them coffee: Bob Hope, Burt Reynolds, Michael Caine."
Nonetheless, she says, "I knew I didn't want to be a secretary forever, but that's what women did at that time."
A friend from the television station ended up at All Points and recruited her, where she began by writing a newsletter and other publications for managers.
Over the years she's done some formal study of business. It's the communications background that has helped to build her career, she says.
"The writing skills I've developed have been invaluable," she says. "There's a lot of writing I do. Whether it's reports or presentations, a lot of the job is communications skills."
And a lot of it is long, long days and airplane trips, she readily admits. The job commitment, unsurprisingly, complicated her other job — helping to raise a daughter.
Soon into their stay in Chicago, she and her husband agreed that he'd shift away from his own career in financial services in order to become a stay-at-home dad.
"We realized that something had to give," she says. "We made a deliberate decision. He would stay home and take care of Molly and I would work.
"It was a wonderful thing and I feel very, very fortunate," she says. "I was able to do what I had to do and never had to worry about my daughter."
Nonetheless, there was always that train thing — the 60 to 90 minutes each way spent on the Metra trains that are a fact of life for Chicagoans who commute each day from suburbs to downtown. …CONTINUED
There wasn't much way around it, short of moving and uprooting their daughter, so O'Connor spent years riding the rails until Molly left for Indiana University, where she's now on the golf team (a byproduct of her dad's encouragement and day-to-day involvement, O'Connor says).
Though O'Connor wanted to sell the house and move in-town, her husband wasn't enthusiastic about city life.
So she began an experiment last September — renting an apartment downtown that serves as home during the week, then she heads to the 'burbs on weekends. So far, so good, she says.
"I call the apartment my 'country place,' " she jokes.
She also jokes that she comes up a little short in the "hobbies" category that are part-and-parcel of CEO profiles. "My life really has always been my job and family," she says.
For a decade, though, she and a circle of seven women friends — all of them in real estate or the relocation business — have regularly vacationed together, taking extended trips that have ranged from North Carolina to the Tuscany region of Italy. Soon, the group will head to the South of France.
"It's almost like a retreat," she says. "We buy a bunch of groceries, we cook and drink and eat. Every year, we celebrate one of the people's birthdays, even if it wasn't actually her birthday (during the trip). It's always just great.
"If I didn't have to work for a living, I could do nothing but girl trips."
Inevitably, though, pleasure travel gives way to business travel, and next on her agenda is LeadingRE's annual conference in Las Vegas beginning March 9, where she once again will get a chance to take the market's temperature among the organization's member CEOs.
She's expecting a more upbeat mood this year.
"I've found that most of these people are optimistic by nature," O'Connor says. "I think that's just a big part of leadership. They kind of never say die.
"As bad as this market has been, they've been through these cycles before. They find ways to keep the business going."
She perceives a greater sense of adaptability among the independents than she sees in the bigger, corporate organizations.
"When you look at all the different things they've been through over the years, I don't think the brokers get the respect they deserve. They always have heard that the sky was falling.
"When the franchises came, that was supposedly going to kill the independents. Then RE/MAX came along, with all the focus on the agents, and that was going to kill them. Then it was the Internet.
"And when NRT was buying everybody up, that was supposedly going to put everybody out of business," she says.
"But they always suck in their stomachs and say, well, we have to find another way to do business."
Mary Umberger is a freelance writer in Chicago.
***
What's your opinion? Leave your comments below or send a letter to the editor.