When ERA Real Estate launched in 1971 as Electronic Realty Associates Inc., fax machines were considered bleeding-edge technology.
And the company's use of fax machines was considered a key competitive advantage for its offices, which used the devices to share information across the country.
Charlie Young, the former Coldwell Banker Real Estate LLC chief operating officer who joined ERA Franchise Systems LLC in February 2009 and now serves as president and CEO, said one of the original ERA fax machines now rests in a glass case outside his office.
And while the technologies in use by the company have evolved, its focus on innovation remains central to ERA, said Young.
"We laugh today when we think about the (fax) machine. That fax machine really was one of the … core components of the brand."
He added, "If you talk to anybody who was here (at ERA) in the beginning, they will tell you … 'I would receive referrals and ideas and information about what was going on around the industry (via fax).' "
That collaboration within the ERA system has been another core value to the brand, Young said.
ERA is freshening up its focus on technology and collaboration with a branding initiative dubbed "A Smarter Community" that includes new training programs, recruitment tools and a rebuilt internal networking platform for its agents and brokers, among other changes.
The initiative highlights changing consumer demands and a need for enhanced knowledge-sharing and innovation among its agents and brokers and their clients.
The franchisor's efforts have been welcomed by some members of the network who spoke with Inman News, as the economic downturn and lengthy housing slump have challenged brokerages of all sizes and brands.
Michael J. Harrington, owner and president of Harrington ERA Realty Inc. in Delaware, joined the ERA franchise system in 1979.
While the market downturn has hit his company hard — the company has shrunk from a peak of eight offices and about 400 agents to its current level of two offices and about 200 agents — Harrington credits the franchisor with offering services that have helped the company to survive in tough times.
"I've used their ideas and their networking capabilities and referral network for 30 years," Harrington said, "which has built me to where I am today. If not for ERA, I probably wouldn't be here today."
He said that annual meetings of top brokers in the ERA network — his own company has ranked as high as seventh among all ERA franchisees — helped to guide his decisions in downsizing his company as a response to changing market conditions.
"I was really given advance knowledge that the market was going to change," he said. And he estimates that his company gained a 5 percent market share last year.
"As the economy opens up I will be buying offices," he said.
The "brand positioning," announced by ERA at its international conference last month in Tennessee, "is a breath of fresh air — it's like rebirthing … starting off again," Harrington said, adding, "I feel better today about the franchise than I did a year ago."
ERA affiliates' challenge in this effort, as the company outlined in supporting documentation, is in convincing homebuyers and sellers "that with ERA, you enhance your knowledge and gain true value because the collaboration, knowledge-sharing and innovation of our smarter community delivers exactly what they are looking for."
Harrington said he is encouraged by the "new look, new energy, new leadership" of the company, and is excited about the company's new recruitment tools.
Young said growth — planting more "yard signs in front yards across the country" — is a definite underlying goal for the franchise network.
The ERA system — along with many other franchise networks — did lose some ground during this housing downturn. Entrepreneur.com, in its Franchise 500 list, reported that the total number of U.S. ERA franchises dropped from 1,234 in 2006 to 863 in 2009, while the number of foreign franchises grew from 1,704 in 2006 to 1,797 in 2009. And the company's ranking on the Franchise 500 list dropped to 131st this year, down from 33rd in 2006.
By its own count, ERA reports that its franchise network now includes about 2,600 offices in the U.S. and in 45 other nations and territories, with about 30,000 brokers and sales associates. …CONTINUED
Young said there are some "open markets in some key cities" that ERA can eye for U.S. expansion, and among them are those that could be characterized as "NFL cities" (as they are large enough to host professional football teams). "We think the opportunity for growth in the U.S. right now is very strong and positive," he said.
The top 200 ERA companies in the network have performed well given the market circumstances, he also said, as "the brokerage firms that have survived through this 'great recession' have been well-capitalized" and the timing is right to seek partners among unaffiliated companies.
Young said recruitment, driving a higher sales rate, and lead management and conversion are among the pressing goals for the franchisor.
Ann Blumenstein, vice president of marketing for ERA Franchise Systems LLC who joined the company last year after serving as vice president of field marketing and media for the Carl's Jr. division of fast-food firm CKE Restaurants, said a new recruitment tool for brokers is part of a series of products in the works for the ERA system.
The recruitment technology is essentially a contact management system that guides brokers through the various steps in the recruitment process, she said.
Also in development is a retooled intranet site for ERA agents and brokers, at TeamERA.com (http://www.teamera.com), that serves as an online networking resource and "fosters collaboration within our own community," Blumenstein said. A prototype for the system made its debut at the company's annual conference last month, with a formal launch expected by Aug. 1.
Young said the refurbished TeamERA.com site will serve as a sort of modern equivalent of the fax machine, as it will promote information-sharing and collaboration among agents and brokers within the ERA system.
Young and Blumenstein said that the company is also finding new uses for the LeadRouter system — which routes online leads to agents in the field — as that system has matured.
"There is a major shift in how LeadRouter is positioned with our brokers," Young said, with brokers encouraged to monitor the full life cycle of leads through to conversion.
He also said there is a greater understanding that not all leads are from homebuyers seeking to engage in a transaction at the present time, and agents who have been "trained to be in immediate gratification mode" must be better prepared to work with consumers at every stage in the search or sales process.
Blumenstein said ERA is also planning to retool its Facebook page, beef up its Twitter feed, and to expand the brand's reach via social networking.
And the company is planning a broader online marketing campaign, too — the company "really gets the biggest bang for our buck" online, she said.
Mark R. Warren, broker and managing partner for Mississippi's largest ERA franchise, Jackson-based ERA Real Estate Professionals, said the franchisor's technology initiatives, and the emphasis on enhanced collaboration, "really goes back to the core values at ERA."
"The new technology will help us move and collaborate faster and actually make that a focus point — it really is about surviving in a market like this," he said.
Warren, who has a technology background and worked in the manufacturing sector before he joined ERA in 2002, said the brand's work in fostering greater collaboration will help in making technology investments at his company.
In evaluating new technologies, it's sometimes difficult to know whether it is "an opportunity or a train wreck," he said, and the ability to check in with peers on such matters is useful.
"This new initiative (at the franchisor) — I'm really excited about it," he said. "The collaboration part really goes back to the core values at ERA."
He estimates that his company has about a 7 percent market share in the Jackson metro area, and that it has grown its market share by as much as 70 percent last year. "Now, market share is everything. And last year we (were) very fortunate," he said.
"It's still a difficult market to make it," he added. "I've felt very strongly, this was absolutely a fantastic time to gain market share if you can figure out how to do it. In a dip like this, this is how you make some huge gains."
He credits technologies available through the franchise company, in part, for helping his company to operate more efficiently.
But technology isn't the only solution, he said. "Technology … doesn't solve all of these problems. It's not going to come in and make you a dollar.
"What it can do — it can really accelerate you out of this market. If you make the right choices in technology, a company can accelerate out of this faster than those who don't have this focus."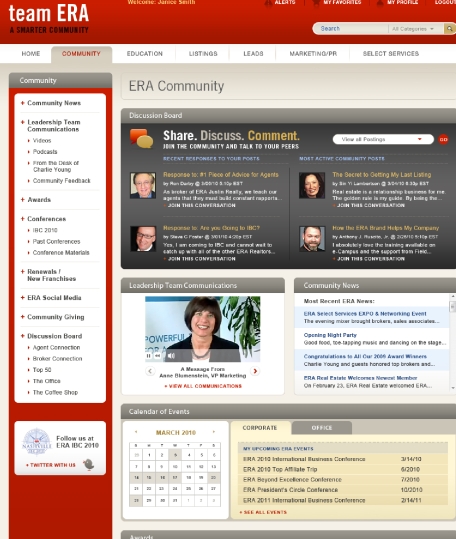 A prototype of a new design for the internal TeamERA.com Web site. The design and features are subject to change. Source: ERA.
***
What's your opinion? Leave your comments below or send a letter to the editor. To contact the writer, click the byline at the top of the story.