More Realtors are stepping up their use of technology in their work, according to the National Association of Realtors' 2010 Member Profile.
The 93-question survey profile is based on 6,830 responses from NAR members. Statistics for compensation, earnings, sales volume and number of transactions correspond to calendar year 2009; the rest are from early 2010.
Realtors' median gross income fell 3 percent in 2009 to $35,700, according to the survey report, while net income rose 0.9 percent, to $23,400. NAR attributed the increase to a drop in total expenses, to $5,480 from $5,810 in 2008.
Most Realtors (59 percent) were licensed as sales agents, while 42 percent were licensed as brokers or broker associates. In 2009, brokers and broker associates had a median gross income of $49,100 and sales agents had a median gross income of $26,600, the survey found.
That compares to a median income of $49,300 for brokers in the previous annual study, and a median income of $28,400 for sales associates.
More than half of Realtors (56 percent) reported using a smartphone daily or nearly every day, compared with 42 percent in last year's survey.
The less experienced the Realtor, the more likely he or she was to use a smartphone daily: 66 percent for those with two years of experience or less, compared with 48 percent for those with 16 years of experience or more.
Social media use also shot up: 51 percent of Realtors actively use social or professional networking websites, compared with 35 percent in the 2009 Member Profile. All age groups except those 60 or older reported at least a 52 percent rate of social media use.
Ten percent of Realtors reported having a blog, up from 7 percent last year, while 63 percent reported having a website, up from 60 percent last year. Realtors reported a median 3 percent of their business came from their website. Those who spent $1,000 or more to maintain their site said the site generated a median 19 percent of their business. Realtors spent a median of $220 to maintain their sites.
More Realtors also used digital cameras (30 percent vs. 27 percent), instant messaging (28 percent vs. 22 percent), and GPS (28 percent vs. 22 percent) daily in early 2010 compared to last year.
This year, the typical Realtor remained a 54-year-old white female with a median 10 years of experience who has at least some college education and owns her own home, according to the profile.
Realtors typically got 18 percent of their business from past clients — the same as last year. They got 20 percent of their business from referrals of past clients, up from 19 percent last year. Real estate was the sole occupation for 77 percent of Realtors, though in only 45 percent of households was real estate the primary source of income. Gross median real estate household income dipped to $89,100 in 2009, compared with $91,500 in 2008.
Brokerage sales volume remained at a median $1.2 million. Realtors completed a median seven transactions in 2009, the same as the year before. About 12 percent, also the same share as in the previous survey, did not complete a single transaction in 2009.
The median size of a real estate firm rose to 29 agents and brokers, compared with 23 last year.
Of all survey respondents, 74 percent were very certain they would stay in real estate for the next two years, while 18 percent were somewhat certain. These figures are largely unchanged from last year.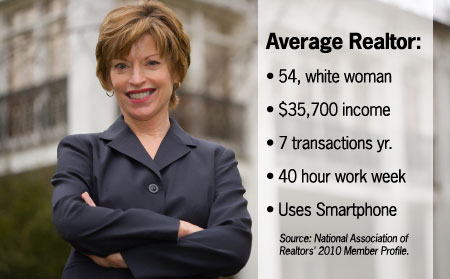 ***
What's your opinion? Leave your comments below or send a letter to the editor.