When Jim Cornelison sings, the crowd goes wild.
That's wild and loud — super-loud, as in 122 eardrum-straining decibels loud. They hoot, they scream, they clap, they whistle. They get so loud, in fact, that the singer often can't even hear his own voice.
Cornelison isn't a rock star. He's a Chicago real estate agent. But he's also an opera singer who spent a dozen years performing professionally in the United States and Europe.
Nonetheless, it's not an aria from "Tosca" that sets off his audience. It's "The Star-Spangled Banner," which Cornelison belted out more than 40 times this past year on behalf of the Chicago Blackhawks hockey team.
Cornelison, 45, is the official crooner of the National Anthem for home games of the team, which won the Stanley Cup about two weeks ago and sent much of the city, which is famously starved for athletic championships, into orbit over all things 'Hawks — Cornelison included.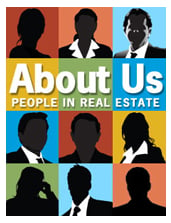 Fans ask him to sign photos. A Blackhawks souvenir website sells pucks he has autographed and inscribed with the words "loud and proud." True devotees can purchase a Jim Cornelison bobblehead doll.
"I never thought I'd be part of a professional sports team," said Cornelison, who began selling real estate in 2005 after his constant traveling as an opera singer had begun to strain his family life.
But a part of the team is what he has become — the centerpiece of Blackhawks pregame activities and something of a local musical star, albeit one whose public repertoire is mostly limited to one rather well-known song.
Not that he's complaining — offers of other musical gigs are picking up, he said.
"In the past year, it's gotten intense," Cornelison said. "The number of interviews I've done and the people who want me to sing at a country club or corporate event — that has started to pick up.
"Let's face it, I'm a singer," he said. "I could never stop being a singer. I pursue those things, but at the same time, you have to juggle real estate."
Although a few client relationships have developed in the past few years through his association with the team, the real estate agent side of his life hasn't directly grown from it as much as he'd like.
A few months back, he concluded he was caught in an odd conundrum, he said.
Through the Blackhawks, he has frequently been thrown into social situations and chances to network, but he rarely seemed to be able to step out of his anthem-singer mode, he said.
"I'd get out and people want to talk about hockey to me, they want to talk about the anthem, they want to buy me shots," Cornelison said. "It's all a big party. That's fun, to party, but I need to go out and do business, too.
"I always felt awkward bringing the conversation back to real estate," he said. "It felt artificial."
So seven months ago he approached Jeanne Carava, a fellow agent in his Prudential Rubloff Properties office in the city's Lincoln Park neighborhood, to become his business partner. One function of their partnership, he said, is to bring the conversation around to real estate.
Take a recent VIP gathering at a steak house in downtown Chicago, he said.
"A lot of people knew me and wanted to talk, and they would talk hockey to me, but they were looking at her," Cornelison said. "You could see their brains working. They know she's my business partner, so that begged the question, 'So, what is your business?' "
Within a couple of minutes, he said, the conversation had turned to real estate.
He said that his recent prominence with the Blackhawks, coupled with the partnership with Carava, is starting to accelerate his business.
Generally speaking, though, he hasn't tried to market himself through his connections in the music world.
"That group, I want them to think of me as a singer more," he said. "There's still a part of me that wants to sing."
Cornelison grew up in the state of Washington and began to study voice while in college. He received a master's degree in music at Indiana University, and went on to apprenticeships at the Santa Fe Opera and the Lyric Opera of Chicago.
A tenor, he performed in featured roles around the country and with companies in London and in France.
But in his 12 years of singing professionally, he found himself on the road about seven months a year, and said he finally decided to give it up in order to be with his two young sons.
Real estate attracted him on a number of levels, Cornelison said.
"I like the control of my schedule, and if you put the effort into it, you get rewarded," he said. "I like not having a boss and being able to control my future."
The chance to sing for the Blackhawks came up several years ago when a friend from his Lyric Opera days told him the team was looking for singers. He performed periodically, in rotation with half a dozen other singers, he said.
Two years ago, the team asked him to be the exclusive voice of the anthem, he said. This past season, he sang at 41 home games and during the Stanley Game playoffs in Chicago.
He also performed the song at a massive parade and rally to celebrate the championship, and recently sang you-know-what at an annual matchup of the Chicago Cubs and the White Sox.
His renditions at hockey games at the United Center are renowned for the booming fan reaction they seem to inspire.
Cornelison said the team's website has reported the measured crowd-noise level at 122 decibels, a realm that's known to cause hearing loss.
"It's like a shotgun blast, a sustained shotgun blast," said Cornelison. "There are times when I just can't hear myself. I know I am putting out sound and my mouth is moving, but there's nothing."
These days, he's weighing a few offers to sing to groups that are likely to hear him more fully, such as a Christmas concert with a Chicago-area orchestra.
"It's a chance to sing more than one song," he said, laughing.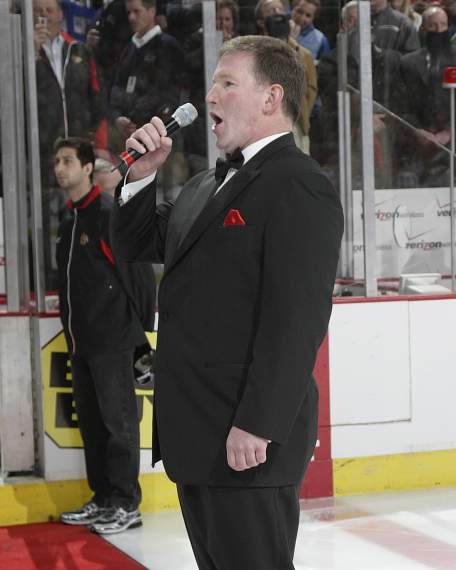 Jim Cornelison sings the anthem on ice. Photo courtesy of Jim Cornelison.
Mary Umberger is a freelance writer in Chicago.
***
What's your opinion? Leave your comments below or send a letter to the editor.