Want to cut a swath in luxury real estate? Write, Jack Cotton says, and then write some more.
Can't write? Hire someone to write for you.
Cotton practices what he preaches, having published his second and third books this year, with two more in the works.
"Writers are perceived as experts," he said. That's something that's particularly important in his specialty, luxury properties, where Cotton has learned through 30 years in the business that people of wealth want to deal only with experts, no matter what the field.
Writing is just one of the paths to success he outlines in "Selling Luxury Homes: Become the Preferred Real Estate Agent and Trusted Advisor to Today's High-End Clients."
The book lays out his methods of finding and cultivating high-net-worth individuals ("HNWIs," in his book's shorthand), from those who have just arrived in moneyed society to the ultra-rich who summer in sprawling, shingled mansions at his native Cape Cod, Mass.
Cotton began in real estate at 21 and ran his own brokerage, in various forms, for three decades. He sold it in 2005, when it became Sotheby's International Realty in Osterville, Mass.
Cotton stayed on for three years as a manager, then went back to sales two years ago. Last week, the brokerage tapped him as interim manager, where he expects to stay for a month.
He said that many agents erroneously believe that breaking into the luxury-homes market requires being born into a country-club environment. That never hurts, said Cotton, whose roots were firmly middle-class.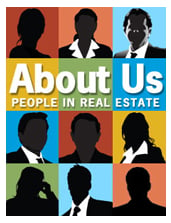 But he contends that thoughtful self-marketing — and figuring out where to find those HNWIs and cultivate their loyalty — are what really matter.
Not that it came easily to him. Cotton said that when he entered real estate it took him one year, three weeks and four days to sell his first house.
"I started my own real estate business because I 'knew everything,' " said Cotton, who looks back at the beginning of his career — founding his brokerage from his dormitory room during his senior year at Babson College in the mid-1970s — with a mix of laughter and a tinge of regret that he spent his early years in the business without any mentoring.
He wishes now that he had affiliated with a brokerage early on in order to learn the business. Instead, he made it up as he went along, operating in a vacuum.
"I was like the Galapagos of real estate," he said. His was a unique endeavor, but not always a graceful one.
"I took the sales (agent) test and flunked it," he said of his totally self-directed, collegiate launch into the business. "Then I took the class, and I passed it."
From that point, his real estate career slowly blossomed.
After graduation, from an "office" in the back of his family's plumbing-supply business (he recalls being surrounded by toilet seats), Cotton worked from a list of names of HNWIs (he declined to say how he obtained it) in very wealthy nearby towns.
"I shared the phone (with the plumbing-supply business) and made my own signs," he said. "It's a wonder anyone even talked to me."
But gradually, he said, they did.
"I did well with widows," said Cotton. "There was one in particular who trusted me, after a year or two in the business, who had me do a CMA (comparative market analysis report) on a waterfront property. And I sold it." That sale opened the door to three others, he said.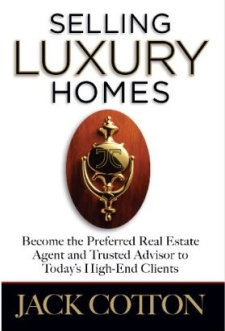 "I just basically treated these widows like they were the grandmother I never had," he said. "One led to another and another and another. I loved that generation."
Working with those older widows, he said, taught him the importance of respecting his clients' welfare.
"Your own grandmother, if you're helping her with her affairs — she wants you to ask of yourself, 'Is the action I'm about to take in the best interest of my grandmother?' " he said.
Take that attitude to work every day, he said.
"The central theme of my book is: To be successful on the high end, you have to be asking yourself that question a hundred times a day," he said. "Ask yourself: Is the advice I'm about to give in the best interest of my clients?"
Not that the book is all touchy-feely. Most of it is hard-knocks stuff: How to analyze high-end comparable-sales data; page-by-page preparation materials for pre-listing appointments (including straight advice on how to dress and behave); considerations for a commission structure; what information to present — and specific wording on how to say it — at a second appointment in order to gain the listing agreement.
Cotton also devotes considerable space to the tools an agent needs in order to penetrate the luxury sphere.
In addition to building an "expert" aura through writing (letters to the editor, paying for "advertorial" space in local papers, or sending out detailed reports to HNWIs, for example), he suggests methods for immersing oneself in local property values.
Courses in appraisals consistently helped him nail appropriate listing prices, he said.
He gently divides wealthy clients into four categories, each of which needs certain kinds of attention:
The Wannas, who have attained a $1 million total net worth "after scraping together values on their homes, cars, jewelry, boats and high-end stainless-steel appliances;
The Kindas, with net worth of $1 million to $25 million (typically executives, highly skilled professionals or business owners). They see themselves as unique and love owning things that say "limited edition";
The Reallys, with $25 million to $100 million net worth. They've made or inherited so much money they have time for political activism. "They're smart and want everyone to know it," Cotton writes;
The Supers, with $100 million and more. They don't need outward signs of wealth or status, but often have them. "They might drive a hybrid car to the private airfield where they keep their jet," he writes.
But how is an agent to know which is which? It's not always apparent and may take some time, Cotton said. And guessing can be hazardous.
"We have a lot of crazy-rich people here (on Cape Cod), people who drive around in 25-year-old cars and have old clothes on," Cotton said, "but they may have a $40 million jet at the airport."
Besides, he said, even for the agent who aspires to lead the luxury-home pack, it's foolhardy to turn down doing business with someone who has even a modest listing. For one thing, expensive properties can take a long time to sell, and you have to pay your bills somehow.
For another, you never know where a given sale might lead.
"Sometimes they buy a low-priced house but have a brother who's a CEO of a company," he said.
"You should treat everyone like a millionaire regardless of their price range," he said. "You can't go wrong treating everybody well. It sounds trite, but it works."