Cole Perkins pretty much gets it that he's not exactly your average 13-year-old. For one thing, he's totally uninterested in video games. And he attends "cyber school" — a home-schooling arrangement that tethers him to a classroom teacher via computer.
Then there's that blogging thing. Where other kids might be blogging away about sports or television or popular music, that's just too mainstream.
Cole Perkins blogs, instead, about luxury real estate.
He recently became something of a real estate keyword after Curbed.com posted an item about Lavish-Property.com, his fledgling site that each day features a new-to-the-market estate in North America or Europe, with extensive photography and his commentary.
The site, which he began a couple of months ago, surged from about 15 page views a day to more than 2,000 in the period immediately after the Curbed post. Things have settled down a bit since then, he said, to 400 to 500 a day. The blog, he said, is an "extracurricular activity," a byproduct of tagging along with his parents four years ago when they were house hunting in Hershey, Pa.
"I just kind of got into houses when (my parents) were looking at houses every weekend," he said in an interview. "I found it kind of fun, looking at different styles of architecture."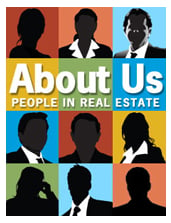 House-gawking gradually evolved into surfing the Web for high-end houses that piqued his interest.
"HomesOfTheRich.net," he said after thinking about those early days, way back when. "That's how I got my start."
In October, he said, he began the blog.
"I just thought it would be interesting to see how many hits I could get," he said — and to weigh in on what he likes in housing and architecture.
"When I picture my dream oceanfront spread, this is exactly what comes to mind," he wrote of a $3.2 million coastal residence in Pawleys Island, S.C.
A $4 million log cabin near Las Vegas, he blogged, "has that distressed, rustic feel that I love and want so badly in my own home."
Not that he's a pushover for every luxe listing. "I am upset that there's no pool on the 1.71-acre lot, though, because for $7.2 million, I kind of expected one," he sniffed of a home in Weston, Mass.
Cole said his father (an equities trader), and his mother (a research nurse) are fine with their son's undertaking.
"I didn't even tell them about it until I was a few weeks into it — until I was getting a few constant viewers," he said. "They were kind of surprised at first, though."
But the subsequent media attention has been a bit of an adjustment, he said. The Curbed.com spot was followed by a piece in the New York Daily News, an online video interview with TechSavvyAgent.com — and, improbably, a radio interview with a station in Malaysia.
He said PriceyPads.com, which also features luxury properties, has inquired about having him guest-blog.
Wasting no time in contacting him were agents in Dubai and in Lake Geneva, Wis., who sent him material about their luxury listings for consideration on the site. (He did post an item about the Wisconsin home, he said.)
Lavish-Property.com has enough traffic now that he's able to draw advertising from Google Ad Sense — not that he's expecting to be able to retire on the income, Cole said.
"I haven't gotten any of the money yet, but I think it amounts to about $2 a day," he said. "It's nothing really. I just do this for fun."
The blog takes him about 30 to 40 minutes a day, in addition to a regular Web-surfing route that takes him through some of his favorite sources of real estate information.
"I go to multiple sites — Sotheby's, Realtor.com, LuxuryRealEstate.com, the New York Times' real estate site, Corcoran …" he said.
He often composes the blog during breaks between classes at "cyber school" — an option offered by his local public school in which he uses a computer and microphone to follow instruction and interact with his teacher, he said.
He said his parents looked into the online school option because it fit nicely into the family culture. ("I think we have eight computers in our house," he said. "My dad works at home, and my mom is doing online college. My twin sisters, they're 11, they blog about anime.")
"I never really liked public school," he said, so the cyber version suited him. He said he earns nearly straight A's, and currently has a 95 percent grade average. Math has always been his favorite subject. Sciences? Not so much, he said.
"I'll definitely go on to college," Cole said. "Probably something in business."
And real estate? "I think I might become an agent or something when I get older," he said.
"My parents always have thought I would be a good salesman."