Tree.com's real estate brokerage company — RealEstate.com, Realtors — posted an $11.9 million operating loss for the fourth quarter, as revenue fell 67 percent from a year ago and the company took a $10.3 million charge related to impairment of goodwill and intangible assets.
The brokerage, which operates in 20 markets, had 641 agents at the end of 2010, down 19 percent from the third quarter and off 53 percent from a peak of 1,365 agents in the second quarter of 2009.
Revenue for the quarter was down 67 percent from a year ago, to $2.3 million, as the number of transactions handled by the brokerage fell 59 percent, to about 700.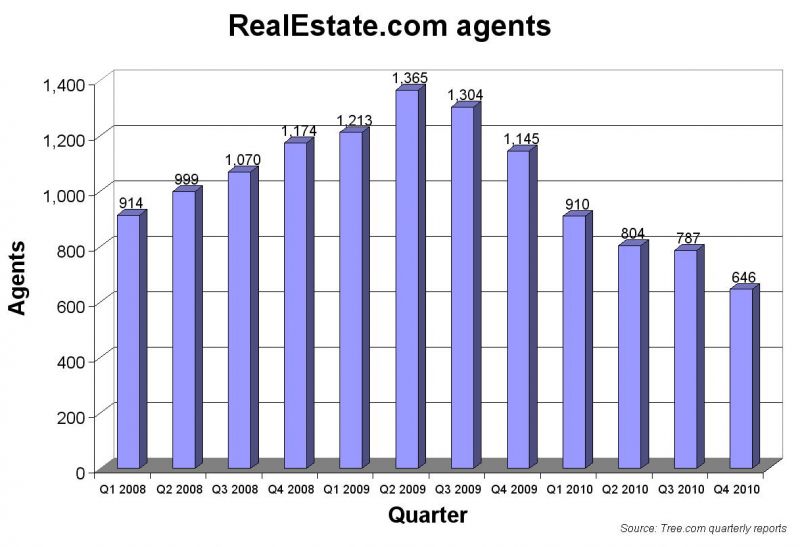 Right-click to enlarge.
The impairment charge "reflects Tree.com's reassessment of the likely future profitability of (RealEstate.com, Realtors) in the face of current real estate market conditions and the operational strategies undertaken in connection with such market realities," the company said in a regulatory filing.
In October, Tree.com appointed real estate industry veteran Steve Ozonian CEO of the RealEstate.com division, and announced a change in the brokerage's business model. RealEstate.com now offers franchising opportunities to agents and brokers to license the Real Estate.com brand.
The brokerage generates leads for its agents through visits to RealEstate.com and calls to 1-800-REALESTATE. In its last annual report to investors, the company said it retains "a significant share" of gross commissions on transactions that originate with company-generated leads, and a lesser share when agents generate leads themselves.
Outside the 20 markets where the company maintains offices, RealEstate.com, Realtors provides referrals to about 150 third-party brokerage firms, Tree.com said in its 2009 annual report.
Tree.com — the parent company of LendingTree LLC — posted a net loss of $12.5 million for the quarter and $17.6 million for the year, as revenue fell 8.6 percent from 2009, to $198.2 million.
Spun off from IAC/InterActiveCorp in 2008, Tree.com's other brands include GetSmart.com, DegreeTree.com, HealthTree.com, LendingTreeAutos.com, DoneRight.com, and InsuranceTree.com.