The enormous home on 15th Street in Boulder, Colo., has had a number of residents in the past 14 years, but it might always be known as "the Ramsey house."
Stuck in the popular mindset from the days when it was marked off in yellow crime-scene tape — made familiar in photos broadcast thousands of times — it's the place where the body of 6-year-old JonBenet Ramsey was found in December 1996. For years, the crime was the talk of tabloid television reports and speculation. Her murder remains unsolved.
The house is in the news again, this time for the simple fact that it's for sale, even though it isn't the first time it has been on the market since the child's death.
Yet when a Boulder television station learned of the listing in February, the news inspired a reporter to announce that news from a standup shot on its now-familiar front sidewalk.
"I heard from media all over," said real estate agent Neil Kearney, who is working with the home's owners. " 'Inside Edition' called and asked if the owners would let them into the house. I told them, 'You can send your request in writing,' but they never did."
Kearney used the term "psychologically impacted" to describe the particular conditions that affect the selling of the house, though others in the housing industry commonly use the phrase "stigmatized property" — that is, buyers might shun the house for reasons that have nothing to do with its physical condition.
A property might become "stigmatized" for many reasons, such as being next-door to a celebrity-owned home that's plagued by rude fans, or because it has a reputation for being haunted, or because it was the scene of a crime.
"(The Ramsey connection) isn't a secret," Kearney said. "We don't want to get to the closing table and have it be a surprise."
Kearney is right about that, according to Randall Bell, a Laguna Beach, Calif., appraiser who specializes in valuing stigmatized properties.
Insurers and property owners have sought his opinion on valuing the full spectrum of real estate "stigma," from the damage of Hurricane Katrina to the house where actress Sharon Tate and others were murdered by the infamous Charles Manson "family" in 1969.
"I always advise flat-out honesty," Bell said. "I just was involved (as an expert witness) in two cases where brokers sold houses in Pennsylvania and California where they didn't disclose that there had been homicides, and they got sued."
Bell is familiar with the Boulder property. He acted as a consultant to appraisers hired by Patricia and John Ramsey, parents of the slain child, when they were readying the home for sale after her death.
"I can't specifically talk about what I advised them, but the general finding is that an owner can expect a diminution of value — typically, of 10 percent to an extreme of 20 percent" if a homicide has occurred there, Bell said.
Kearney's clients are asking $2.3 million for the home.
It's a different place now, Kearney said.
"The house has been extensively remodeled," he said. "I'd say it's priced aggressively, compared to the neighborhood, in terms of price per square foot or for similar finishes. It isn't super-discount, but not premium-priced, either."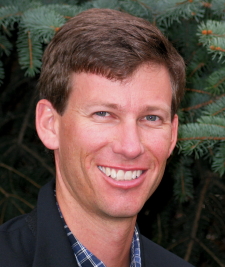 Neil Kearney
Kearney's approach to marketing the house on his website, NeilKearney.com, includes both vague allusions to its past as well as a recent TV news video that includes photos of the blond-haired pageant contestant who perished at the home, and the house wrapped in yellow tape.
"What I'm trying to do is say that it's time to destigmatize the property as much as we can," Kearney said.
The Ramseys sold the house in 1998 to investors who said they intended to resell it, with profits going to the JonBenet Ramsey Children's Foundation, Kearney said.
"They owned it for a number of years and rented it out during that time," he said.
The parade of curiosity-seekers who frequented the block in the years following the murder has waned, Kearney said.
"It was kind of a destination, with people driving by, but that has faded," he said.
Nonetheless, the house recently got an added dose of press coverage unrelated to JonBenet's murder: It was purchased for $1.05 million in 2004 by Tim Milner and his wife Carol Schuller Milner; she is the daughter of television evangelist Robert Schuller, founder of the Crystal Cathedral in Garden Grove, Calif.
The well-known megachurch declared bankruptcy in October, claiming $7.5 million in unsecured debts.
According to media reports, bankruptcy trustees objected to the church's agreement to provide more than $800,000 annually in tax-exempt housing allowances to Schuller's family.
Carol Schuller Milner told the Orange County Register the housing allowance wasn't used for the Boulder home, but that she and her husband had used their $109,000 allowance to purchase their current home in California, where they moved several years ago, though they retained ownership of the Colorado property.
"There are two issues with the owners," Kearney said. "One is the house itself — the other is the church that the family is associated with. The media likes both of those stories."
The Milners orchestrated remodeling throughout the 7,000-square-foot home, including extensive work in the basement, where JonBenet's body was found. The basement now "kind of feels like a Colorado mountain lodge," Kearney said. "There's a wet bar, a wine cellar, and a bathroom.
"They put a lot of money into the basement to make it feel homey, rather than someplace that didn't feel quite right," Kearney said.
Even with the recent news coverage, Kearney said he's had few showings of the house, though he declined to specify how many. The home was previously listed for sale in 2009 and 2010 with another agent, and has been off the market for about a year, he said.
Kearney said he'd received only one phone call from someone who seemed to be merely nosy, rather than a potential buyer.
"I'm trying to be a gatekeeper," he said. "We're definitely doing a screening process and seeing if they're qualified. And there will not be an open house."
Bell, who has extensively studied sales of stigmatized properties, said that although remodeling can help lighten some of a place's psychological baggage, usually it's the price that finally moves someone to buy it.
"It's simple dollars and cents, typically a financial motivation," he said. "They're getting a nice home for a lower price."
Real estate stigmas usually aren't permanent, he said.
"It doesn't take as long as you might think for a house to get its property value back — maybe five to seven years, though sometimes it takes as long as 15," the appraiser said.
But it very well could always be known as "the Ramsey house," he said.
"Over the years, I see the same cycles, and some things don't change," Bell said. "The 'Sharon Tate house' in Los Angeles — that will always be the 'Sharon Tate house,' even though she was a renter. She didn't even own it.
"Ramsey is in the same category."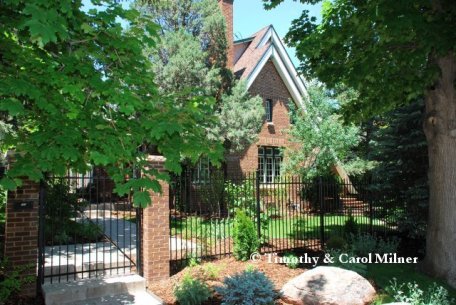 Ramsey house in Boulder, Colo.