The "shadow inventory" of distressed and bank-owned homes likely to end up on the market totaled 1.8 million homes in January, down slightly from 2 million at the same time a year ago, data and analytics provider CoreLogic said.
At the rate homes were selling in January, that represents a nine-month supply of inventory, CoreLogic said in its latest shadow inventory report — about the same as a year ago. There are another 2 million "upside down" homes with more than 50 percent negative equity that are likely to end up as shadow supply, the report said.
"While the trend of the shadow inventory is improving somewhat, the current level and distressed months' supply remain very high," said CoreLogic Chief Economist Mark Fleming in a statement. "The short-term weakness in prices and longer-term weakness in the drivers that affect the housing market imply that excess supply will remain high for an extended period of time."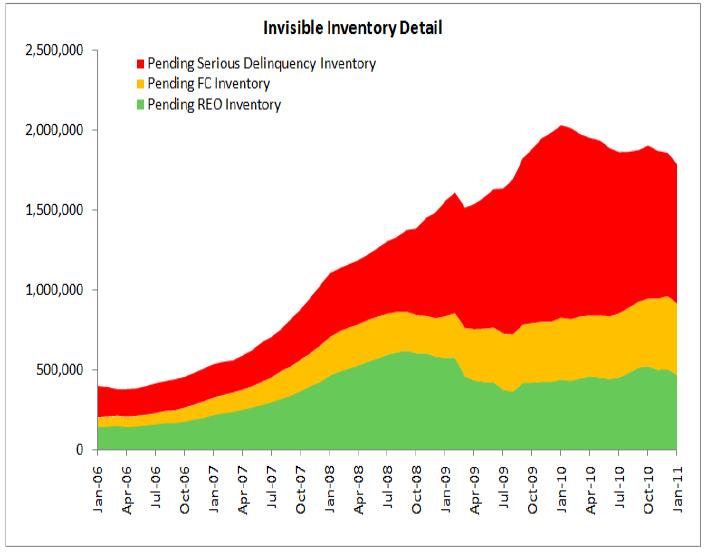 Source: CoreLogic
CoreLogic estimates shadow inventory by calculating the number of distressed properties not currently listed on multiple listing services (MLS) that are seriously delinquent (by 90 days or more), in foreclosure, or are "real estate owned" (REO) after being repossessed by lenders.
The term "shadow inventory" is sometimes applied only to REO properties that have yet to be offered for sale. CoreLogic said there were 470,000 REO properties not yet listed in an MLS in January, or 2.2 months' of supply.
Applying "roll rates" to data from loan servicers, CoreLogic counted as shadow inventory another 870,000 homes whose owners were seriously delinquent on their loans (behind by 90 days or more) and 445,000 homes in some stage of foreclosure.
Loan modifications and short sales could potentially reduce shadow supply by one-half, CoreLogic said, but low borrower response rates to lender outreach and high modification redefault rates are expected to result in a smaller impact.
CoreLogic's analysis showed that New Jersey, Illinois and Maryland had the highest levels of "distressed months' supply" — the ratio of seriously delinquent homes to home sales — due to higher than average 90-day delinquencies and lower sales rates.
States that were largely immune from the run-up in home prices during the boom had the lowest distressed months' supply. Those states included North Dakota, Alaska and Wyoming. The largest state with the lowest level of distressed months' supply was Texas, CoreLogic said.