One in four Realtors spent less than 10 percent of their advertising budget online last year, suggesting there's still plenty of room for growth in 2011, according to a survey by ThinkEquity LLC.
The online survey of 162 Realtors found 47 percent spent more than half of their advertising budget online last year, and that 58 percent of agents were planning to increase their online ad spending in 2011. One in three said they spent 61 percent or more of their advertising budget online.
"Compared to print advertising, our survey results show respondents overwhelmingly believe Internet advertising is much more valuable," ThinkEquity analysts said in a report on the survey.
Among those surveyed, 68 percent said print advertising is of little or no value for classified listings, and 60 percent said print was of little or no value for lead generation. A majority of agents said print ads are still useful for brand building, including 17 percent who said print ads were "high value" when used for that purpose.
In contrast, the percentage of agents who believed Internet advertising was of little or no value for classified listings, lead generation and brand building was below 20 percent.
Most of those surveyed — 58 percent — said they plan to increase their online ad spending in 2011, while 39 percent said they plan to decrease print ad spending.
The vast majority of agents said their listings appear on their multiple listing service's public-facing website (92 percent), Realtor.com (86 percent), their broker's site (74 percent), their own website (72 percent) and Trulia (70 percent).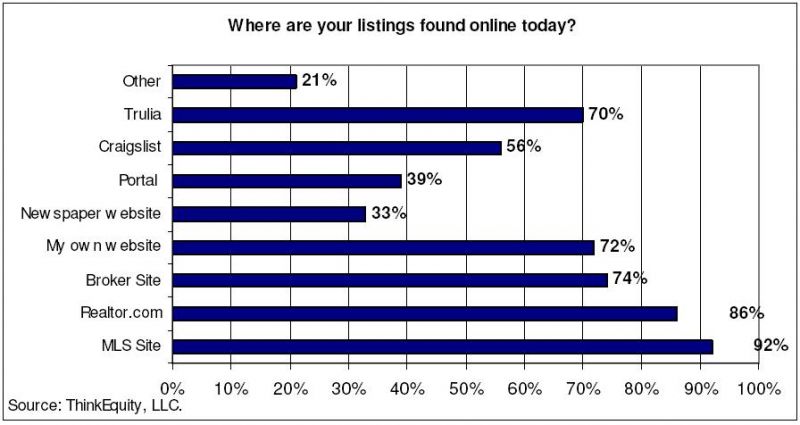 Other listings destinations with smaller market shares included Craigslist (56 percent) and newspaper websites (33 percent).
Just over half of Realtors say they or their broker pay for enhanced listings on Realtor.com, and the survey found that Realtor.com's enhanced listings are considered to be of greater value than featured home and featured agent advertising.
While 70 percent said they saw at least some value in enhanced listings — including 18 percent who rated them as "high value" — 48 percent of agents found Realtor.com's "Find a Realtor" search tool to be of little or no value. Featured homes and featured agent ads were rated of little or no value by 43 percent of those surveyed.
With 11 percent of agents saying they had previously paid for enhanced listings but no longer do — and only 2.6 percent saying they are considering paying for enhanced listings in the future — Realtor.com "may need to look to additional products to significantly expand revenues," the report's authors concluded.
According to Williamsburg, Va.-based research and consulting firm Borrell Associates, companies in the real estate industry spent an estimated $20.2 billion on advertising in 2010.
Borrell estimates that real estate agents and brokers accounted for 42 percent of that spending ($8.43 billion), followed by mortgage providers ($8.26 billion), rental property managers ($1.89 billion), and real estate developers ($1.6 billion).
Within the real estate category, agents and brokers spent the highest percentage of their ad budgets online (64 percent), followed by newspapers and other print (24.7 percent), direct mail (5.3 percent) and broadcast and cable TV (3.3 percent).
"The share of ad budgets that the real estate industry is spending on the Internet is obscene and may actually be a bit out of kilter," said CEO Gordon Borrell. "Only one other advertising category that I know of — job recruiters — spends half its ad budget on one medium."
Borrell said successful marketers employ "a more equitable mix of media" that includes print, broadcast, online and mail.
The biggest chunk of the $5.39 billion that Borrell estimates agents and brokers spent on online ads in 2010 was for email advertising ($2.16 billion), followed by paid search ($1.29 billion), targeted display ads ($1 billion) and so-called "run of site" display ads that rotate in less prominent spots ($783 million). Borrell estimates that agents and brokers spent an estimated $136 million on streaming video ads and $17 million on streaming audio.
"I suspect that real estate advertisers have just begun figuring out that they've put too much money into buying keywords and online banners," Borrell said. Those advertisers are likely to "adjust the dials somewhat and may even shift a little ad spending toward broadcast, particularly TV."
But Borrell said that because real estate is proximity-based and mobile devices can serve as home locators, it could also become "the biggest category of all for mobile marketing."