In the rarefied air of ultra-high-end real estate, a 25 percent price reduction can translate into a breathtaking sum: $25 million.
That's how much Tommy Hilfiger Corp. co-founder Joel Horowitz has decided to knock off the asking price for Tranquility, an eight-building, 210-acre estate overlooking Lake Tahoe that he and his wife Ann built in the late 1990s.
The nine-bedroom property — which sits on the Nevada side of Lake Tahoe and completely encircles a smaller lake — went on the market for $100 million in 2006, even as the stage was being set for the U.S. housing crash and global recession.
At the time, Tranquility couldn't lay claim to being the priciest U.S. listing — Donald Trump was trying to unburden himself of a home in Palm Beach, Fla., for $125 million, and Saudi Prince Bandar had a vacation retreat in Aspen, Colo., on the market for $135 million.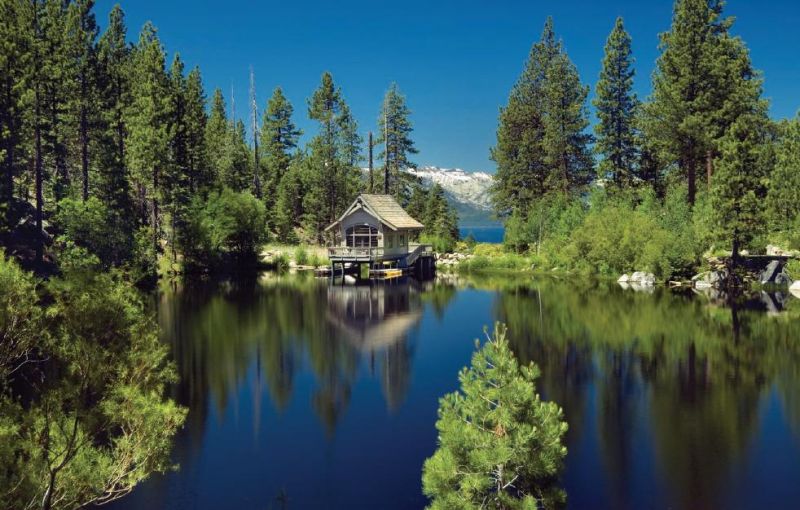 Tranquility's boat house sits on a lake encircled by the property.
"We've had some great showings," said Shari Chase, president and CEO of the brokerage representing the Horowitzes, Chase International. "But our market went into decline — even the billionaires' confidence was shattered in a way that everyone was pulling back."
Although Chase said there's been a "real surge" in interest in high-end luxury homes in the last year, it's taking longer to put transactions together.
"We just had a $9.8 million home go into escrow and is scheduled to close in three weeks," Chase said. "That's something we haven't seen in a couple of years."
Chase International's other high-end listings include a five-bedroom, 12,255-square-foot estate in Tahoe City, Calif., with an asking price of $24.9 million, and a nine-bedroom lakefront mansion in Incline Village, Nev., priced at $34 million.
Around the nation, there are several homes on the market with steeper asking prices than Tranquility, according to LuxuryRealEstate.com.
They include a partially completed Windermere, Fla., mansion with an asking price of $100 million (or $75 million "as is"), and "Spelling Manor," a Los Angeles estate put up for sale in 2009 by television producer Aaron Spelling's widow, Candy, priced at $150 million.
The latest numbers from the National Association of Realtors show sales of homes priced at $1 million or above were up 11.1 percent in April compared to a year ago. That compares with a 22.2 percent decline in sales of homes priced at $250,000 to $500,000. Sales of homes priced at $1 million and above were up even more sharply in the Western U.S., rising by 22.7 percent.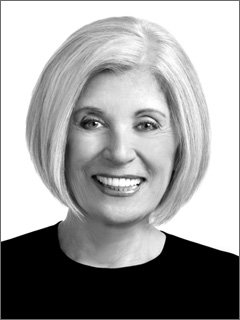 Shari Chase, president and CEO,
Chase International
Chase said at the very high end, buyers seem to be much more finicky about what they are looking for in a property, and have plenty of homes to choose from.
In the ultra-high-end market, buyers are often looking to pay cash for a third, fourth or fifth home. Luxury homes are often a discretionary purchase — a "lifestyle enhancement" — rather than a necessity, Chase said. "Sellers have to be really right on top of the game to get a buyer moving."
That means pricing a home right and, when offers start coming in, being flexible about terms and what the market will bear, Chase said.
"The key is the value perceived by the buyers," she said.
Although "nobody has questioned the value of tranquility," Chase said, the Horowitzes are ready to move on.
"I think people's lives are moving much faster now — they are kind of gravitating to where their families are," Chase said. "They want to be closer to their kids and grandkids, and it's very difficult to have people traveling back and forth."
Instead of dropping the asking price gradually, "We thought we'd make the (new) price compelling right out of the gate," Chase said of the decision to slash the asking price by 25 percent.
When it comes to real estate commissions, Chase said "sellers who know what it takes (to successfully market and sell a property) aren't going to penny pinch."
Chase International was paid "top dollar commission" on the biggest sale it has handled to date: a home that went for $50 million, Chase said.
"There are some sellers who really want to negotiate" commissions, Chase said. "We say there are many brokerages that would take (their listing) at a lesser rate."
Determining the value of a one-of-a-kind home like Tranquility can be complex. For one thing, there are no "comps," or comparable properties, to Tranquility in the Lake Tahoe market. Zillow doesn't offer a "Zestimate" for the property, but notes that the asking price has dropped from $2,631 per square foot to $1,973.
Chase said two appraisers in the San Francisco Bay Area think Tranquility compares favorably to a 25,500-square-foot limestone mansion in Los Altos Hills, Calif., sold in March for $100 million to Russian venture capitalist Yuri Milner.
The sale price was a new record — Trump ended up taking $95 million for his Palm Beach home in 2008 — but the Wall Street Journal reported that half of the price was seller financed.
Chase said Tranquility's asking price was determined by an appraisal that included an analysis of what the sellers have invested in the property.
According to a 2006 San Francisco Chronicle article, the Horowitzes bought the undeveloped acreage in December 1996, paying $4.5 million. The land had belonged to heirs of the Singer Sewing Machine Co. fortune for 70 years before it was owned, briefly, by Wayne Newton.
The Horowitzes hired an architect and interior designer and proceeded to build a 38,000-square-foot, eight-building compound that incorporated materials, artifacts, furniture and art gathered from around the world.
The main residence's great hall features 30-foot-tall windows, and a sky-lit entryway boasts marble floors patterned after those in the New York Public Library. The dining room features 300-year-old French plank flooring, and there's a cigar lounge modeled after one in New York City's St. Regis Hotel.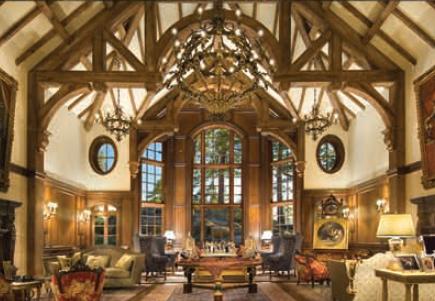 Tranquility's great hall features 30-foot-tall windows.
"Think of a 10-story high-rise lying on the ground, with the inside finished like a baby grand piano," the construction superintendent who oversaw the project, Jim Brown, told RenoMagazine.com.
According to that story, it took three and a half years to build Tranquility, with up to 150 workers on the site at times.
Other factors that add to Tranquility's value include development rights to build additional structures on the property. The home sits on the largest privately held residential parcel at Lake Tahoe, Chase said. Although it can't be subdivided, the ability to build numerous outbuildings or a large addition is "huge," she noted.
Existing outbuildings include a stable, boat house, conservatory, art studio, guest house, and gymnasium with indoor basketball court.
The property is so vast, there's even been some interest from prospective buyers in turning Tranquility into a resort, Chase said, although the property would have to be rezoned for that use.
Other selling points being used to market the home include Nevada's favorable tax rates, and reasonable maintenance expenses.
"People think you would need a huge staff, but you don't," Chase said. "The building is sustainable and the expenses are really in line — much less than people think."
Annual property taxes are currently in the range of $150,000, she said, and Tranquility's sale will not trigger a reassessment — homes in the area are assessed every five years.
Chase said Lake Tahoe's locale and alpine climate — the area draws skiers in the winter and resort-goers in the summer — is appealing to affluent buyers from the San Francisco Bay Area and Silicon Valley.
Interested buyers may also hail from Los Angeles, New York or London, Chase said, and "Russians are a key candidate for this property, too — the climate is something they like."
As is the case with any home on the market, Tranquility could end up selling for more than its current asking price of $75 million.
Since the 25 percent price reduction was announced on May 27, Chase said there have been "several inquiries that could pop the sale of this property."
The house is being sold fully furnished, she noted — buyers "just need to bring their pajamas and their toothbrush and they're in."