Editor's note: This article is reposted with permission of Zillow. View the original item: "Hogwarts-Worthy Homes in the U.S."
By LAUREN RIEFFLIN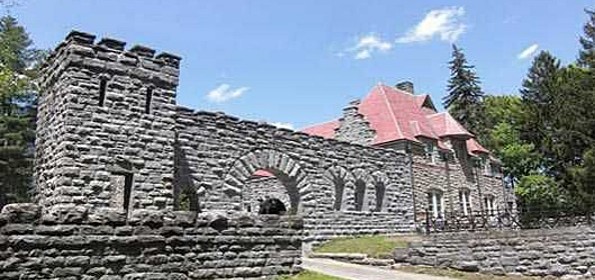 With a worldwide record-breaking opening weekend, the last chapter in the Harry Potter movie series, "Harry Potter and the Deathly Hallows: Part 2," is laying ground to be one of the most memorable — and lucrative — movie endings of all time. For starters, the box office hit blew the midnight showings record out of the water, making $43.5 million in the U.S., up from Twilight's $30 million in 2010, and set a new worldwide opening weekend record grossing $475.6 million from Friday to Sunday.
So, who does Mr. Potter have to beat for the ultimate title of highest-grossing film in the world? Currently James Cameron's "Avatar" holds the title, which grossed nearly $2.8 billion in 2009. "Titanic" is slated second, grossing $1.84 billion in 1997.
The cast, crew, and, of course, fans are sad to see the wizarding world come to an end, but many have faith the magic will live on. For us nonmagical folk, the easiest way to keep Harry Potter alive may be to buy a Hogwarts-worthy home. As it turns out, there are a plethora of castles for sale in the U.S. that could easily be a stunt double or close cousin to the infamous school of wizardry.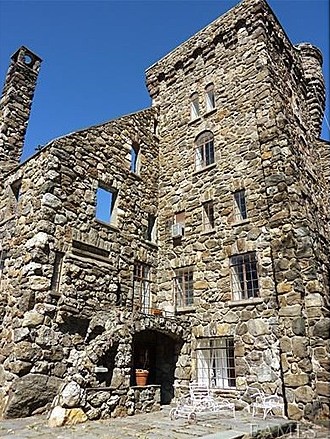 249 Croton Dam Rd, Ossining NY 10562
For Sale: $5 million
An abandoned castle in need of renovation is just the sort of place a wizard could hide out safely from prying Muggle eyes. Built in 1927, the 4,337-square-foot castle has four bedrooms and 3.5 bathrooms. The property sits on 50 wooded acres and is being sold "as is" for $5 million, ironically listed on the New Castle real estate market.
…CONTINUED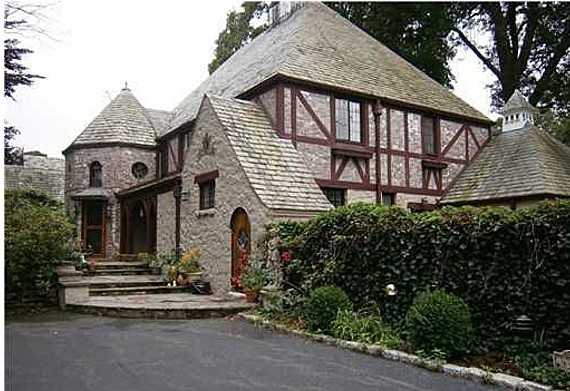 934 Orange Center Rd, Orange CT 06477
For Sale: $790,000
For a stone castle, anything under $1 million is a great deal — just ask any wizard. This 3,355-square-foot castle was built in 1939 and has been completely renovated while retaining its very "old-world charm." In case you ever want to spend a night outside the four-bed, four-bath stone castle, the Orange, Conn., property also includes a small guest house.
…CONTINUED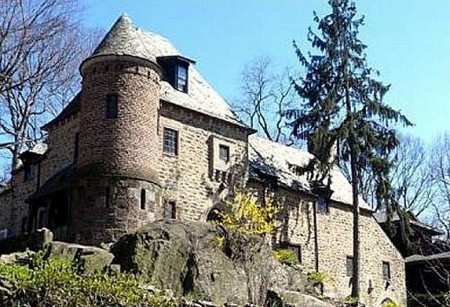 4720 Grosvenor Ave, Bronx NY 10471
For Sale: $2.995 million
Built in 1899, this stone mansion listed in the Bronx real estate market was designed by architect Norman Foster for shipping-line owner Giuseppe Cosulich, possibly as a copy of Cosulich's family chateau in Croatia. Although more than 100 years old, the castle is filled with 21st century Muggle updates like sub-zero kitchen appliances, Mitsubishi air-conditioning, a Bose sound system and flat-screen TVs that all but make the need for Harry's kind of magic obsolete.
…CONTINUED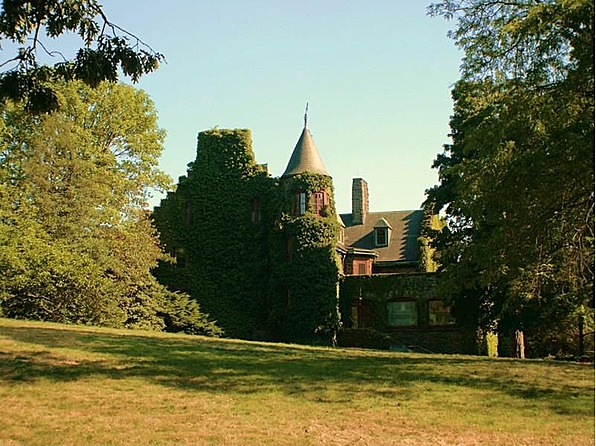 1 Castle Road, Piermont, NY 10968
For Sale: $9.5 million
Built in 1892 and less than an hour away from New York City is a Beaux Arts-style home that truly belongs on the Hogwarts grounds. A 15,000-square-foot home, separate cottage and two-story barn are situated on a lush 18 acres. The 30-plus room main house features a great hall (enchanted ceiling unfortunately not included), billiards room, walk-in safe, walk-in ice box room, two kitchens and an elevator. This Piermont castle is currently listed on the Orangeburg real estate market for $9.5 million.
…CONTINUED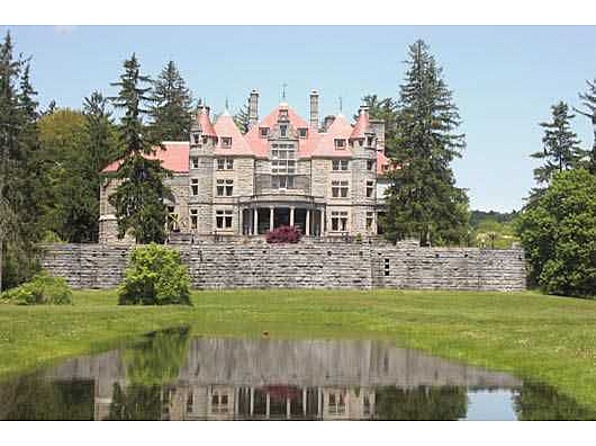 389 Main St, Great Barrington, MA 01230
For Sale: $11 million
Located on 61 acres of prime Great Barrington real estate, the Searles Hopkins Castle is a French chateau-style stone castle perfectly outfitted for a "Harry Potter" shoot. The 54,246-square-foot castle was commissioned in 1889 by Mary Hopkins, the widow of Mark Hopkins, founder of Central Pacific Railroad. Highlights of the remarkable property include a Louis XIV drawing room with gold leaf details, music room with a 42-foot done ceilings, large stone terraces overlooking the private pond and gardens, a stone loggia, garden temple, carriage house, barn and tennis court.
…CONTINUED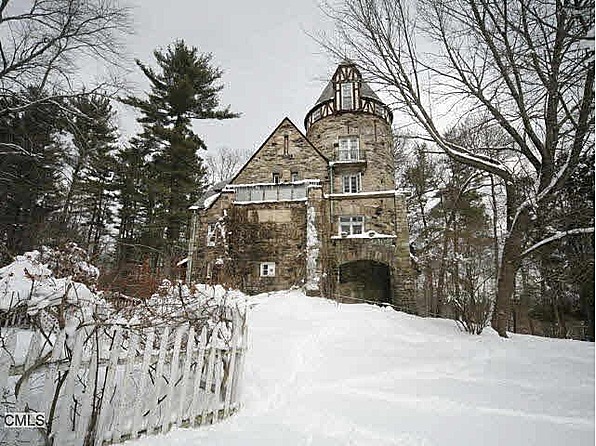 271 Hunting Ridge Rd, Stamford, CT 06903
For Sale: $1.099 million
Dubbed Chateau Rochamore ("love rock"), this snow-drenched Stamford castle will make you feel like you've been whimsically whisked away to Hogsmeade Village in the winter months. The custom-designed stone castle is a gem among North Stamford real estate and noted as one of the city's "most significant estates." Completed in 1906, the 4,800-square-foot castle contains five bedrooms, five bathrooms, six wood-burning fireplaces, and a great room with a three-story high beamed ceiling. The three-acre property also includes an in-ground swimming pool and a three-car attached garage.
…CONTINUED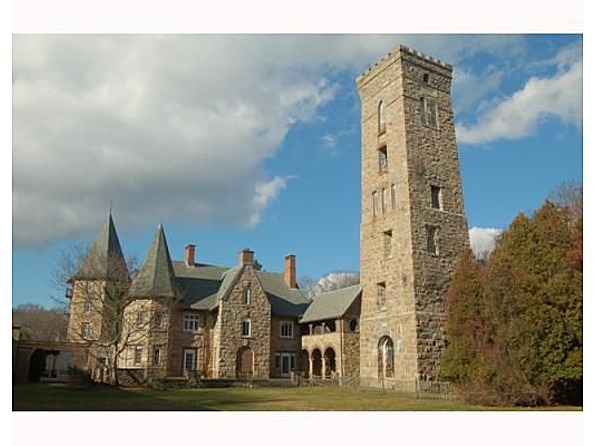 333 Ocean Rd, Narragansett, RI 02882
For Sale: $5.95 million
Complete with stone walls, tower, turrets and almost 33 acres of landscaped grounds, Rhode Island's Hazard Castle is lacking only a few broomsticks and an owl to properly outfit this home as a Hogwarts look-alike. Built in 1882 for wealthy businessman Joseph Peace Hazard, this historic piece of Narragansett real estate has been on the market since May 2009. It's currently listed for $5.95 million, down from its original listing price of $7 million. The Gothic Revival-style castle includes a 10,000-square-foot main house and three outbuildings that total 26,000 square feet.
…CONTINUED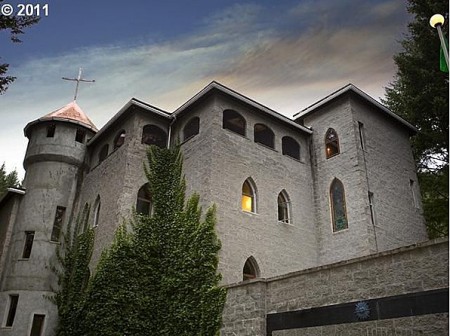 92 Fordyce Rd, White Salmon WA 98672
For Sale: $1.2 million
Ten miles past the Oregon border into Washington state, a large stone castle rises up above the White Salmon River. With a stone tower and curved windows, the building looks straight out of the Middle Ages. However, this castle, listed on the White Salmon real estate market, is only 23 years old. The home sits on a 26-acre plot and has 5,616 square feet of living space, four bedrooms and three bathrooms.
…CONTINUED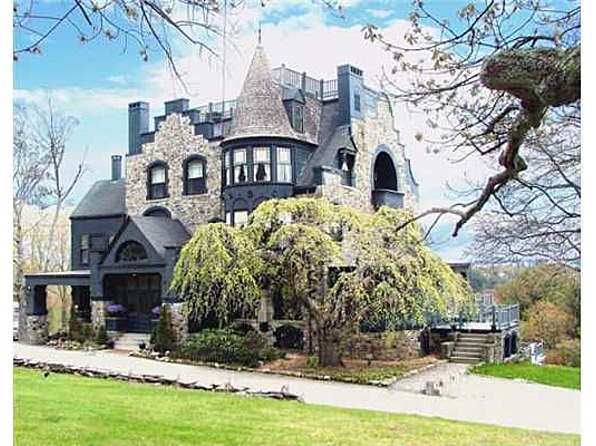 63 High St, Camden, ME 04843
For Sale: $1.95 million
Though the Norumbega castle is of classic Victorian architecture, the black paint and stone accents of the exterior makes this coastal castle a prospective hide-out for Harry Potter's arch-nemesis: He Who Must Not Be Named. With 13 rooms, 13.5 bathrooms and more than 10,000 square feet of living space, this unique home can be a personal residence or a 13-room inn, as noted in the listing description. Norumbega is currently listed on the Camden real estate market for $1.95 million.
Still hungry for more Hogwarts-inspired real estate? See more castles for sale in the U.S.
More eye candy:
Copyright Zillow 2011