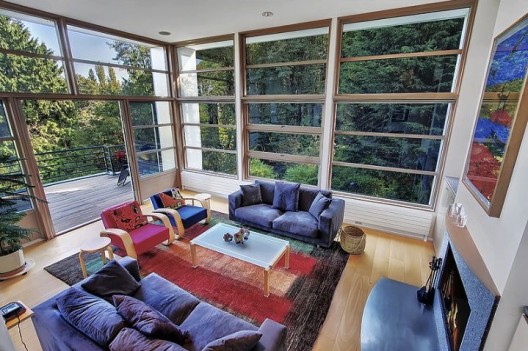 Click here to view the full photogallery.
Location: Seattle
Price: $1.295 million
The Skinny: Built by, and for, a principal in the Seattle-based architecture firm Balance Associates, the Euclid House towers over its tiny, 0.14-acre lot to take advantage of Lake Washington views and the surrounding forest. Multi-paned glass walls front the great room, allowing close-up views of the dense woods, while 12-foot ceilings and white walls keep the interior simple and airy. The house looks remarkably fresh and contemporary in its 19th year, but the furnishings — particularly the black leather couches and technicolor velvet — could use an update. As an added bonus, the house costs very little to heat and cool thanks to energy-efficient windows and radiant heating.
Sources: Windermere Real Estate
View the original item at Curbed.com: "'Glassy Contemporary Treehouse Still Manages Energy Efficiency," by Rob Bear.
More from Curbed.com's House of the Day:
Copyright Curbed.com 2011