A real estate data-quality study released by online portal Trulia found that about 69 percent of errors in online real estate listings information were directly related to third-party syndication of information by non-multiple listing service sources.
The company reviewed about 1.2 million listings from about 250 data sources during the third quarter and found about 120,000 inaccuracies in listings information. More than half (51 percent) of those inaccurate listings had errors in price, 41 percent had status errors, and 8 percent had errors in both price and status.
"This study shows that online listing errors are reduced significantly when MLSs syndicate directly on behalf of their membership," according to a related infographic (see below) that the company released.
And a survey of 1,000 consumers and real estate professionals conducted for Trulia found that accuracy of real estate listings information is a top concern.
"Most complaints about online listings revolved around the status of listings being outdated (e.g., pending) or the price often being incorrect," said Ken Shuman, a Trulia spokesman, in a statement.
The company in March announced a "Trulia Direct Reference" system that searches for discrepancies between MLSs' real estate listings information and information at third-party syndication sites.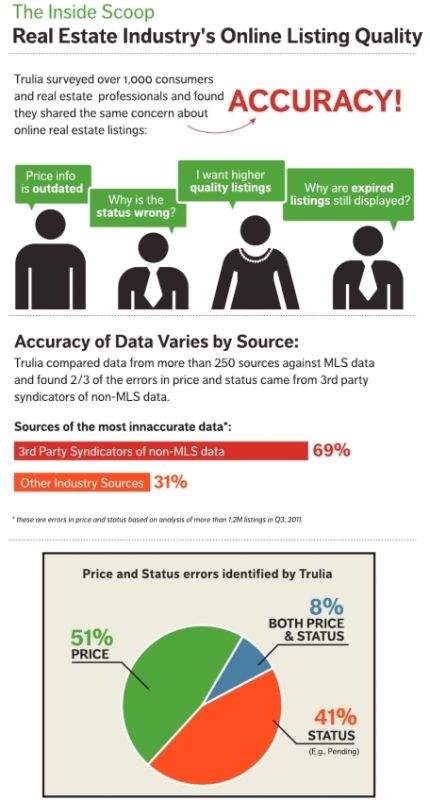 Source: Trulia.