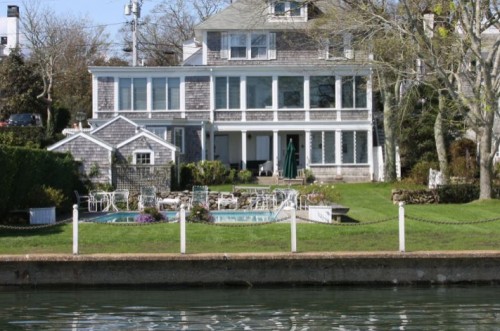 Click here to view the full photogallery.
Location: Edgartown, Mass.
Price: To be determined. (Last listed for $9.35 million.)
The Skinny: The Martha's Vineyard whaling village turned blue-blood enclave of Edgartown, Mass., is a showplace for classic New England coastal architecture, with plenty of shingle and widow's walks, but the most desirable real estate is determined by location, not architecture.
This 0.19-acre estate on the coveted inner harbor waterfront has been on the market for several years without garnering a sale, and now the owners are getting restless. After more than 80 years of family stewardship, they've moved to auction the property. Owners of the six-bed, five-bath mini-compound will begin accepting bids Oct. 22, with the auction set to close a week later. Will the rare waterfront swimming pool be enough to drive bidding close to the previous $9.35 million asking price?
Sources: Concierge Auctions, Landvest.
View the original item at Curbed.com: "'Auction Will Decide Fate of this Edgartown Inner Harbor Estate," by Rob Bear.
More from Curbed.com's House of the Day:
Copyright Curbed.com 2011