On average, male real estate agents list more homes than women do, while the homes women list have higher asking prices, according to a study by real estate search and marketing site Trulia.
In its research, Trulia first separated the more than 100,000 real estate professionals with profiles on its site by gender, using a "Name Genderizer" tool to categorize whether the names are most likely male or female.
Then, in a one-day snapshot on Oct. 1, the site examined the total number of male agents compared to female agents, and which gender had listed more homes for sale and which listed more expensive homes, on average, since joining Trulia. The site did not control for when agents joined the site, "since there's no systematic differences between when men and women create a Trulia profile," Trulia said.  
Female agents' listings tended to be pricier, on average, than those of their male counterparts. The difference was biggest in West Virginia where female agents' listings were 63 percent more expensive. Put another way, female agents' average list price was about $100,000, compared with about $60,000 for male agents — a price difference of about $40,000.

Source: Trulia.
In a blog post about the findings, Trulia said that "the average list price isn't necessarily a reflection on how aggressive the agent is on pricing. In some cases, it could mean that women take on inherently more expensive homes/neighborhoods than men, and vice versa."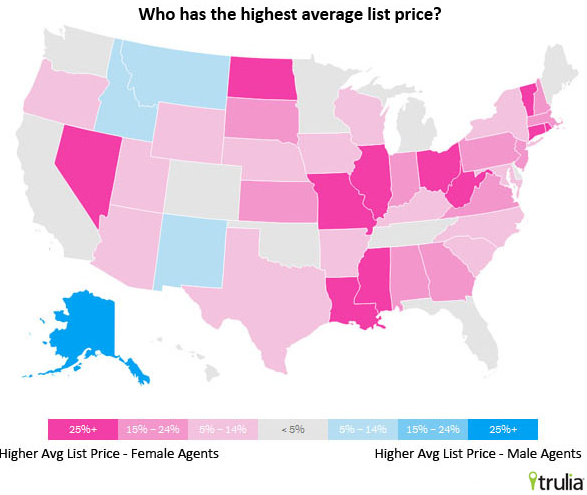 Only in Alaska did homes listed by men have considerably higher asking prices, on average, than those listed by women. Although female agents registered at Trulia outnumber male agents by 53 percent in that state, the men exceeded the women in both the volume of listings and average asking price.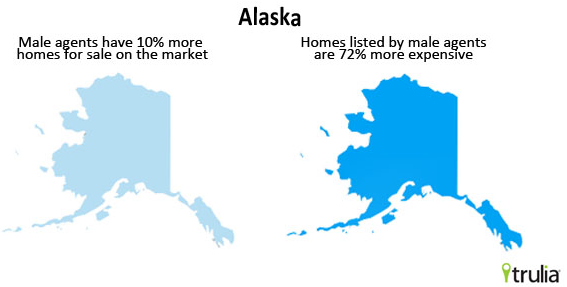 At the other end of the spectrum, female agents had an edge over their male counterparts when it came to listings volume and average asking price in Mississippi.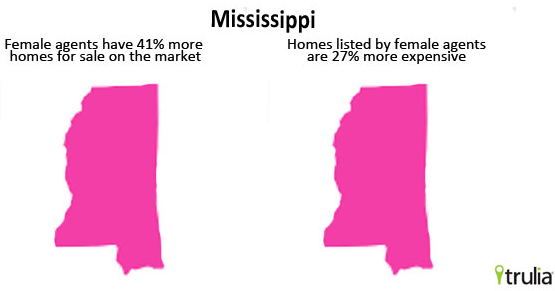 According to Trulia's study, men listed more homes, on average, with the difference especially pronounced in the Dakotas. In North Dakota, men listed 129 percent more homes than women agents, on average, since joining the site.

Source: Trulia.

Only in Wyoming, Nebraska, Mississippi and Louisiana did the cumulative listing volume for female agents exceed that of male agents by 20 percent or more.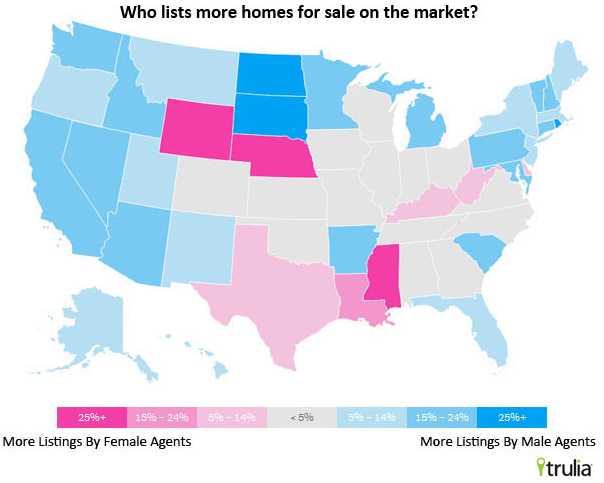 Females outnumbered males in all 50 states with a range of about 48 percent more female than male agents in South Dakota and Nebraska to 64 percent more in Mississippi and Oklahoma. Overall, females tend to outnumber males in the industry — the National Association of Realtors' 2011 Member Profile found that about 57 percent of Realtors, based on data sampled earlier this year.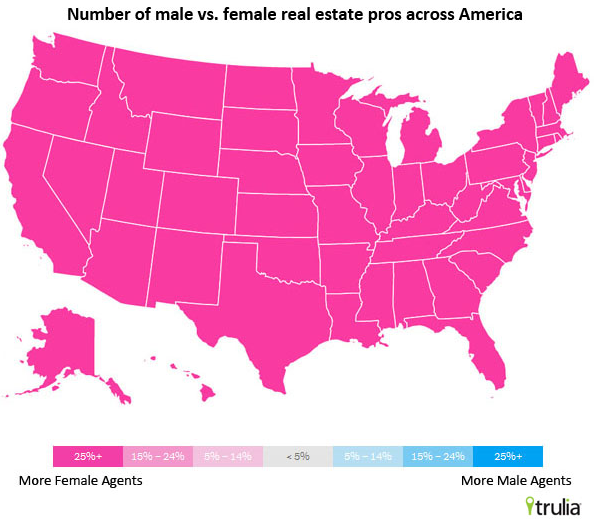 Source: Trulia.
For a further state-by-state breakdown, an interactive map is available from Trulia.