HOUSE OF THE WEEK
Location: Branford, Conn.
Price: $3.375 million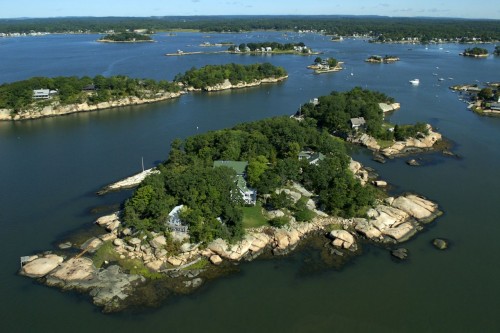 Click here to view the full photo gallery.
The Skinny: The hundreds of minute islands lying off of midcoast Connecticut, an archipelago known as the Thimble Islands, have previously attracted vacationing dignitaries like President William Howard Taft, but until recently remained a bastion of modest families who passed the houses down the generations. Now, the rich have arrived en masse and with aplomb — one wealthy widow recently spent $30 million on several of the islands, including the $22.3 million Rogers Island and its 27-room Tudor mansion. A cheaper option is available, provided the buyer is willing to share Pot Island with a few other houses. This $3.4 million mansion was once a hotel and boasts a broad porch ringed by Gothic arches, 11 bedrooms and 6,300 square feet of interior space.
Sources: CT-Waterfront-RealEstate.com; The New York Times.
View the original item at Curbed.com: "'A Hotel-Turned-Island Estate Within Range of NYC and Boston," by Rob Bear.
More from Curbed.com's House of the Day:
Copyright Curbed.com 2011