Popular national real estate search sites Trulia and Zillow released mobile applications for Amazon's Kindle Fire Monday.
The app launches came as online retail giant Amazon began shipping its new color touchscreen tablet computer, the Kindle Fire, on Monday — a day earlier than anticipated. The $200 Kindle Fire is expected to be a serious competitor to the Apple iPad, currently the best-selling tablet on the market.
Both apps are free. Both allow users to filter their search for homes, save searches and favorite properties, share listings with people they know, and view full-screen photos. One difference between the apps is that Zillow's app is map-based.
Trulia's app is not map-based because GPS and location-based services aren't currently available on the Kindle Fire, the company said.
Instead, "we built an app with a focus on list view, photo search and full-screen slideshows," Trulia said.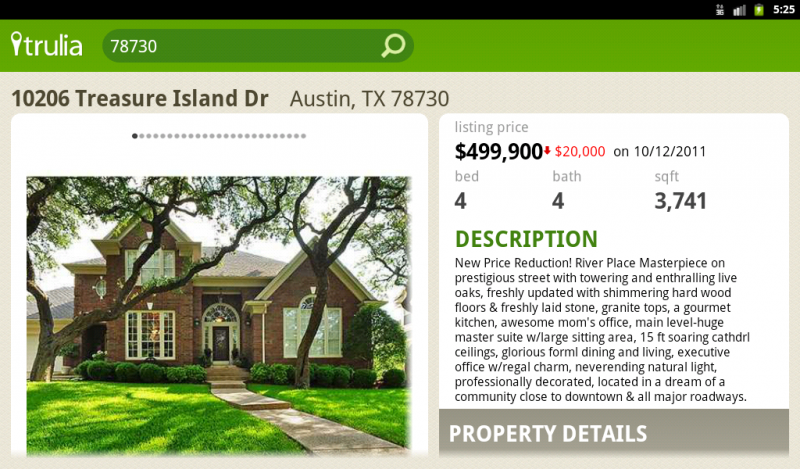 Screenshot of Trulia's Kindle Fire app.

"Currently, more than 25 percent of Trulia's weekend traffic comes from mobile and continues to grow at a rapid pace. We anticipate that Amazon's platform will continue to fuel that growth," the company said.
By contrast, Zillow's app offers map-based search. While the lack of GPS on the device means users can't do an automatic search for homes nearby based on their current location, they can search by address or city and then move the map around to see homes nearby, Cynthia Nowak, spokeswoman for Zillow, told Inman News.
"We worked closely with Amazon and built a custom-mapping solution uniquely for Kindle Fire, which uses Microsoft Bing maps. One of the benefits of a map-based app is that when home shoppers move the map the home search immediately reloads, instead of having to type in a new location to get an update. In the end, we plugged a hole in Amazon's offering that no one else has," Nowak said.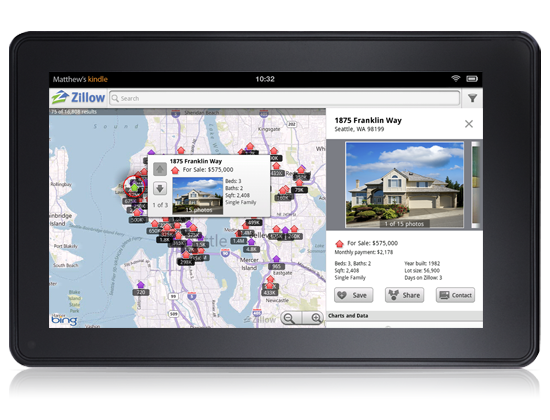 Screenshot of Zillow's Kindle Fire app.

Zillow and Trulia were the third and fourth most visited real estate-related websites, respectively, in September, according to the latest rankings from Web metrics firm Experian Hitwise.