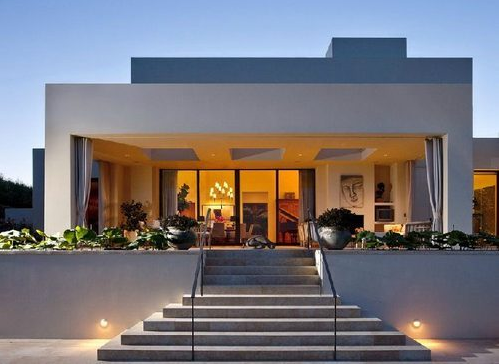 Click here to view the full photo gallery.
Location: Montecito, Calif.
Price: $10,500,000
The Skinny: Built in 2000 to designs by architect Jack Warner, this Montecito hilltop estate enjoys views of rolling hills and the Pacific beyond, with broad windows, a large patio, and clean lines that don't distract from the vistas. The 7,200-square-foot main house sits on 2.5 acres and includes five bedrooms, 5.5 bathrooms, a pair of offices, a covered terrace for all-weather outdoor dining, and plenty of fountains and water features.
Some of the sculpture looks a bit dated in context, but there's no guarantee that it comes with the property. Either way, with a very slight amount of sprucing this $10.5 million mansion could be a showplace estate. The entry, in particular, with a precisely manicured gravel driveway and walls of ivy, lends the place a swank feel.
Source: Zillow
View the original item at Curbed.com: "In Mountains of Montecito, a Contemporary Mansion for $10.5M," by Rob Bear.
More from Curbed.com's House of the Day:
Copyright Curbed.com 2012