RentJuice, a provider of online rental relationship management software to real estate professionals, has released updated versions of its mobile applications for the Apple iPhone and iPad.
The RentJuice app updates enable real estate brokers and property managers to respond to new leads immediately, communicate and share content with them, and start the leasing process online with RentJuice, the company said. Features are the same across both apps.
RentJuice first rolled out the apps in January. The apps now send out push notifications to rental agents as soon as leads become available. Leads are categorized into "unclaimed leads," "active leads," or "inactive leads." Agents can also see the source of the lead (Facebook or Craigslist, for example) and the lead's contact information, which is automatically added to a special client address book once the agent has claimed a lead.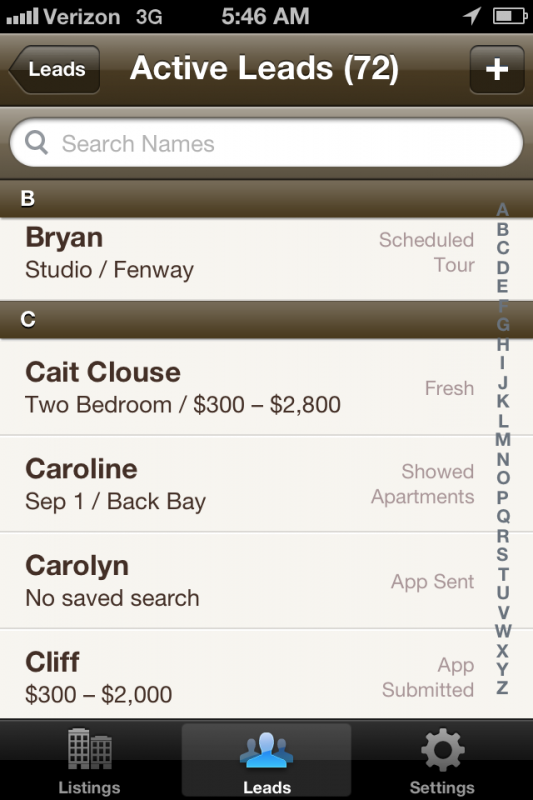 Screen shot of RentJuice mobile app. 
RentJuice has also updated the apps' search and sort functions, adding the ability to search for available units nearby, for instance. Users can also save listings and share listings and photos with clients directly from the apps.
The apps now also include RentJuice's online leasing platform, which allows agents to send documents back and forth with clients and have them sign those documents electronically.
"Agents are most effective out in the field with clients," said David Vivero, CEO of RentJuice, in a statement. "Putting an entire leasing office in a phone or tablet means customers can take on more appointments without missing out on valuable opportunities to get additional leads, service them, and close deals, all without touching their computer."
In April, RentJuice launched a "Common Application" that allows renters to enter personal information once online and then transfer that information into subscribing real estate offices' leasing-related online forms.
Property search and valuation portal Zillow this week announced its intention to acquire RentJuice for $40 million. Zillow said the purchase would allow it to offer a suite of tools and services for rental professionals to help them market their inventory to renters and manage client relationships.