Foreclosure activity nationwide continued to fall in April, though foreclosure-related filings in the 26 states where courts handle the process jumped, according to a report from foreclosure data aggregator RealtyTrac.
One in every 698 U.S. housing units, or a total of 188,780 properties, were subject to a foreclosure-related filing in April, such as a default notice, scheduled auction or bank repossession. That's down 5 percent from March and 14 percent from April 2011, and the lowest monthly total since July 2007, RealtyTrac said.
Foreclosure-related filings were up 15 percent from a year ago in 26 judicial foreclosure states where courts handle filings. In the 24 nonjudicial foreclosure states and Washington, D.C., filings were down 29 percent from a year ago.
"Rising foreclosure activity in many state and local markets in April was masked at the national level by sizable decreases in hard-hit foreclosure states like California, Arizona and Nevada," said Brandon Moore, RealtyTrac's CEO, in a statement.
"Those three states, and several other nonjudicial foreclosure states like them, more efficiently processed foreclosures last year, resulting in fewer catch-up foreclosures this year."
"In addition, more distressed loans are being diverted into short sales rather than becoming completed foreclosures," Moore said.
"Our preliminary first-quarter sales data shows that pre-foreclosure sales — typically short sales — are on pace to outnumber sales of bank-owned properties during the quarter in California, Arizona and 10 other states."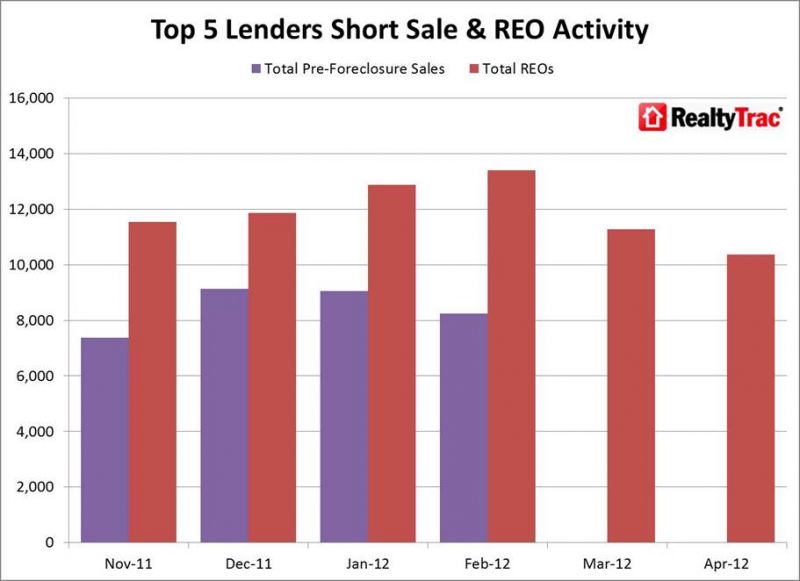 The nation's five biggest mortgage servicers — Ally Financial, Bank of America, Chase, Citigroup and Wells Fargo — have had a much higher ratio of pre-foreclosure sales to sales of bank-owned homes (REOs) in recent months, RealtyTrac said. The five are averaging less than 1.5 REOs for every pre-foreclosure sale, compared with more than 2.5 REO sales for every pre-foreclosure sale among other lenders and servicers, the report said.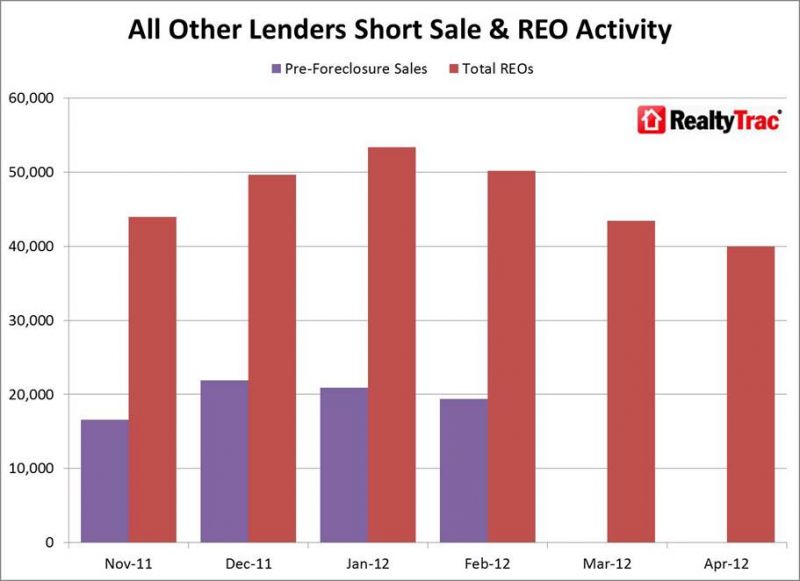 On the heels of the government's $25 billion settlement with the big five servicers over so-called "robo-signing" practices, some industry observers predicted a rise in short sales because the settlement allows loan servicers to receive credit when they approve sales that include forgiveness of a portion of underwater homeowners' debt.
Overall foreclosure starts — properties receiving their first foreclosure filing, either a default notice or scheduled auction, depending on the state — declined 2 percent year over year in April to 97,665. Nevertheless, 27 states posted annual increases in foreclosure starts with several states posting triple- or double-digit jumps, including New Jersey (180 percent), Utah (179 percent), Indiana (49 percent), Pennsylvania (44 percent), Florida (43 percent), and Michigan (42 percent), the report said.
The number of properties repossessed by lenders fell on a yearly basis for the 18th straight month in April. REOs fell by 26 percent last month to 51,415. Nearly three-quarters of states, 37, and Washington, D.C., saw REO activity drop year over year, including Nevada (71 percent), Arizona (70 percent), Washington (67 percent), California (52 percent), Virginia (47 percent), and Maryland (47 percent).
Eleven of the nation's 20 most populous metropolitan areas experienced a year-over-year rise in foreclosure activity in April. All 11 were in the South, Midwest or Northeast. Of the remaining nine metros that saw annual declines in activity, six were in the Western states of California, Arizona or Washington, the report said.