Franchisor and Realogy Corp. subsidiary ERA Real Estate has rolled out a revamped national website complete with Internet Data Exchange (IDX) listings in markets where its brokers operate.
IDX listings are pools of shared data managed by multiple listing services (MLSs) in order to enable participating members to display each other's listings. Because franchisors are not members of MLSs, their websites often display only listings represented by affiliated brokers, instead of complete sets of IDX listings represented by all of the brokers in a given market.
The National Association of Realtors last year briefly allowed franchisors to display IDX listings in markets where they had affiliated brokerages, but rescinded a rule change allowing the practice after some brokers and brokerage networks objected.
The new ERA.com website employs a workaround that transmits consumers' search requests to affiliated brokers' IDX websites, and allows them to see the results of those searches without leaving the main site. Homes.com, which now powers ERA.com, has powered a similar website for franchisor Re/Max for about six years.
"We believe search needs to be local and this solution puts the broker at the center of the consumer experience," said Charlie Young, ERA Real Estate's president and CEO, in a statement.
"Our IDX Web solution maintains the integrity of listings by complying with local MLS display rules and connects consumers directly with our brokers."
In addition to the new national site, ERA Real Estate also launched more than 700 customizable, branded websites for local brokerages and agents at no additional cost. ERA.com will direct consumer searches and traffic directly to these local websites, the company said.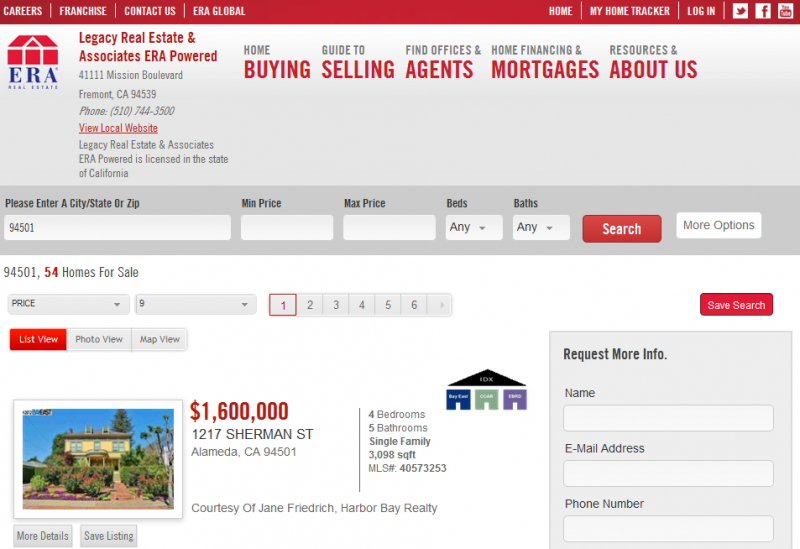 Screen shot of ERA.com search results. 
ERA Real Estate has also integrated IDX search in its mobile applications powered by Smarter Agent. The apps are available on iPhone, Android, BlackBerry and Palm smartphones, as well as the iPad tablet.
ERA Real estate has about 32,000 brokers and sales associates and about 2,400 offices worldwide. More than 90 percent of ERA brokers participate in IDX data-sharing agreements in their local markets, the company said in an announcement earlier this year.