In its latest move to improve relations with real estate brokers, property search and valuation site Zillow today announced the beta launch of a program designed to provide greater visibility to listing agents, boost listing accuracy, and offer better lead management options.
The free, five-point program, called zPro for Brokers, will at first be available to only about 10 partner brokerages, which have yet to be chosen. In order to become a partner broker, brokerages will need to sign an agreement to feed listings directly to Zillow "to help us make sure that our listings are as accurate and complete as possible," said Bob Bemis, Zillow's vice president of industry relations.
Last month, Zillow rolled out its Zillow Partnership Platform (ZPP), in which the portal made several pledges toward improving listing data accuracy and giving brokers and multiple listing services greater control over how Zillow displays listing information. 
"Brokers have been giving us a lot of feedback, and we've been listening," Bemis said in a statement.
"We're here to help agents and brokers. Zillow's (business) is built on the success of agents and brokers," Bemis told Inman News. Helping the agent and the consumer will "in turn help Zillow," he said.
Under the zPro program, listing agents with zPro brokers will no longer have to set up a Zillow profile in order to appear first on a list of buyer's agents next to property listings. Because listing agents are verified through their broker, listing agents will have to provide only their photo along with the data feed sent to Zillow.
Previously, listing agents without a Zillow profile would not have appeared on the buyer's agent list at all, but rather at the bottom of a listing under the heading "Listing Provided By." This will remain the case with listing agents whose brokerages do not belong to zPro.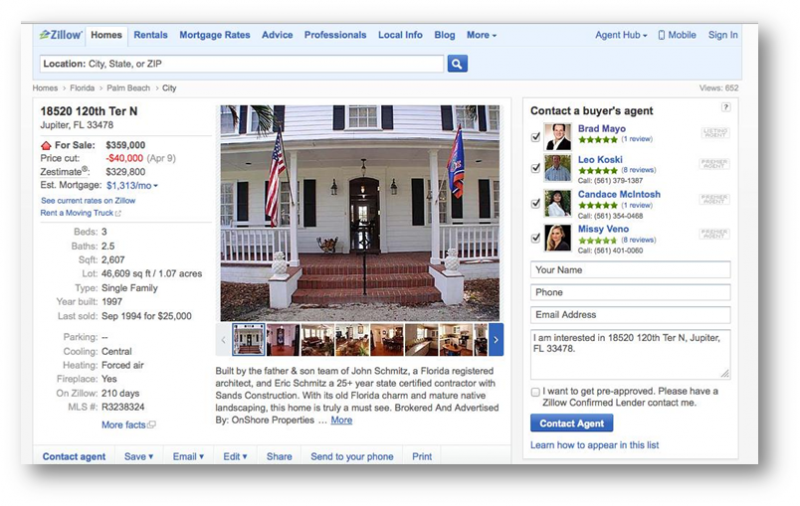 Zillow screen shot showing a listing agent at the top of a listing lead form.
"Listing agents who work for brokerages that incorporate zPro into their business will now be even more visible to the consumer shopping on their listings, and brokers will have tremendous insight into the performance of their listings on Zillow," said Jay Thompson, director of industry relations and social media, in a statement.
Zillow recently hired Bemis and Thompson as part of its partner outreach team in an effort to enhance its relations with brokers and MLSs. Zillow and other third-party listing portals have come under fire from some brokers in recent months over listing inaccuracy and ads and lead forms for competing agents that sometimes appear next to listings on the sites.
Most recently, Prudential Kansas City Realty, a 430-agent firm with some 1,200 listings, stopped syndicating to Zillow and competitor Trulia, citing data inaccuracy and poor performance. Trulia recently announced it would revamp some of its marketing offerings for real estate professionals to focus on the interests of brokers, including improved data accuracy on its site and clear identification of listing agents and brokers.
Other zPro program features:
Agents belonging to zPro brokerages get automatic text and email alerts when a consumer fills out a lead form and a follow-up reminder via phone call within eight hours if the agent has yet to reach out to the consumer. Previously, listing agents had to sign up to receive these notifications.
Partner brokers choose who gets leads — the broker's customer relationship management system, the listing agent, or both.
ZPro brokers can sign up to receive weekly listing reports that include listing page views, search result views, lead counts, and the rate at which an agent opens his or her lead emails. Previously, only listing agents could sign themselves or their clients up to receive these reports.
Brokers' "MLS-sourced" listing feeds will take priority over all other data sources. 
In cases where both a brokerage and its MLS gives Zillow permission to pull listing data and the data is not exactly the same, Zillow will discuss the issue with the parties, but Zillow will not "mediate," Bemis said.
"One of the things I'm trying to avoid in this whole process is getting in between the MLSs and brokers," he said.
In his experience, however, "the broker prevails in all syndication issues," Bemis added.
Zillow invites brokers interested in the program or in participating in the beta test to email partners@zillow.com. While he would prefer a mix of brokerages in terms of size and location to participate in the beta test, participants will largely be chosen on a first-come, first-served basis, Bemis said.
While no cutoff date has been set for the beta test, Bemis doesn't anticipate the test will run more than 30 days.
"(We want to) ramp up quickly and bring on as many brokers as would like to participate," he said.
"It's a win for the agents and I think it's a win for the consumer because the consumer is going to see better, more accurate, more complete data, and that's really what we're here for," he added.

Screen shot of Zillow brokerage listing report.