Inventory of unsold homes on the market declined in April as the share of underwater homeowners rose, according to a monthly report from data aggregator CoreLogic.
The number of unsold homes on the market was at its lowest level in more than five years in April — a 6.5-month supply. While that supply level is considered "reasonably healthy," it also means that there are "significantly fewer buyers" on the demand side of the market, according to Anand Nallathambi, CoreLogic's president and CEO.
"Historically, current homeowners trading up represent the biggest segment of the purchase market," he wrote in the report. "But with more than 20 percent of homeowners underwater, another 25 percent of all homeowners possessing less than 20 percent equity in their homes, and tightened underwriting requirements, this potential pool of buyers has effectively been eliminated."
Among the 50 largest metro areas in the country, those with the highest percentages of mortgages in negative equity also have the lowest inventory levels, according to CoreLogic's findings. For instance, markets where more than 50 percent of borrowers are underwater had an average months supply of 4.7 months in March, while those where less than 10 percent of borrowers are underwater averaged 8.3 months' supply, the report said.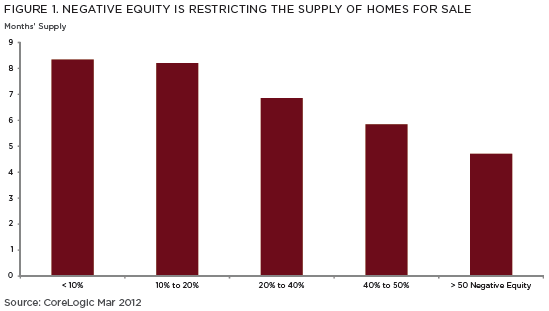 "While the rapid decline in months' supply is typically good news because it indicates a better balance between demand and supply, this decline is occurring less because of an increase in sales and more because of a drop in unsold inventory as a result of negative equity," wrote Sam Khater, CoreLogic's senior economist.
"The presence of negative equity not only drives foreclosures, reduces the availability of purchase down payments and impedes refinances, but also restricts the ability of owners to list their homes for sale as the demand side of the market improves," he added.
Because negative equity tends to be higher among homes with lower home values, supply also tends to be tighter, and that has spurred a rise in prices at the lower end of the price spectrum, the report said.
"Over the last two months, the prices of less expensive properties (those priced at less than 75 percent of the median) are up an average of 4.5 percent from a year ago, compared to 0.6 percent for higher-priced homes (priced at more than 125 percent of the median)," Khater wrote.
"We have transitioned from pricing dynamics driven by economic weakness and high shares of distressed sales to one of restricted supply, which will likely exist for some time to come — a reason for optimism in many hard-hit markets," he added.