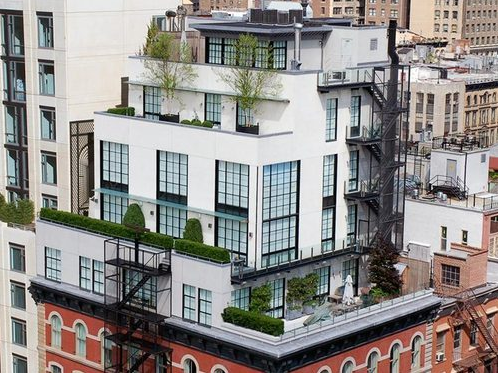 Click here to view the full photogallery.
Location: New York, N.Y.
Price: $28,000,000
The Skinny: High atop an 1860s warehouse that once housed ammunition for the Remington Arms Company and, later, champagne bottles for G.H. Mumm Company, this five-story penthouse is more like a townhouse in the sky than an apartment. Initially occupying three new stories — tacked on to the existing structure in 2000 as part of a renovation — the huge condo was later expanded by architect Andrea Ballerini through a combination with a lower unit to form a gigantic 11,000-square-foot apartment.
Current owner Edward Bazinet, a Wisconsin-based ceramics tycoon, purchased the place following that renovation in 2001 for $13.5 million. By the spring of 2006, Bazinet had grown tired of his palatial pied-a-terre and tossed it on the market, unaltered, for $28.5 million. In 2010, to mark its fourth anniversary on the market, the price was dropped by $500,000, but it has gone another two years without selling and without a price chop. Bazinet must be enjoying the place while he waits for the right buyer to come along.
Source: Sotheby's
View the original item at Curbed.com: "Ceramics Tycoon's Giant Tribeca Penthouse Lingers On Market," by Rob Bear.
More from Curbed.com's House of the Day:
Copyright Curbed.com 2012