The Re/Max real estate brand name has been used in at least two recent online scams, one an email account phishing ploy, the other a false rental scheme.
The online scams appear to be part of the larger milieu of Internet fraud, which, according to the FBI, increased 3.4 percent last year in the U.S. and totaled $485.3 million in losses.
The global real estate franchisor, which has more than 90,000 affiliated agents, has issued warnings for both on its website.
A still-active website that "spoofs," or pretends to be a Re/Max website, attempts to obtain victims' email login and password info. The site has no connection to Re/Max, as evidenced by its address: dijitalkataloog.com. 
According to a warning appearing on Re/Max's website, consumers have been receiving one-line emails — which appear to be sent from from their contacts, and sometimes even from "@remax.com" or "@remax.net" addresses — that link to the bogus site.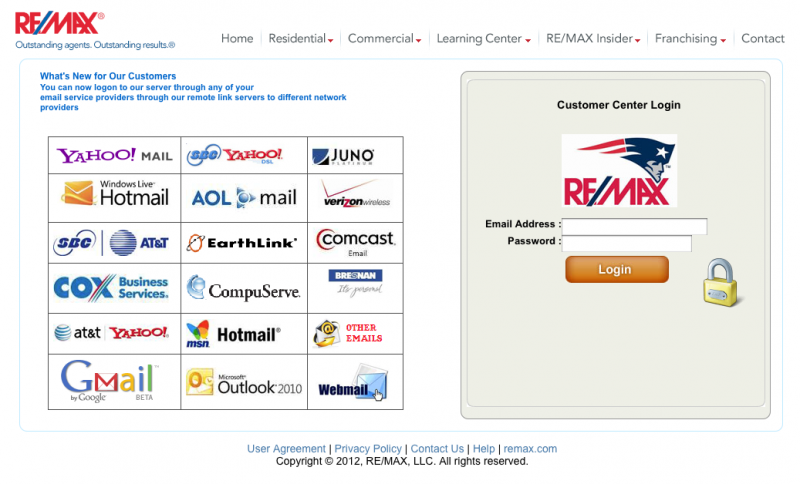 Screen shot of the fraudulent email phishing site.
The bogus website — which features a Re/Max header that links to genuine pages at remax.com — announces a fictional service that allows Re/Max customers to log in to the real estate site from their email accounts.
The site asks for consumers' email addresses and passwords, displaying the logo of more than a dozen providers, including Gmail, Yahoo, Verizon, Comcast, AT&T, Earthlink and AOL.
Re/Max's warning asks consumers to notify the company of instances of abuse and says it "will never ask for your password or personal information via e-mail."
Another recent scam involving Re/Max — and according to the FBI, a much more prevalent one — involved an online rental scam.
One version of the scam involves a fake online rental property listing, complete with photos and other property info, with Re/Max's name and brand attached. The scammer says that the owner is out of town and that Re/Max has a service that will send keys after a renter mails in a deposit and rent.
In one instance, as much as $2,000 was scammed using this method, according a warning on Re/Max's website.
Another, similar version of the rental scam, described on Re/Max's site, involves a fake rental transaction service that handles payment and access to keys. As Re/Max points out in the warning, the company has no rental transaction service.
With these and other Internet scams it's always important to check the Web address, said an FBI spokesperson. If there's an incongruence between the message of a Web page and its Web address, that's a red flag, the spokesperson said.
Re/Max has not disclosed how many complaints it has received from the scams it's recently been associated with, but the company asked those who have seen or been swindled by the fraudulent activity to send a note to abuse@remax.net.
Additionally, victims of Internet fraud can report crimes to the Internet Crime Complaint Center, a joint venture between the FBI and the National White Collar Crime Center.