As mortgage rates continued to hit new depths, the number of refinancings completed through the Obama administration's mortgage refinance program more than doubled year over year in May, according to a monthly report from the Federal Housing Finance Agency.
Last fall, the FHFA, which regulates government-sponsored enterprises Fannie Mae and Freddie Mac, announced several changes to the Home Affordable Refinance Program (HARP) in an effort to boost participation.
The changes included lifting the previous 125 percent loan-to-value (LTV) cap on HARP refinancings, and releasing lenders who sign off on a refinanced loan from some legal liabilities associated with the original loan.
The new HARP guidelines also eliminated some risk-based fees if homeowners refinanced into shorter-term mortgages that would get them out from negative equity situations more quickly.
HARP refinancings rose to 67,456 in May from 25,475 in May 2011. More than two-thirds of those refinancings were to borrowers with LTVs of 80 to 105 percent, meaning they either had equity in their homes or were only slightly "underwater."
But nearly a third of HARP refinancings were granted to borrowers above the 105 percent LTV threshold, meaning they owed considerably more on their mortgage than their home was worth.
The program completed more refinancings of underwater mortgages in the first five months of this year — 78,273 — than in all of 2011 (59,991).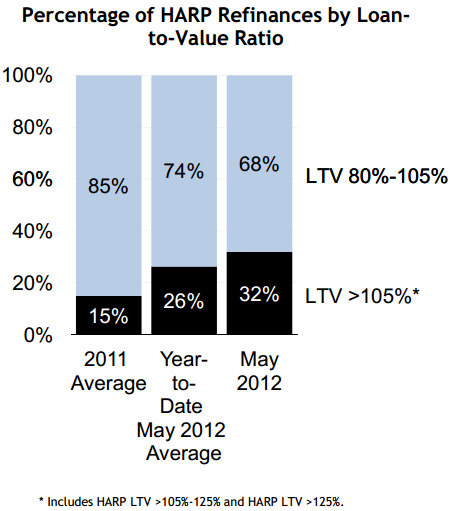 Source: FHFA 
Underwater borrowers also increasingly chose shorter-term 15- and 20-year mortgages: 19 percent chose such mortgages in May, compared with 10 percent in 2011 overall.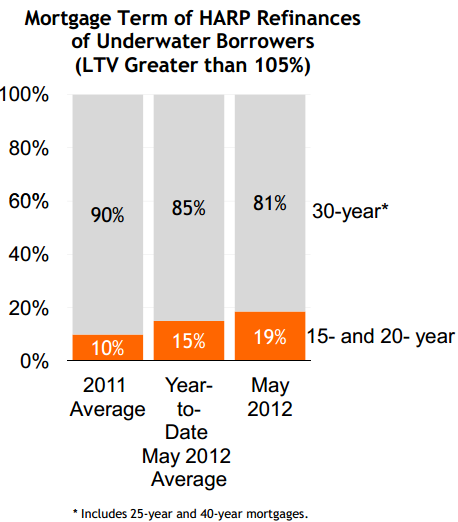 Source: FHFA  
HARP refinancings accounted for 20 percent of all refinancings, the greatest proportion since the program's inception in 2009. Since then, HARP has completed a total of 1.3 million refinancings, or about 11 percent of Fannie Mae and Freddie Mac loans refinanced during that period.
HARP refinancings accounted for more than 40 percent of May refinancings in four states with high foreclosure rates: Nevada, Arizona, Michigan and Florida.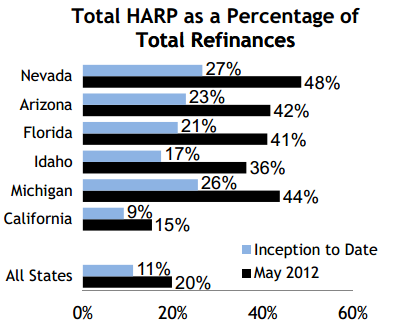 Source: FHFA   
Some foreclosure-ridden states also had high shares of HARP refinancings to underwater borrowers. In Nevada, Arizona, Florida, Idaho and California, underwater borrowers accounted for at least 42 percent of all HARP refinancings in May.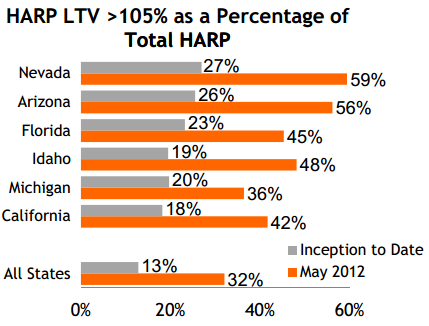 Source: FHFA   
In order to qualify for HARP, loans must be owned or guaranteed by Fannie Mae or Freddie Mac and must have been sold to the GSEs on or before May 31, 2009. Borrowers must have a loan-to-value ratio above 80 percent and must be current on their mortgage payments at the time of the refinance. Borrowers may have had one late payment in the 12 months prior to the refinance, but not in the six months before the refinance.