This bizarre time resembles a sci-fi epic involving three alternate universes — one real and two political — at each change of scene each universe moving more distant from the others.
Reality first. Today's reported 163,000-job net gain in July has surprised markets expecting more bad news, and thus triggered a short-covering rally in stocks and a dumping of safety-bought bonds, with market moves magnified by thin attendance during vacation season.
The job gain was half-again the forecast, but other aspects of the report were as weak as prior months: more part-time workers unable to find full-time jobs, and fewer people in the workforce able to find any work at all.
The Institute For Supply Management reports for July were on the cusp of weakness, manufacturing shrinking slightly at 49.8, the service sector at 52.6 a hair better than hoped. June personal income grew 0.5 percent, spending not at all. June factory orders were expected to rise and instead fell 0.5 percent; excluding a nice month for aircraft, orders tanked 1.8 percent.
Mohamed El-Erian, CEO of bond fund giant Pimco, reviewing global data: "A serious slowdown is under way." Nothing off-table, all in slow motion, but nothing evident to stop it.
The much-anticipated Fed meeting this week brought … nothing. Possible internal discord, possible internal doubt about what-when-how to act, but politics for certain.
As any presidential election approaches, the Fed seeks invisibility for fear of accusation of favoritism. The Left universe wants a free-money rescue, and the Right wants a good-ol'-days, cash-'n-gold economy. And everybody should have a horse. And cave.
Even more dramatic expectations for the European Central Bank meeting yesterday ended with something: universal contempt for its president, Mario Draghi. All talk, no walk. Resume item soon: "Second and last president of the ECB."
The UK Telegraph says that Germany would support a rescue of Spain if it surrenders control of its fiscal affairs and graciously accepts Grecian assisted suicide. Universes moving apart. The Telegraph's Ambrose Evans-Pritchard has for years been in front of the euro mess, and said this week that Italy's unelected academic Mario Monti is "the de facto prime minister of the Latin bloc, working hand in glove" with the White House and all-think, no-do Tim Geithner. Possibly because nobody else in Europe wastes time with them.
The deepest and longest-running weakness in the world has been rising Asia undercutting Western wages. Right behind it: the Western accumulation of ruinous debt in a desperate effort to maintain its standard of living.
Some of those accumulators can make it, and some cannot. The longer we go pretending that all are going to make it, the greater the damage to all economies and the larger the ultimate losses.
The Left everywhere wants a central banking miracle: In a reverse of loaves-and-fishes, make the debt disappear. The Right reflexively resists, but offers nothing except to pull everyone's plug at once.
Central banks can hose cash to put down bank runs, and they can be used as bridge lenders or temporary guarantors during extended recessions. They do not, however, have transporter rooms in which debt can be sent to Zircon 22.
Every finance type I know is slack-jawed at the sight of it all. One wise and tough Scot, retired international executive Neil Palmer: "If I were back at it … would I invest in new capacity? Hire? Of course not." Everyone is trying to calculate the moment of breach, and has given up on leadership, just trying to identify the market or economic tension that would trigger the break. And going deeper into cash.
Here is a paradox: As the Left-Right-Real universes fly apart, each red-shifting away from the others, the ultimate outcomes are converging on two singularities. Either some leadership rises to manage an orderly kind of global bankruptcy triage, softening the consequences of default, restructuring and devaluation, or one day physical forces will overtake all voluntary options.
The good news is questionable.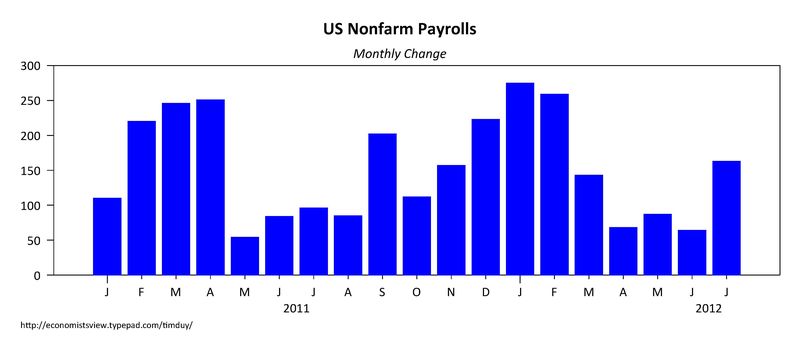 Chart via Tim Duy/EconomistsView.Typepad.com
The erosion in wages, growing half the rate of inflation, is a tough price to pay to get a job. Any job.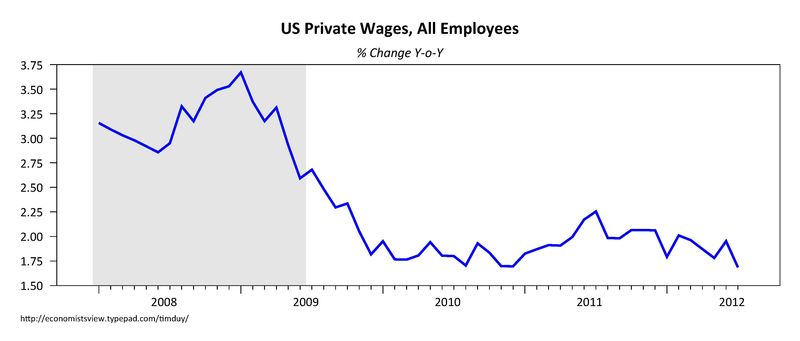 Chart via Tim Duy/EconomistsView.Typepad.com