Foreclosure-related sales accounted for 23 percent of all U.S. home sales in the second quarter, up from 19 percent in second-quarter 2011, according to a report released today from foreclosure data aggregator RealtyTrac.
In terms of raw numbers, however, foreclosure-related sales — those either in the foreclosure process or bank-owned — fell 22 percent year over year, to 224,429, representing the first annual decrease in foreclosure-related sales since fourth-quarter 2010.
For the first time in two years, the average price of a foreclosure-related property saw an annual increase in the second quarter: up 7 percent to $170,040. That's also the biggest year-over-year jump since fourth-quarter 2006.
The increase reflects tight inventory and rising prices for overall homes nationwide; the median price of an existing home rose annually for the fifth straight month in July, according to the National Association of Realtors.
"The second quarter sales numbers provide solid statistical evidence of what we've been hearing anecdotally from real estate agents, buyers and investors over the past few months: there is a limited supply of available foreclosure inventory to choose from in many markets," said Daren Blomquist, RealtyTrac's vice president, in a statement.
"Given this shortage of supply and the seasonally strong buyer demand in the second quarter, it's no surprise that the average foreclosure-related sales price increased both on a quarterly and annual basis."
Despite the increase, however, homes in foreclosure or bank-owned (also known as real estate-owned, or REOs) sold for 32 percent less, on average, than traditional homes, up from 30 percent a year ago.
While REO sales outnumbered preforeclosure sales by 9,833 in the second quarter, that is the smallest gap between the two since third-quarter 2007, RealtyTrac said.
Short sales of properties not yet in the foreclosure process rose 18 percent on an annual basis in the first five months of this year and accounted for 14 percent of all sales during that period — a higher share than either REO sales or sales of properties in the foreclosure process, RealtyTrac said.
"Three straight months of increasing foreclosure starts through July may ease the inventory shortage somewhat in the coming months when many of these foreclosure starts translate into listed short sales or bank-owned homes," Blomquist said.
"The increase in short sales of properties that have not even started the foreclosure process indicates that lenders are moving further upstream to deal with their distressed inventory, thereby avoiding the increasingly complex and lengthy foreclosure process altogether."
In the second quarter, sales of homes either in default or scheduled for auction, called preforeclosure sales, fell from their three-year high in the first quarter to 107,298. That's down 9 percent from a year ago.
Preforeclosure sales, often short sales, made up 11 percent of overall sales last quarter, up from 8 percent in second-quarter 2011. They typically took 319 days to sell after starting the foreclosure process, up from 245 days a year ago, and sold for an average $185,062 in the second quarter, down 1 percent on an annual basis.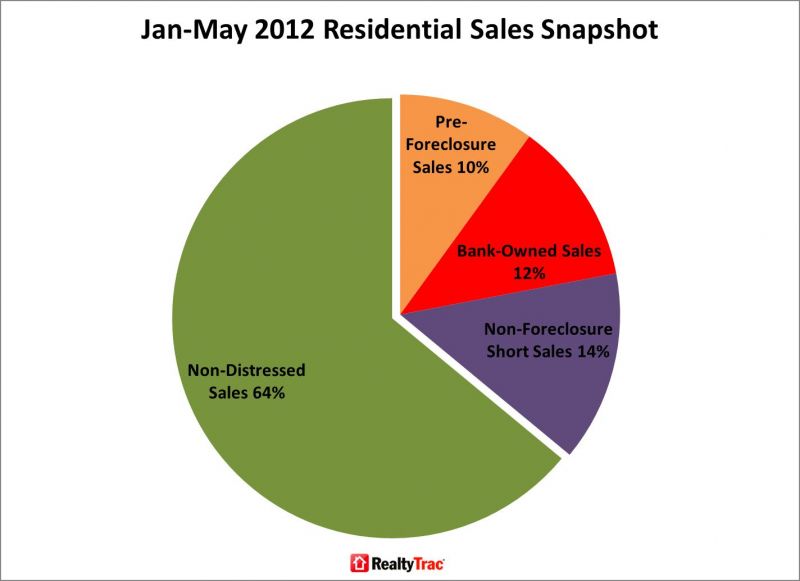 Source: RealtyTrac
By contrast, the average REO sold for 10 percent more on an annual basis last quarter, at an average of $155,892. REO sales fell by nearly a third last quarter, 31 percent year over year, to 117,131, and accounted for 12 percent of overall home sales. Bank-owned homes also took longer to sell in the second quarter, an average of 195 days compared to 178 days in second-quarter 2011.
The states with the highest share of foreclosure-related sales last quarter were Georgia (43 percent), Nevada (43 percent), and California (40 percent). Seven of the 10 metro areas with the highest share of foreclosure sales were in California: Modesto (57 percent); Stockton (54 percent); Riverside-San Bernardino-Ontario (47 percent); Bakersfield (46 percent); Sacramento (45 percent); Fresno (44 percent); and Oxnard-Thousand Oaks-Ventura (39 percent).
Las Vegas (45 percent), Atlanta (45 percent), and Detroit (39 percent) accounted for the remaining three metros.