A New York City-based portal, RetailMLS.com, claims to be the first multiple listing service that's dedicated solely to retail properties.
Founded by former New York City broker Ben Zises, RetailMLS.com is marketed to property managers, landlords, brokers and potential tenants. The service launched on May 1 and, as of Sept. 1, claimed 800 registered users and 2,000-plus listings in New York, New Jersey and Connecticut.
Zises, the firm's CEO, estimates the site now has close to 60 percent of the retail listings in its tri-state area. A member of the Real Estate Board of New York, RetailMLS.com plans to expand into other large markets next year and is looking to go nationwide, he said.
The service is free for users to list or search for properties. Searches can be saved and listings can include photos, a map, video, fliers and floor plans, while activity through the site can be tracked and saved. Some of these features are restricted to the service's enhanced membership option called "RetailPRO," available for a monthly fee that varies by location.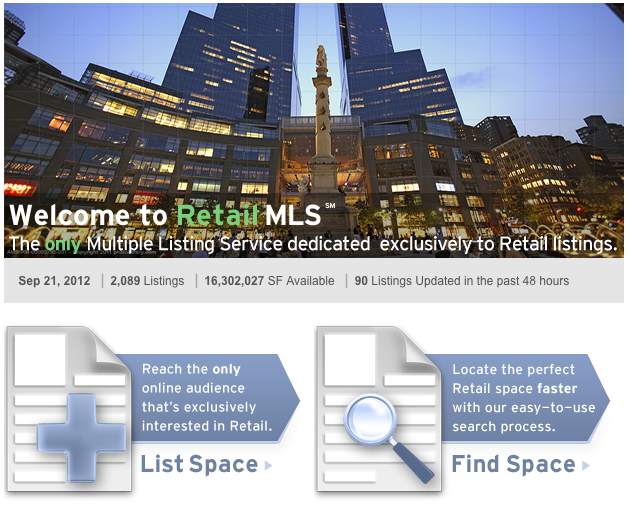 RetailMLS.com home page screen shot.
Tools include customizable map-based search and 75 retail-specific search criteria, including frontage measurements, ceiling height, distance from public transportation, orientation from street, seating requirements and other info important to potential retail tenants.
"I realized soon after starting the job that the industry needed an MLS of its own to assist retail brokerage and leasing firms in marketing their listings and searching for space on behalf of tenants," Zises said.
New York City commercial brokerage firms currently using RetailMLS.com include CBRE, Cushman & Wakefield, Newmark Grubb Knight Frank, Winick Realty Group and RKF.
Competitors include CoStar Group Inc. and LoopNet Inc. (CoStar acquired LoopNet in April for $860 million), which RetailMLS.com says don't focus solely on retail, but show office spaces, too. RetailMLS.com's retail-exclusive focus distinguishes it in the market, the company said.