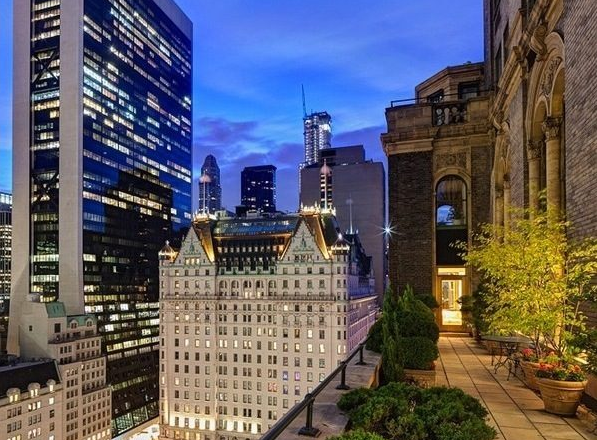 Click here to view the full photo gallery.
Location: New York, N.Y.
Price: $95,000,000
The Skinny: New York has been awash in ultra-high-priced listings and sales recently, but a new full-floor listing on the 18th floor of the Sherry-Netherland hotel is the first co-op to enter the near $100 million price range. Listed for $95 million, the seven-bedroom apartment boasts 7,000 square feet of recently renovated interiors, plus 2,000 square feet of terraces, including one with sweeping views of Central Park (though it's oddly only pictured in the Times' coverage).
The pricey spread is owned by Liberty Travel co-founder Gilbert Haroche, who assembled it by purchasing and combining adjacent apartments — Curbed NY found the original, uncombined floor plans. Remarkably, this is the second $95 million property that Haroche has put up for sale in recent years. His 263-acre country estate, on the border of Connecticut and New York, was previously listed for that amount, but it is unclear if it ever sold. That estate, known as Hillandale, was once owned by the Sulzberger family, publishers of the New York Times.
Sources: Brown Harris Stevens (via Streeteasy), New York Times, Luxist, Curbed NY
View the original item at Curbed.com: World's Richest Travel Agent Lists Another Home for $95M by Rob Bear.
More from Curbed.com's House of the Day:
Copyright 2012 Curbed.com