Luxury real estate brokers are discovering yet another way that the rich are different — instead of shopping on Amazon.com, they're pining over fine art, jewelry, fashion and now homes at online luxury marketplace 1stdibs.com.
Westchester County, N.Y.-based real estate brokerage Houlihan Lawrence is the latest brokerage to market listings on site, saying it will display 100 upper-tier homes on the high-end online marketplace this month.
The homes will show up under the "Fine Homes" section of the 1stdibs.com website, where luxury home shoppers can see listings from luxury brokers operating in markets like New York, California, Florida, Texas, Washington, D.C., and France, the only featured international market.
Other New York brokerages with listings on the site include Prudential Douglas Elliman and Realogy Holdings Corp. subsidiaries The Corcoran Group, Sotheby's International Realty and Coldwell Banker Real Estate. California's Warwick Property Group and Texas-based Greenwood King Properties are also marketing listings at 1stdibs.com.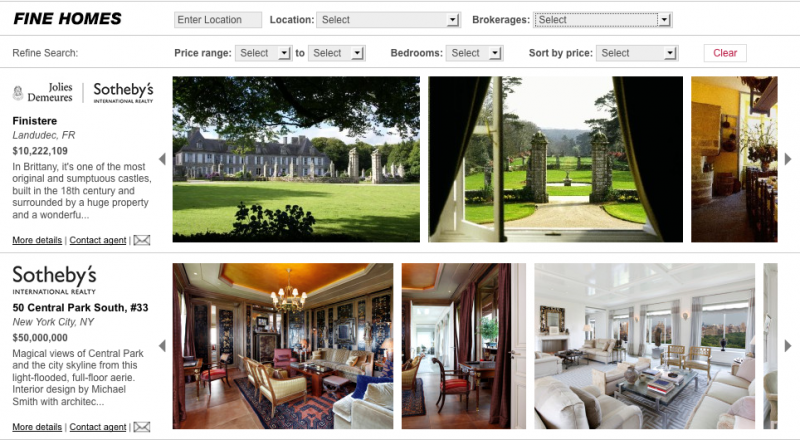 Screen shot showing listings on the Fine Homes section's welcome page at 1stdibs.com. 
Houlihan Lawrence, which has 25 offices and more than 1,000 agents in New York's Westchester, Dutchess and Putnam counties, was ranked by Real Trends as the 16th-largest brokerage in the U.S. based on 2011 sales volume. The company says it's the first independent brokerage to have its listings featured on 1stdibs.
"Our partnership with 1stdibs.com is an ideal environment to showcase the finest properties in our area to some of the most affluent consumers around the globe," said Anthony Cutugno, senior vice president of Houlihan Lawrence Luxury Country Properties, in a statement.
Founded in 2001 in Paris, France, by a luxury real estate dealer, 1stdibs.com launched the fine homes section of its website last year. Users can compare amenities featured on beach houses, country homes and old mansions.
The site claims 2 million monthly unique visitors, a quarter of whom come from international markets. In 2011, the company, now based in New York City, reported its partner dealers cleared $500 million in sales with more than 7,000 items sold each month.