Better Homes and Gardens Real Estate Gary Greene is turning 12 public school buses into rolling billboards that will travel the highways and neighborhoods of two northeast Houston school districts that represent the heart of the market served by one of the Texas-based brokerage's offices.
If good schools are important to homebuyers, why not raise brand awareness and drive traffic to your website by placing 7-foot-long advertisements on the sides of school buses that serve many of the same neighborhoods as your agents?
School buses aren't always available as advertising space, for one thing. Texas is one of nine states that allow ads on the outside of school buses, according to The Campaign for a Commercial-Free Childhood, a group that opposes the practice. The group is tracking bills that would permit ads on school buses that have been introduced in eight other states — California, Florida, Indiana, Kentucky, Missouri, New York, Rhode Island and Washington.
"We are supporting our local school district through advertising on their school buses," said Lisa Dempsey, sales manager for the Humble, Texas, Better Homes and Gardens Real Estate Gary Greene office that's leading the brokerage's participation in the ad program.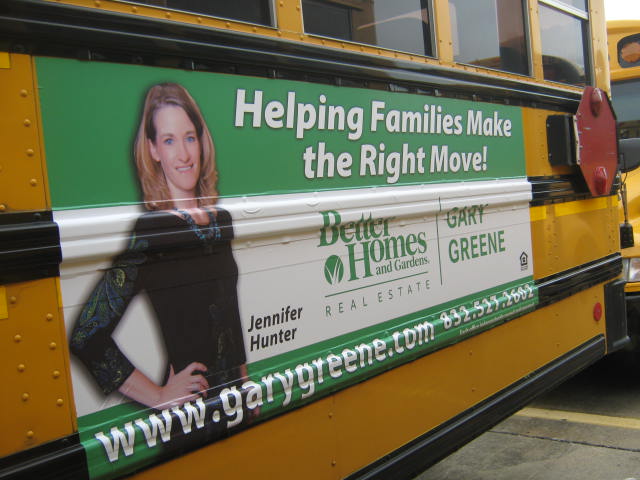 One of six Better Homes and Gardens Real Estate Gary Greene agent ads running on Houston-area public school buses.
Six agents from the Humble office of Better Homes and Gardens Real Estate Gary Greene are sponsoring ads on six of the buses; the other six ads are general advertisements for the brokerage, one of the largest in the Houston area (and the 57th largest in the nation, according to Real Trends) with 20 offices and more than 850 agents.
The brokerage, which became a Better Homes and Gardens Real Estate franchisee in June when it dropped its affiliation with the Prudential brand, is splitting the cost of the ads with agents who are advertising, and paying the entire bill for the brokerage-only ads, Dempsey said.
All of the ads proclaim that the brokerage is "Helping Families Make the Right Move!" and prominently display the company's website URL, garygreene.com.
"You're on a school bus — is there a better way to show you're a part of the community than that?" said Cynthia Calvert, founder and owner of Steep Creek Media, which helped form the statewide program in 2008 to generate extra money for Texas' public schools.
About 15 percent of the 8,000 or so public school buses in 45 districts her firm helps coordinate ad placement for in the state are from real estate companies, Calvert said.
"It's money (for the participating district) without strings," Calvert said. She estimated that school bus advertisements cost an average of about $275 per month per bus for advertisers.
The ad revenue from Better Homes and Gardens Real Estate Gary Greene, which Calvert estimates will be about $10,000 for the 10-month contract, will benefit the two school districts through which the buses it advertises on travel. Eleven buses will roll through the Humble (Texas) Independent School District, and one through New Caney Independent School District.
New Caney ISD spokesperson Kelley Mattlage says the ad revenue from the ads will go to employee-appreciation programs.
"Employee morale is so important in any business," Mattlage said. "Each advertisement Better Homes and Gardens Real Estate Gary Greene buys helps to provide New Caney ISD financial resources above what the district receives from the state."
Real estate brokerages in other states could see this ad opportunity soon.
Calvert said she has received calls from interested individuals in about 20 states who want to emulate Texas' program.
As school districts around the country cope with big budget cuts, more are turning to advertising as a potential source of revenue. The practice has come under fire from critics who worry about children's exposure to ads, and whether school districts are being compensated fairly.
A February 2012 report by Public Citizen, "School Commercialism: High Costs, Low Revenues," questioned whether the "trivial revenues" that advertising has generated for most school districts so far does much to offset massive cuts in public funding.
In schools around the country, advertising can be found on lockers, blackboards, cafeteria lunch trays, cafeteria menus, banners and wall spaces, and on televisions screens placed in common areas, the report said. Ads are appearing on school's athletic fields and scoreboards, and are even printed on documents sent home to parents, such as report cards. Middlemen like Steep Creek Media often take a 20 to 50 percent cut of revenue, the report noted.
"Commercial advertising conflicts with the values and purposes of the educational system," the report said, noting that researchers and advocates "have highlighted the damaging effects of schoolhouse advertising on children's health, self-esteem, values, body image, learning processes, and personal development."
The Colorado Springs School District was the first to allow ads on the outside of school buses in 1993, the report said. Texas, Arizona, Tennessee, Massachusetts, New Jersey, Utah, Nevada and New Mexico followed in Colorado's footsteps in passing laws allowing the practice. School districts in Florida, California and Michigan have allowed advertising inside of buses, the Public Citizen report said.