In real estate, like any other industry, some firms are more eager than others to break new ground.
Executives from five such companies will come together at Real Estate Connect New York City, which runs Jan. 16-18 at the Grand Hyatt New York, to discuss how they are using new technology, new business processes and new models to grow.
Inman News Publisher Brad Inman and Better Homes and Gardens Real Estate LLC President and CEO Sherry Chris will moderate the panel, "Pushing the envelope: Beta brokers."
The panelists were chosen from those featured in the Beta Brokerage Project, a Better Homes and Gardens Real Estate initiative launched following a "Brokerage Reboot" discussion of real estate industry execs, including Chris, at Real Estate Connect New York City in January 2010.
The project involved interviewing dozens of what Chris called "next generation" or "beta" brokerages and featuring some of them in a directory on Better Homes and Gardens Real Estate's Clean Slate blog.
"What we discovered is the emergence of smaller, newer brokerage companies and some more established firms that have remodeled for today's marketplace," Chris said in a video on the blog.


Sherry Chris
"These organizations display the principles of innovation, consumer centricity, and efficient resource structures that many large companies have talked about wanting to implement but have been held back by legacy systems and organizational inertia.
"We've learned a lot about virtual workplaces, new approaches to commission splits, open source technology development, and cloud computing. We've also seen a trend of (research and development) going in-house as off-the-shelf solutions have fallen behind. All this coming from highly productive companies focused squarely on the consumer and the landscape of a changing marketplace."
A new website, NextGenBrokerage.com, will launch next Wednesday with a new class of beta-brokers featured as well as follow-ups with previous beta-brokers.
The five Connect panelists are a mix of both, and each was chosen to share specific innovations they've implemented to share with conference attendees.
The panelists are Vanessa Bergmark, co-owner and general manager of Red Oak Realty; Justin Britt, co-founder and "Head-Web-Head" at Hawaii Life Real Estate; Ryan Crecelius, founder and CEO of Do Good Real Estate; Leighton Dees, chairman and CEO of Better Homes and Gardens Real Estate Generations; and Dominic Morrocco, partner and co-founder of M Squared Real Estate.
Bergmark spent four years at Keller Williams Realty as a residential agent and team leader before joining Berkeley, Calif.-based Red Oak Realty in 2007. In 2009, Bergmark and colleague Kevin Hamilton bought the 36-year-old firm after the previous owners retired following the housing downturn. Bergmark is certified in conflict resolution and oversees 75 agents in two offices.


Vanessa Bergmark
The most recently opened office, in Oakland, contains no private offices or cubicles, but has a phone booth where agents can take private calls. The brokerage is very focused on its local market — many of its agents live in the neighborhoods they serve, and its website features neighborhood pages complete with videos, photos, Yelp-powered reviews of local businesses and links to school information.
Because one Oakland neighborhood can be utterly different from the one next to it, Red Oak agents also pull neighborhood-specific, hand-picked multiple listing service data in order to create meaningful comparative market analyses.
Before co-founding Kauai-based Hawaii Life in 2008, Britt co-founded Wasabi Marketing Elements, a still-existing Web design and marketing firm. His skill in search engine optimization has grown Hawaii Life to one of the largest brokerages and third-fastest-growing company in Hawaii.
Hawaii Life started out as a marketing firm with an online platform that generated so many leads that the company decided to spin itself into a brokerage. The company now has 125 agents and six offices in Kauai, Oahu, Maui and the Big Island, according to the Hawaii Life website. The company's entire business — its management, marketing, lead generation, branding — lives online.
Crecelius went into the real estate industry after graduating from college in 2006. In March 2010, after more than three years at Coldwell Banker Sea Coast Realty, he founded Wilmington, N.C.-based Do Good Real Estate with the aim of enhancing customer experience and promoting social change.


Ryan Crecelius
The firm gives 20 percent of its sales commissions to local charities of clients' choosing and claims to be the first "B certified" residential real estate firm in the country. Certified benefit corporations must meet rigorous standards of social and environmental performance, accountability and transparency, including a 12-month audit.
A serial entrepreneur, Dees co-founded Mobile, Ala.-based Oracle Real Estate in 2008 and joined the Better Homes and Gardens Real Estate brand in 2011. Now known as Better Homes and Gardens Real Estate Generations, the firm has about 30 agents and runs on the concept of "unexpected extras."


Leighton Dees
These include using a paperless transaction system and using applications for a variety of tasks, such as Dropbox for cloud-based document storage, Google Apps for Business to store ad and Web artwork, PocketPoll for quick feedback from agents, and Ink Cards for personalized photo cards generated from mobile devices and sent through the mail.
Morrocco co-founded Washington, D.C.-based M Squared Real Estate in 2010. He oversees the company's technology and marketing divisions, and custom-built the firm's back-end platform as well as its public website.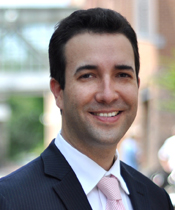 Dominic Morrocco
The nine-agent firm has set up Facebook pages and Twitter accounts for more than a dozen D.C. neighborhoods, and has created a system of curating and delivering relevant local news and listings to each channel. Each of its Facebook pages has more than 500 followers.
Real Estate Connect New York City takes place Jan. 16-18 at the Grand Hyatt New York.
Follow Real Estate Connect on Facebook, Twitter and LinkedIn: