In 2005, real estate blogger, trainer and entrepreneur Nicole Nicolay was looking for a fun way to stay top of mind within her sphere. So, she started dancing.
Eight years and more than 500 dances later, her YouTube "dance grams" — in which Nicolay turns on her webcam in her home office, blasts some pop music, holds up a handwritten dedication note and starts dancing — have become her "most effective source of lead generation," she said.
It's all part of what she calls "personality branding," a concept she'll elaborate on in a keynote talk titled "How Do We Make Real Estate Fun, Without Making It Frivolous?" from the main stage at Real Estate Connect New York City, which runs Jan. 16-18 at the Grand Hyatt New York.
Nicolay is co-owner and chief creative officer of Agent Evolution, a company that builds custom WordPress sites for real estate pros and educates them on the ways to get the most out of the popular website platform. She's also an adept social media marketer, with 18,840 followers on Twitter.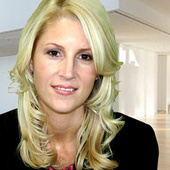 Nicole Nicolay
In 2005, she and her husband Reggie Nicolay — the vice president of marketing and social media of the National Association of Realtors' parcel-based database Realtors Property Resource — founded MyTechOpinion.com, where she started blogging about real estate technology and currently serves as editor.
Nicolay grew up watching and helping her parents with their real estate brokerage business. Blogging about technology and her experience founding a title marketing company brought her squarely back into the real estate industry, after several years away working as an elementary school teacher.
When she's not lip syncing, running Agent Evolution, blogging at MyTechOpinion.com or justnik.com, or speaking, she's training for her first Ironman Triathlon.
How and why did you get into real estate?
My parents have been successful real estate brokers for more than 30 years. Growing up they put me to work walking farms, prepping their mailers and other marketing tasks. But I ended up getting my teaching credential.
However, after teaching for six years and taking a break to have two awesome kids, I changed my focus to one that offered a more balanced home-work life (so I thought), and, while pregnant with my daughter, I started a marketing company for the title industry.
Around the same time I launched my first company, I also started blogging with my husband at MyTechOpinion.com. Our blog focused on real estate technology info and implementation. Blogging was just hitting the mainstream in 2005, and my expertise helped to establish my credibility greatly.
Soon, I was being invited to speak on blogging, social networking and other business technologies across the country. And since I knew a thing or two about utilizing WordPress for business it was only natural I should launch another startup focused on building custom WordPress sites for real estate professionals. And that's when Agent Evolution was born!
Describe what you do.
As co-owner and chief creative officer of Agent Evolution, I focus on marketing and social strategy for our services and products. I also act as our brand advocate by educating our clients and target clients on how utilizing a custom WordPress site can actually make their online marketing efforts easier and more effective.
LinkedIn shows that you used to teach Montessori and describe yourself as an educator. How have you used the skills you developed then in what you do now?
One key principle that I've applied from teaching elementary school is my ability to adjust the curriculum to various levels and styles of learning. This has helped me tremendously in real estate, because I'm often presenting to a room of agents with vastly different goals and abilities when it comes to applying technology in their business.
I am able to easily break down challenging tech jargon into real-world business experiences that agents and brokers can relate to, as well as easily understand how to implement for themselves.
What should real estate professionals understand about social media that they might not?
That it's not an overnight fix and that good content is critical. Social media doesn't close deals — you do. But social media affords us the ability to easily stay top of mind with our sphere and build incredible relationships like never before.
You also don't need to feel compelled to be everywhere. Choose the social network that your sphere prefers to communicate in. Most likely, that will be Facebook.
However, if your target market is Silicon Valley … you may want to communicate more in Google Plus or LinkedIn. If you work more with independent women homeowners, then you may want to spend more time posting in Pinterest.
One of Nicole Nicolay's Dance Grams.
What little-known WordPress features should real estate professionals know?
One feature that most may not be familiar with, because it's so new, is that WordPress sites can be responsive. Responsive Web design makes it possible for your website to be optimized no matter the device it's being viewed on — desktop, laptop, tablet or smartphone.
Most real estate pros know, but it's important to mention, WordPress features Internet Data Exchange (IDX listings) integration. So, for those agents who think WordPress is just for bloggers, think again. You can have a custom real estate website showcasing your expertise and branding with highly effective home search features via WordPress.
What is the coolest technology (app, software, hardware, website) you've encountered in the past year?
"Big data" has and will continue to be a theme in not only the tech industry but also in real estate for 2013.
And when it comes to BIG data in real estate, nobody does it better than Realtors Property Resource. My husband happens to be the vice president of marketing and social media, but I have viewed the reports and robust features firsthand. I have also heard many success stories from agents and brokers with full multiple listing service integration.
What strategies do you use to make real estate fun while keeping it from being frivolous?
One way to integrate the fun factor into your real estate business is with personality branding. It shows you're not the run-of-the-mill real estate agent or broker — there's something special about you and how you approach your business. As consumers, we want those "something special" agents … especially if they've got the expertise and numbers to prove they've got a plan behind it all.
I began incorporating personality branding just after starting my first company. I wanted a fun way to stay top of mind with my sphere, as well as reach out to potential clients. So I started making birthday dance gram videos. I love to dance, I'm kind of a dork and I'm OK with that, and most of all … I LOVE making others smile and laugh!
I've also found that the videos have become one of my most effective sources of lead generation. And when I speak at conferences and events, I often meet agents and brokers who've watched my videos beforehand and are excited to attend my sessions.
You've mentioned you like writing, and you write frequently — two books, two blogs. What advice would you give to real estate professionals about writing?
I have three tips that have helped me tremendously:
Make an editorial list, or a topic list. Write down all the topics that you're passionate about. Expand the list to cover your expertise, local market, personal and professional experiences, and anything you just love telling others about.
Make an editorial calendar. Use your list to schedule when you will write and post your articles and other media to your website. Start with a goal of posting once a week for a month. Then shoot for twice a week next month.
When it comes time to write or create your media, don't force it. If you get an idea or energy to write about a particular topic, try to make it happen that day. And get in the habit of writing for 10 minutes uninterrupted every day on a notepad. There is just something about the good old pen and paper that facilitates a writer's creativity.
Your husband Reggie is vice president of marketing and social media for the National Association of Realtors' Realtors Property Resource. Is it a Twitter or Facebook family, or both?
It's both and more. We realize, as marketers, we have to reach our targets where they prefer to communicate. So for us, we readily utilize Facebook, Twitter, YouTube, Google Plus and LinkedIn.
What was the most important business lesson you learned in the past year?
I learned that planning and goal-setting are keys to making work more fun. One way to learn how to meet goals more effectively as well as balance your life between work and play … is by incorporating a passion-focused goal into your life.
I've done that. Last year I bought a road bike and trained to complete three century (100-mile) rides, and this year I've chosen to train for Ironman Lake Tahoe. When I started, I knew I had a year to train, but I've set mini-goals along the way. As part of the Leukemia and Lymphoma Society's IronTeam, I've brought a positive outcome for others into my personal end goal.
Not everyone can do their passion as their job, but if you realize that doing your job well and having fun at it actually affords you the ability to rock your passion, well, then, you will increase your life's fun factor while being successful at the same time.
How's training going for the Ironman?
It's the most amazing and exhausting challenge. I'm now two months into training and have adjusted to existing in a constant state of soreness.
Everyday I'm reminded by the awesomeness of my online network. People I've never met post on my Facebook wall, text me, call me, and reach out with messages of support and donations to the Leukemia and Lymphoma Society. It not only motivates me, it gives me the determination to meet my goals … for the Ironman and for life in general.
Nicole Nicolay will be a featured speaker at Real Estate Connect New York City, which takes place Jan. 16-18 at the Grand Hyatt New York.
Follow Real Estate Connect on Facebook, Twitter and LinkedIn: