The "shadow inventory" of distressed homes likely to hit the market fell 18 percent in January from a year ago, to 2.2 million homes – about nine months of supply at the current rate of sales, according to a new report by loan data aggregator CoreLogic.
Shadow inventory includes a percentage of homes that are seriously delinquent or in foreclosure, plus those held in lenders' real-estate owned (REO) portfolios but not yet listed for sale on a multiple listing service. CoreLogic estimates that shadow inventory peaked at 3 million homes in January 2010, and has fallen 28 percent since.
The main driver of shadow inventory, serious delinquencies, were down 40 percent from a year ago in Arizona, 33 percent in California, 27 percent in Colorado, 25 percent in Michigan, and 23 percent in Wyoming. Florida, California, New York, Illinois and New Jersey accounted for 44 percent of all U.S. distressed properties, CoreLogic said.
Anand Nallathambi, president and CEO of CoreLogic, said in a statement that shadow inventory continued to drop at double the rate in January from prior-year levels.
"At this point in the recovery, we are seeing healthy reductions across much of the nation," Nallathambi said. "As we move forward in 2013, we need to see more progress in Florida, New York, California, Illinois and New Jersey which now account for almost half of the country's remaining shadow inventory."
Not all homeowners who fall behind on their mortgage payments or who are foreclosed on by lenders end up losing their homes — some are able to negotiate loan modifications or short sales.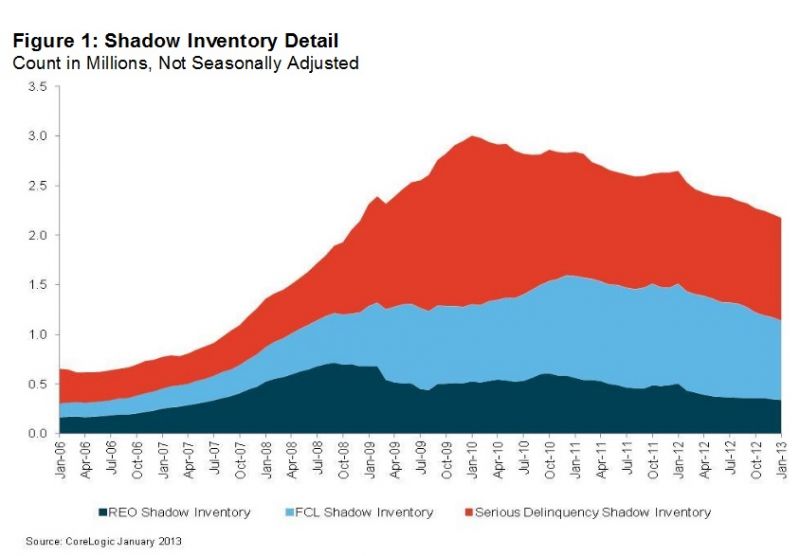 To estimate the number of homes in foreclosure or with delinquent mortgages that will end up in lenders' REO inventories, CoreLogic applies transition rates of "delinquency to foreclosure" and "foreclosure to REO." Properties that are not yet delinquent are not included in CoreLogic's estimate of the current shadow inventory.