If National Collegiate Athletic Association March Madness brackets are filled out based on real estate investing metrics, the outcome of each matchup becomes much easier to predict. Real estate, when done right, can be a science.
Starting with the existing Sweet 16, we have filled out the remaining brackets based on four key factors to fundamentally sound real estate investing in the counties where the college towns are located. Those four factors are unemployment rate, foreclosure discount, gross rent yields and average gross profit on flipping. Here's what we found: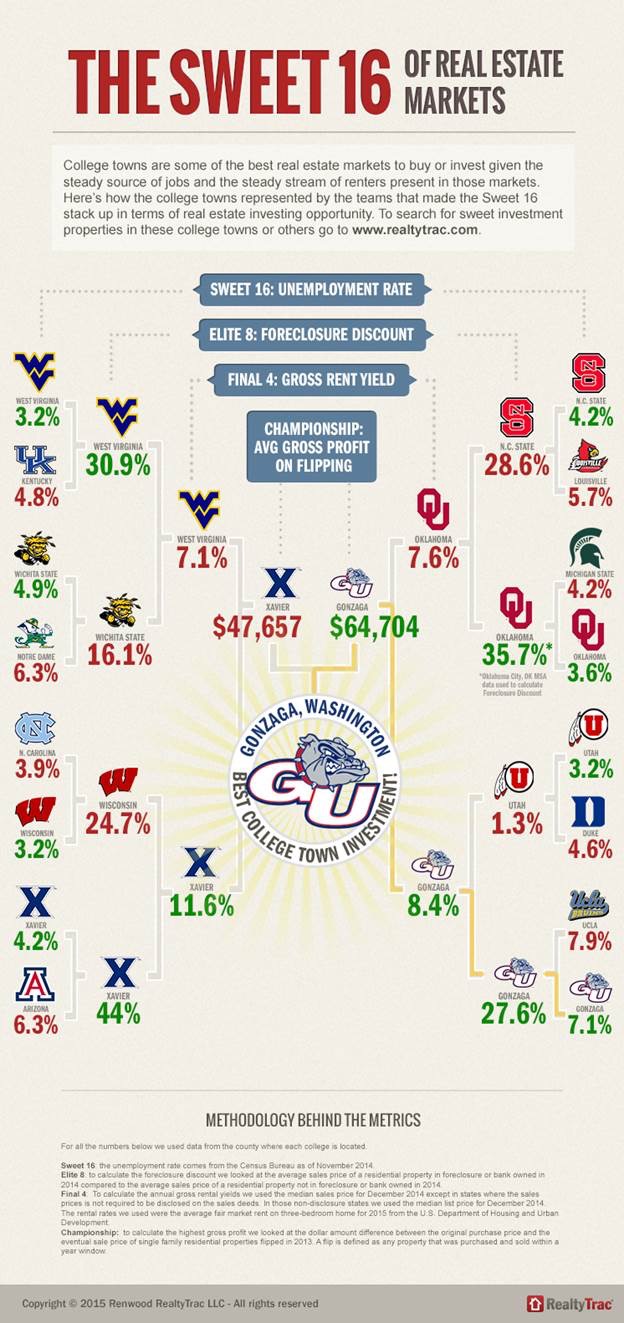 Based on this methodology, the clear champion is Spokane County, Washington, home to Gonzaga University. A slightly higher-than-average unemployment rate of 7.1 percent didn't slow down this team's victory with a strong foreclosure discount rate of 27.6 percent coupled with a nice gross rent yield of 8.4 percent and, finally, a hefty average gross profit on flipping. Spokane County wins thanks to an average gross profit return on property flips of $64,704 — compared with $47,657 for its opponent in the real estate investing championship game, Hamilton County, Ohio, home to the Xavier University.
In the Final Four, Xavier University's Hamilton County, Ohio, beats out Monongalia County, West Virginia, home to West Virginia University, thanks to a high gross rent yield of 11.6 percent above Monongalia County's 7.1 percent. Meanwhile, Spokane County, Washington, beats out Cleveland County, Oklahoma, home to Oklahoma University with a gross rent yield of 8.4 percent compared with 7.6 percent for the Sooners.
What does your March Madness bracket look like? Share your thoughts in the comments.
Daren Blomquist is the vice president of RealtyTrac.