Have suggestions for products that you'd like to see reviewed by our real estate technology expert? Email Craig Rowe.
The pitch
It doesn't cost much to build a decent website.
"Decent" being the operative word.
The problem with many low-cost website solutions is that they fool you into thinking having a website doesn't cost much. If you're satisfied with a shrine to your Sears portrait and enough room to explain all those vague acronyms you list on your business card, then no, I guess they don't cost much.
Unfortunately, what you may not realize about your website is that the less you spend on it, the more expensive it becomes.
If you want a site that perpetuates your brand as an agent, attracts leads, shares quality content and showcases listings, you need to spend more on it, or at least spend more marketing it. That way, it will cost you less.
Confused? Maybe LeadPages.net can clear things up.
The sale
Every website should be designed to dangle subtle carrots of content that lead visitors to a call to action.
Agents, your reward is the submission of contact information, or maybe a current home address. Every time you lose this unspoken game of carnival barker showmanship, your website becomes that much more expensive.
Thankfully, LeadPages' product line is constantly evolving to provide an array of browser- and mobile-based products to get visitors to click, sign up and register — exactly what you need to keep the silo of leads from emptying before the end of the third quarter.
First, the page templates look contemporary and visually appealing. It's easy to edit a page of your choice so it blends with brand and incorporates your site's tonality.
LeadPages categorizes its templates, so getting underway is relatively simple. Pages focus on selling, pushing videos, grabbing email addresses, thanking people and event promotions, among other intentions.
A mini-site is an ideal solution to showcase a listing, while an event page can advertise an open house or a buyer education class.
Editing pages is easy stuff: Click and type, drag and drop, upload, link or embed. Installing a new app is probably more complicated than customizing one of these pages. You can copy the URL of a current Web page on your site, even another landing page, and LeadPages will turn it into a customizable template for your library.
LeadPages tools can be hosted on your WordPress site, your Facebook page or on the server. If you don't handle your site's content updates, LeadPages would take only moments for your vendor to understand and leverage on your behalf.
A relatively new feature to the LeadPages lineup is a text-capture mechanism called "LeadDigits." Simply attach a LeadPages-generated text number to an ad, video, radio commercial, yard sign or mailer, come up with a property feature to highlight, and LeadDigits asks for an email address from the sender to confirm their interest in receiving information.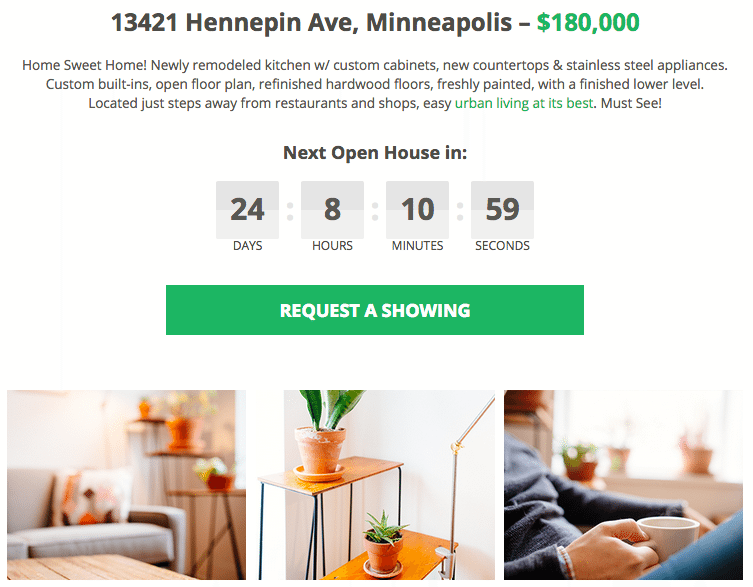 Advertise for prospects to text "New Home" or "Patio Pics" and after they do, an email address prompt is returned to them in exchange for the content.
Text-based email capture works for the same reasons texting in general has exploded as a communication method: It's noncommitting.
Texting doesn't invest us in the personal emotions of our conversations, nor does it invest an interested party in committing to a showing or agency agreement in order to see pictures of that cool downtown condo. Nevertheless, you now have their contact information. (In case you're wondering, emojis are so popular because in most cases, texting doesn't inherently include the context of emotion.)
You know those irritating pop-up windows that materialize when you show up or are about to leave a site? As brazen as they may be, those in-your-face efforts are pretty effective. LeadPages calls them LeadBoxes, cleverly enough.
You can use LeadBoxes to push visitors to register an email address or come to an open house at your office. Whatever the content draw, this kind of online display has proven to help keep them interested.
Agencies entrenched with Salesforce will be happy to know that at the highest level of account, LeadPages can drive captured leads straight to your database.
Other account levels will connect with MailChimp, iContact, Constant Contact and HubSpot, among others.
I like that LeadPages uses these connections to help you segment your list at the call-to-action level. Since you may be targeting different budget buyers with different landing pages or LeadBoxes, simply connect each ad with the appropriate segment within your email provider.
This feature helps you minimize manual intervention in your contact database. And remember, segmentation in real estate list management is crucial; don't send your first-time homebuyers a list of vacation homes you have listed.
The close
LeadPages does a lot, especially if you can swing the highest account level. Even if you can't, the marketing sophistication offered at even at the $25 per month level is worth considering.
Overall, LeadPages is well-designed and driven by users. They share marketing best practices, and there are tutorials and plenty of support should you need it. There are a number of other useful facets, like conversion rate tracking, A/B testing, 404 Page designs, and an array of administrative page management tools.
Agents who want to ensure their site is the centerpiece of their marketing effort would be wise to invest in more ways to get eyes on it.
Or you could always just earn another three-letter industry certification for your email signature.
That always pulls in the listings.
Do you use one of these photography apps? What do you think? Leave a comment and let us know!
Do you have a product for our tech expert to review? Email Craig Rowe.