People in the lesbian, gay, bisexual and transgender community, while psyched about the investment benefits that come with homeownership, are concerned about discrimination in their real estate deals, according to the results of an online survey released today.
The survey indicated agents looking to work with this population should focus on burnishing something that many prospective clients — LGBT or not — care about: agents' local reputation. Most respondents (81 percent) said this was a "very important" quality for agents they work with to have. (More details below.)
The LGBT real estate advocacy group the National Association of Gay and Lesbian Real Estate Professionals (NAGLREP) spearheaded the detailed LGBT Home Buyer and Seller Survey with franchisor Better Homes and Gardens Real Estate as a lead sponsor.
NAGLREP claims the survey is the first of its kind because it assesses the feelings and preferences of those who have publicly identified as being part of the LGBT community with respect to real estate. The survey, conducted in April, included 1,798 U.S. members of the group.
"The LGBT community is a key part of the nation's landscape and a powerful market segment that is increasingly achieving social milestones that are historical triggers to home purchases, such as partnerships, marriage and having children," said NAGLREP's founder, Jeff Berger, in a statement.
The survey's release precedes a ruling on whether the U.S. Constitution guarantees same-sex couples the right to marry, which many expect the U.S. Supreme Court to render in June.
A ruling in favor of marriage equality for same-sex couples by the court might loosen the purse strings of the LGBT population, which NAGLREP estimates has a collective buying power of $840 billion. Most respondents (81 percent) said a decision in marriage equality's favor will boost their fiscal confidence, one of the key drivers for real estate purchases.
A decent chunk (a quarter) of the survey's respondents said they plan to buy a home sometime in the next three years. More than half (54 percent) of respondents said they were already owners of real estate.
A vast majority of homeowner respondents (89 percent) in the survey felt homeownership was a good investment, while three-quarters of nonhomeowners shared that take.
Staining that rosy outlook a bit, a similar proportion (73 percent) revealed they had a strong concern about housing discrimination in the process of renting, buying or selling real estate.
Safety reigned supreme among most respondents (88 percent) when choosing a neighborhood to live in. Other important neighborhood features included:
Living in a neighborhood with low crime (80 percent said this was very important).
Living in a state with an LGBT anti-discrimination ordinance (75 percent said this was very important).
Living in a progressive community (70 percent said this was very important).
Of the 1,597 respondents who said they were interested in purchasing a home, or had already, an overwhelming majority (95 percent) said they valued quality over quantity when evaluating agents to work with.
Those respondents said agents' reviews on service and responsiveness far outweighed agents' sales volumes.
The survey also indicated agents don't need to be particularly attuned to the LGBT community to win its members' business — they just need to be good agents.
Of the 464 respondents who said they planned to buy a home in the next three years, an agent's sterling local reputation was chief among all qualities they wanted in an agent.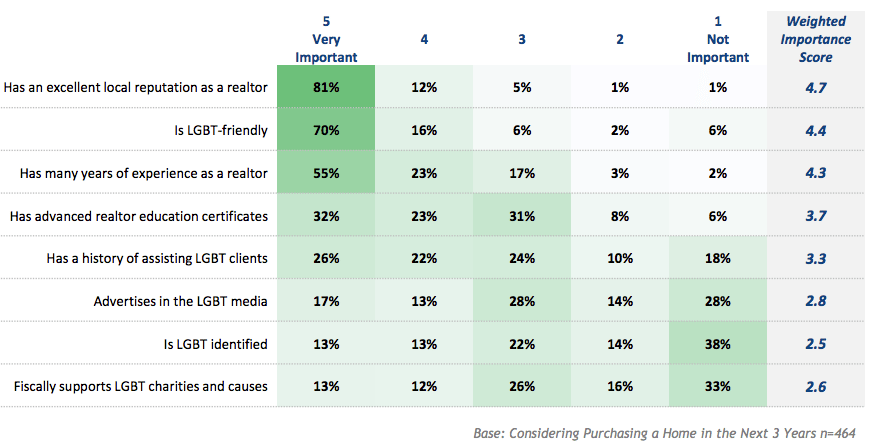 Other agent qualities they rated as "very important" included:
Is LGBT-friendly (70 percent).
Has many years of experience as an agent (55 percent).
Has advanced agent education certificates (32 percent).
Has a history of assisting LGBT clients (26 percent).
Advertises in the LGBT media (17 percent).
Is LGBT identified (13 percent).
Fiscally supports LGBT charities and causes (13 percent).
As for how the 301 survey respondents who bought a home in the last five years said they found their agent, the largest percentage (21 percent) said they found their agent through a referral from a friend, followed by going with an agent or brokerage with a good local reputation (18 percent), choosing an agent they've worked with in the past (17 percent) and a referral from an LGBT friend (15 percent).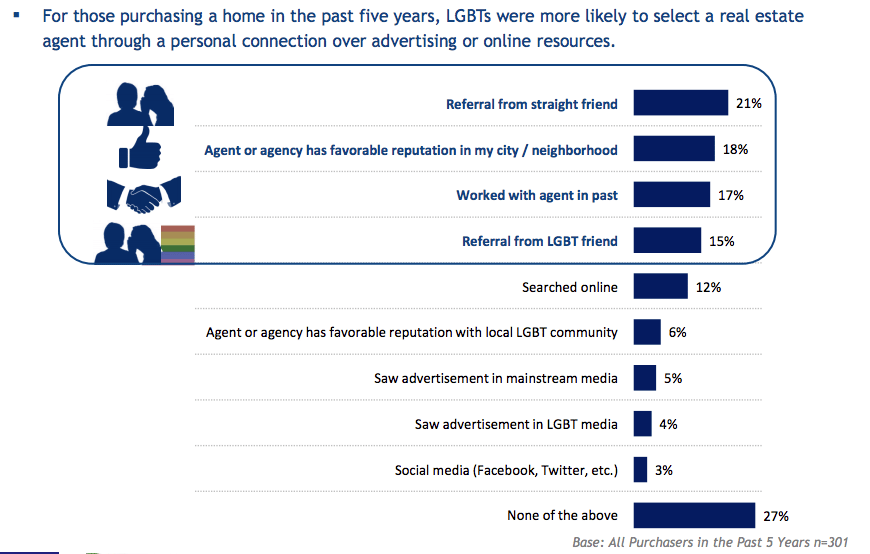 NAGLREP held its first-ever national convention in Fort Lauderdale, Florida, last October with Better Homes and Gardens Real Estate's parent firm, Realogy, as a sponsor.
Founded in 2007, NAGLREP has more than 850 members.