Larry Lawrence is CEO at Lawrence Realty. 
Why do you stay independent when there are so many great franchises to join?
We want to operate a hands-on, family real estate business. I have been on a panel at the Who's Who in Luxury Real Estate conference featuring family-run real estate companies.
When did you decide to launch your independent brokerage and why?
I had taken a one-year sailing trip in the Bahamas in 1980-81. We lived on the 52-foot ketch in Ft. Lauderdale until 1983 and then returned to Squaw Valley in 1985.
I was in the yacht sales business from 1981 to 2004 along with continuing to work at my real estate company. Upon return to Squaw Valley in 1985, past real estate clients (1974 thru 1980) urged me back into the real estate business full time. I decided in 1986 to just run a virtual office for both real estate in Squaw Valley and yacht sales in Ft. Lauderdale at Bahia Mar Marina with Charles Irwin Yacht Brokerage.
What factored into that decision?
Freedom to be wherever I wanted to be — skiing on the mountain, swimming, sailing, water skiing and hiking. Most importantly, to spend time with my family and my two daughters' activities as they were growing up. This included taking them during school to their extracurricular activities and ski racing events. When they were in college at skiing events and volleyball meets all over the western U.S. in the mid-1980s and before cellphones, I used a pager and payphones to run my two businesses.
Why did you think it was the right time and the right move for you?
I had been doing the real estate business in Squaw Valley from Ft. Lauderdale. When I returned to Squaw Valley in 1985, I did the yacht business in Florida from Squaw Valley. It was easy for me to work this way and I liked the freedom it gave me.
How old is your brokerage?
I obtained my real estate broker's license in 1977 and formed a company with a partner until the mid-1980s. I have had my own company since the mid-1980s. I have transitioned from a half-page real estate contract to the multipage digital contracts of today.
Before our Internet, cellphones and our digital age, when I first started in the 1970s, we had to have all contracts signed in person and used Western Union to send deposits. Then we moved into fax machines and pagers. Then computers and cellphones and finally into the times today of DocuSign electronic contracts and so on.
What was the biggest challenge you faced in getting your brokerage off the ground?
I had experienced having a sales staff and agents with my partner in the 1970s and found that it took away from my selling real estate, which I really loved the most. So after running the real estate business in Squaw Valley while living in Florida in the early 1980s and working in the yacht business, it was an easy transition to run my office from wherever I was located.
What was the easiest part of getting your brokerage off the ground?
I did not need to establish and set up an office. I was able to travel in Europe in 2003 for one month and still managed to run my real estate company. I have answered calls from all over the U.S. and internationally while traveling for recreation and fun and have been able to manage the business long-distance.
What's your approximate agent-to-staff ratio?
Since the mid-1980s I have not had any staff and ran the business as a virtual office by myself until my older daughter, Chiara, joined me in 1998. Her husband joined us in 2005. My daughter and myself do most of the selling, and my son-in-law provides back up and support.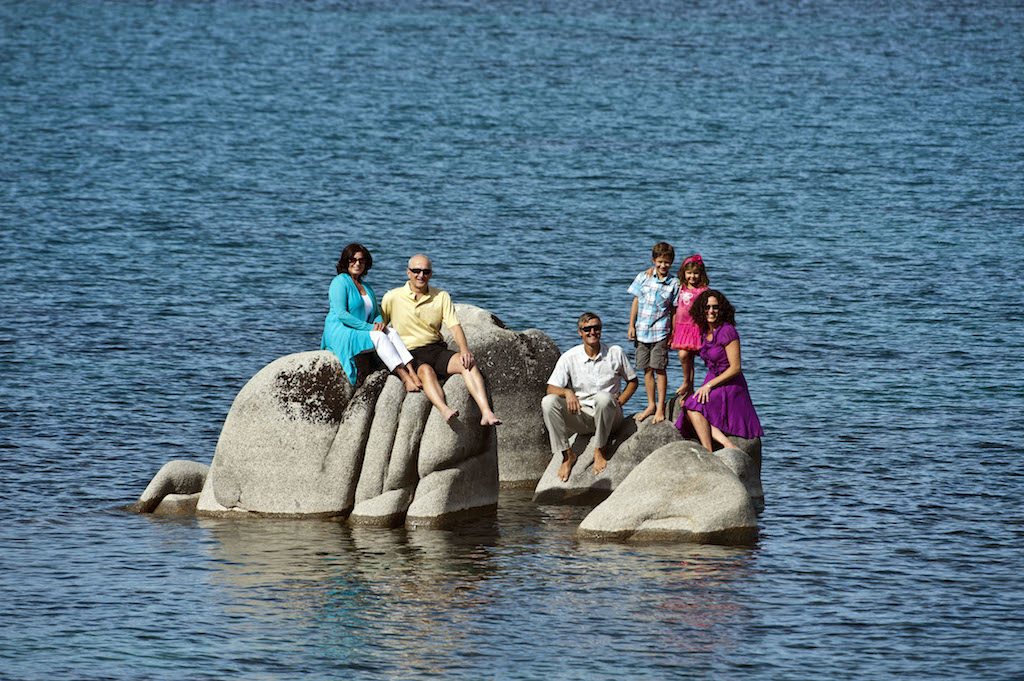 Are you part of an independent brokerage network?
We are members of Who's Who in Luxury Real Estate and Leverage Global Partners.
What's the quirkiest thing about your firm?
The virtual office is the quirkiest thing. We are able to be skiing, traveling, golfing and being with our families while responding to most inquiries via text, email or phone without a client getting an answering machine.
My daughter and her family were in Europe for three weeks in April, and my wife and I went to the Bahamas the month of May. Clients do not care where you are or what you are doing as long as you respond quickly and manage the transactions well.
Describe your office. Where is it located? What does it look like?
Occasionally, clients come to see us at my home and we sit and talk in our living room or dining room. We often have lunch or dinner with them.
We have had one client and their family stay with us for four days during the 2000 celebration because their new luxury condo was not quite ready. They were unable to secure a place to stay so at the last minute we had their family with four kids stay at my home and my daughter's home. The clients have since purchased and sold five lots, six condos and one home over the past 15 years, and have become great friends.
What kind of floor plan do you use?
We do not have a floor plan. We just answer the phone without a machine 95 percent of the time, respond to texts immediately and respond to emails as soon as possible.
How many agents and offices do you have?
Three agents with no offices.
How do you recruit new agents?
We have been approached over the years agents to work with us, but we have elected to keep it in the family.
Where and how do you market your brokerage?
Social media, Internet, print, memberships in clubs, sponsorships of sports teams and even logos on our ski jackets so that skiers and snowboarders can strike up a conversation on a chair lift or in a lift line.
Do you have office parties? What are they like?
We have lunch together four or five days per week at my home and are very socially active in our area. We do have an annual appreciation party for all of our past and present clients during the December holidays with sushi and wine.
Describe your brokerage's digital presence. Do you have a website? What publishing platform do you use? Are you active on social media? Which channels?
We have a very successful website, www.lawrencerealty.com. We are very active and have done a presentation to members of Leverage Global partners on social media.
We won the first award given by Who's Who in Luxury Real Estate for the best app in 2013. It was the first year that they had an award for apps. We suggest to both our buyers and sellers to download the free app. Among other things, it allows them to search the 20 closest properties to where their iPhone or iPad is located.
We reached 10,000 likes on Facebook in May. We use ListHub, placing us on numerous national and international sites, Trulia, Zillow and realtor.com. We try to be on the cutting edges of technology, as we have had a large number of Silicon Valley clients who expect nothing less from us.
What would you say are the biggest advantages to operating as an independent brokerage versus as a franchised firm? What are the biggest challenges?
Biggest advantage is control over the business. The biggest challenge is to keep up with the changes in technology.
What sets your brokerage apart? What makes you different from your competition?
We run a very unique virtual business. We have not run into any other real estate companies who operate their business the way we operate our company.
What's the biggest business improvement you made last year? What's the biggest improvement you have planned for this year?
Last year, we began to emphasize videos for our higher-end listings and produce about one a month. We have introduced our office video, which informs people about our company and is attached to our email signatures. We maintain a chat line on our website when we are on our computers.
Are you an indie broker who'd like to participate in our profile series? Email amber@inman.com.
---
Inman Connect San Francisco is right around the corner — register now and save $200!