StreetEasy's condo price index showed:
The value of condos sold in Manhattan during May was 11.6 percent above the market's previous peak in September 2007.
With only 3,778 units on the market, May 2015 offered the lowest number of available condo units recorded during any May month spanning the last five years.
Total inventory declined 2.8 percent from April and was down 7.4 percent from May of last year.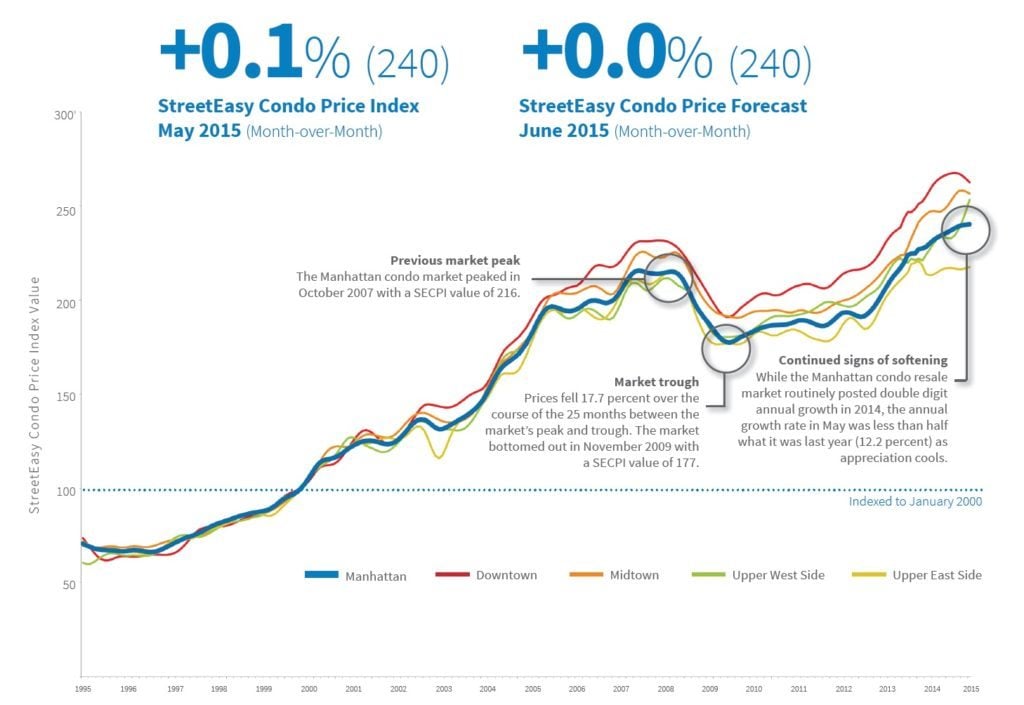 Moody's building materials report showed:
Housing starts will total 1.15 million in 2015 and 1.25 million in 2016.
In May, total housing starts were up 5.1 percent — and total permits rose 26.7 percent — when compared to the same period last year.
Both lumber and plywood dipped by 3.7 percent during the past 12 months, while the cost of insulation dropped by 2 percent.
The Office of the Comptroller of the Currency's mortgage report showed:
94.2 percent of mortgages current and performing.
This equates to a 1.1 percent increase in performance when compared to a year earlier.
Of this portfolio, 58.6 percent of mortgages were serviced for Fannie Mae and Freddie Mac.

Average rents in the U.S. rose 6.3 percent in the past 12 months to an all-time high of $1,150.
Rents also rose by 1.3 percent month over month in June.
Denver (12.4 percent growth), San Francisco (11.6 percent) and Sacramento (11 percent) round out the top five best-performing markets.

The National Association of Realtors' pending home sales index showed:
The PHSI in the Northeast increased 6.3 percent to 93.9 in May, and is now 10.6 percent above a year ago.
In the Midwest, the index declined 0.6 percent to 111.4 in May, but is still 7.8 percent above May 2014.
Pending home sales in the South decreased 0.8 percent to an index of 127.8 in May, but are still 10.6 percent above last May.
Black Knight Financial Services's home price index showed:
Home prices were up 1 percent in April, an increase of 4.9 percent over the same period last year.
At $248,000, the national level HPI is just 7.6 percent off its June 2006 peak of $268,000.
Washington saw the best gains, reporting a 2 percent increase in appreciation since March.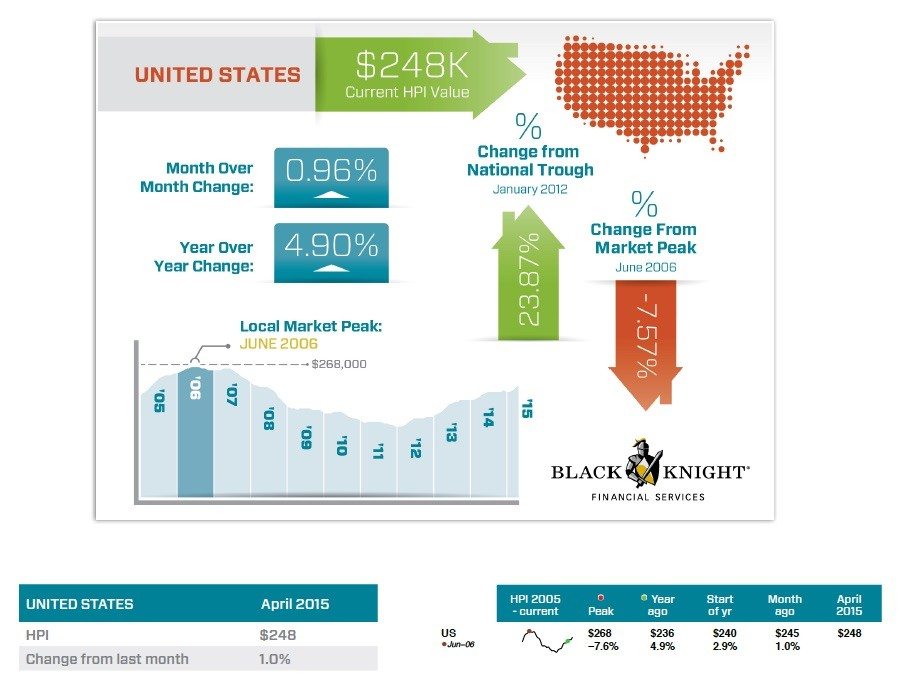 Standard & Poor's/Case-Shiller's U.S. National Home Price Index showed:
10 markets experienced year-over-year price growth that exceeded 5 percent.
Overall, home prices escalated by 4.2 percent during the 12-month period.
Before seasonal adjustment, the home price index increased by 1.1 percent spanning March to April.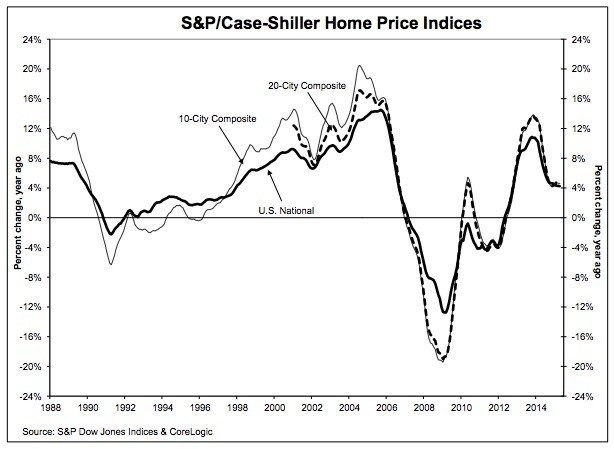 Brown Harris Stevens' Manhattan market report showed:
The average Manhattan apartment sold for more than $1.8 million during the second quarter.
Manhattan has a median condo sales price of $955,000 — a 6 percent rise from a year ago.
The current absorption rate in Manhattan stands at five months, with some neighborhoods as low as 3.1 months.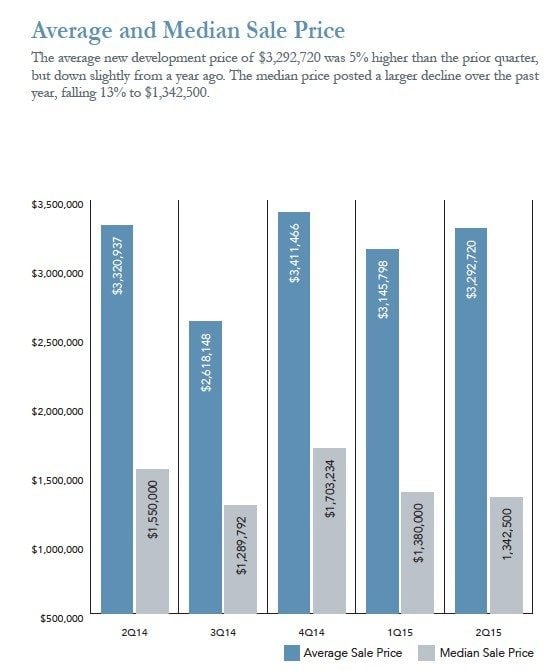 Mortgage Banker's Assocation's weekly survey showed:
Mortgage applications and refinance activity decreased about 5 percent last week.
Adjustable-rate mortgage applications represented 7 percent of total applications.
The refinance share of mortgage activity decreased to 48.9 percent of total applications.
RealtyTrac's U.S. Home & Foreclosure Sales Report showed:
Nearly 25 percent of all home sales in May were all cash purchases.
The share of institutional investors dropped to 2.4 percent of single-family home sales in May.
The most common states for all cash deals in May were New Jersey and Florida, with these transactions accounting for nearly 48 percent of all sales in both locales.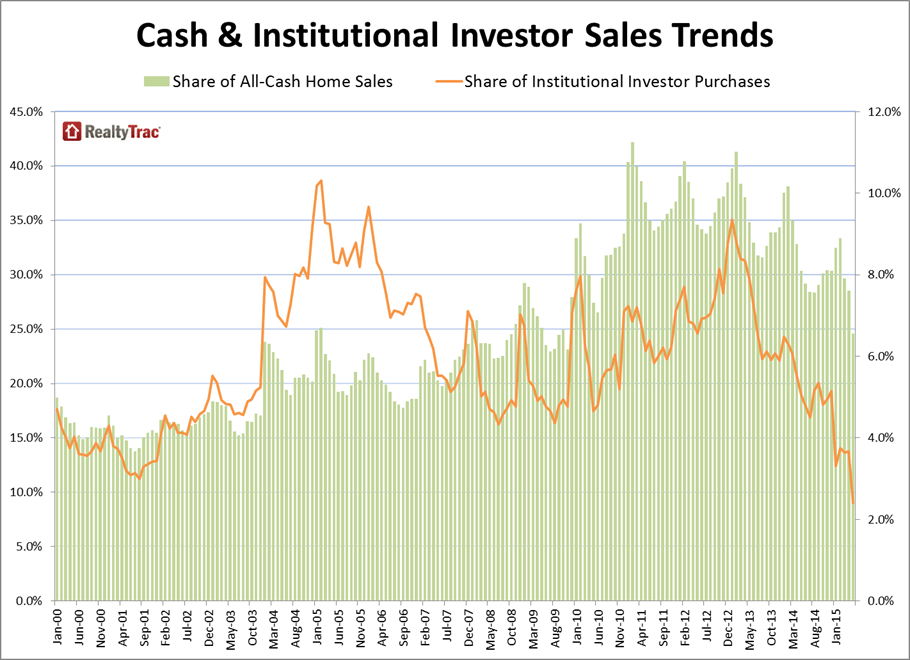 Trepp's commercial-backed mortgage report showed:
Commercial mortgage-backed security (CMBS) originations have increased, with conduits issuing $5.4 billion of multifamily loans during the first five months of this year.
CMBS should issue a total of $9 billion to $11 billion of multifamily loans by year's end.
Last year, banks accounted for nearly 37 percent of all rental lending volume.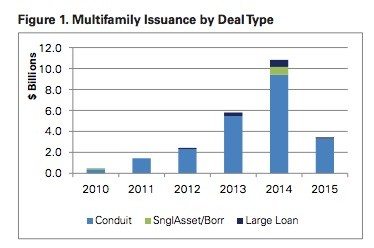 Freddie Mac's Primary Mortgage Market Survey showed:
30-year fixed-rate mortgages (FRMs) averaged 4.08 percent with an average 0.6 point, up from 4.02 percent last week. Last year, 30-year FRMs averaged 4.12 percent.
15-year FRMs averaged 3.24 percent with an average 0.6 point, up from 3.21 percent last week. Last year, 15-year FRMs averaged 3.22 percent.
5-year Treasury-indexed hybrid adjustable-rate mortgages (ARMs) averaged 2.99 percent with an average 0.4 point, up from 2.98 percent last week. Last year, 5-year ARMs averaged 2.98 percent.
1-year Treasury-indexed ARMs averaged 2.52 percent this week with an average 0.3 point, up from 2.50 percent last week. Last year, 1-year ARMs averaged 2.38 percent.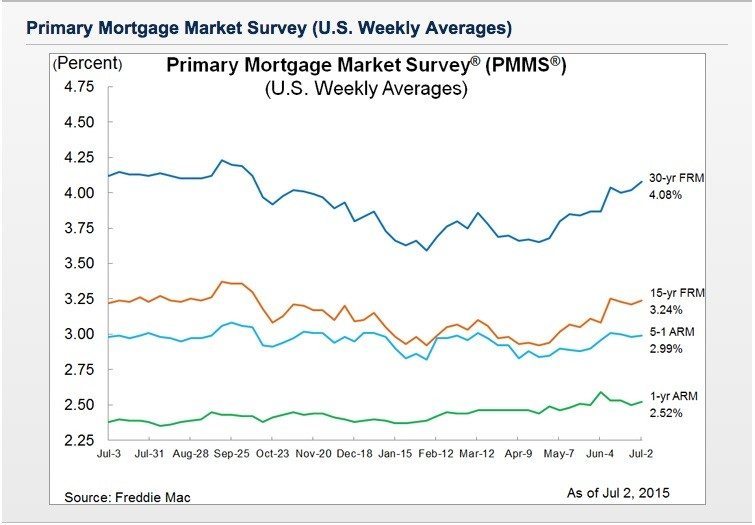 Email market updates to press@inman.com.
---
Inman Connect San Francisco is right around the corner — register now and save $200!