Thanks to a strong job market, more homeowners are able to stay current on their mortgage loan.
Property data analyst CoreLogic reports that foreclosures and seriously delinquent mortgages are on the decline in nearly every state.
According to CoreLogic's May 2015 National Foreclosure Report, foreclosure inventory declined by 27.4 percent and completed foreclosures declined by 19.2 percent from May 2014 to May 2015.
The number of foreclosures nationwide decreased year over year from 51,000 in May 2014 to 41,000 this May, representing a decrease of 64.9 percent from the peak of completed foreclosures in September 2010.
There is also good news about the number of mortgages in serious delinquency, or those that are 90 days or more past due, CoreLogic said. These delinquencies declined by 22.7 percent year over year.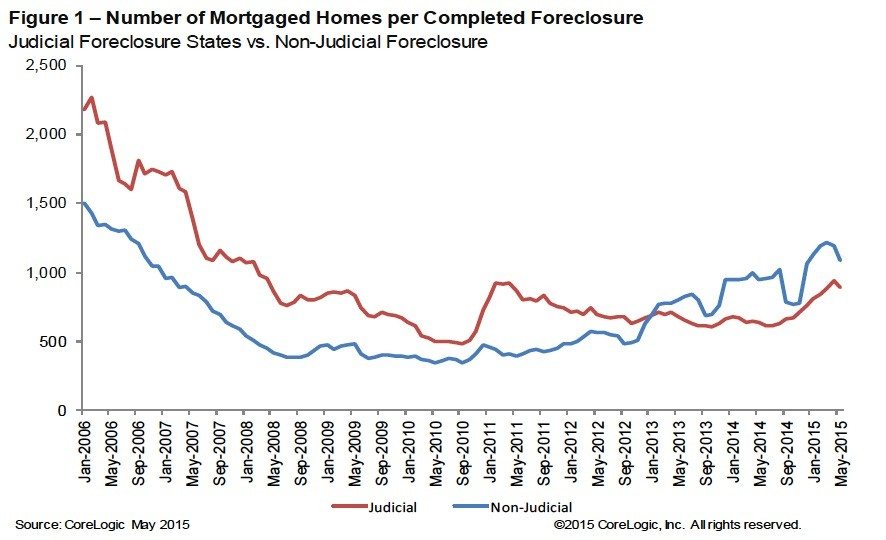 With 1.3 million mortgages falling into this category, this is the lowest delinquency rate reported since January 2008. On a month-over-month basis, the number of seriously delinquent mortgages declined by 3.4 percent.
"With 3 million jobs created during the past year, the improving labor market has helped more borrowers stay current on their mortgage loan," said CoreLogic Chief Economist Frank Nothaft. "Because fewer loans are becoming seriously delinquent, the foreclosure inventory has come down to its lowest level in more than seven years, with only 1.3 percent of loans in foreclosure proceedings."
Both foreclosure and seriously delinquent rates declined in just about every state, CoreLogic said, but levels still remain high in several big markets. New York City and Central Florida still have some of the highest seriously delinquent rates, almost doubling the national level. Default rates are still high in the Chicago and Baltimore metro areas, as well.
The five states with the highest number of completed foreclosures were:
Florida (104,000)
Michigan (46,000)
Texas (33,000)
California (28,000)
Ohio (27,000)
Together, these five states comprised about half of all completed foreclosures nationally.
States with the lowest number of completed foreclosures were:
South Dakota (19)
Washington, D.C. (105)
North Dakota (326)
Wyoming (498)
West Virginia (500)
---
Inman Connect San Francisco is right around the corner — register now and save $200!
Learn secrets from top agents to grow your business — attend Agent Connect!