Takeaways: 
Brokerage lets sellers request home valuations via text message.
The firm's valuations aren't completely automated.
Prompts like this are becoming a common feature of new home valuation tools.
Text an address in the Atlanta, Georgia, area to a phone number (404-800-6438), and you'll receive an automated message asking you to confirm the home's number of bedrooms, bathrooms and square footage.
After confirming or correcting details via text message, sellers are prompted to specify any improvements they may have made to the home, such as finishing a basement, updating a kitchen or bathroom, or "installing new systems."
That's the result of recent media coverage of Virgent Realty, a hybrid brokerage that charges sellers a flat fee of $5,000, said co-founder Jude Rasmus.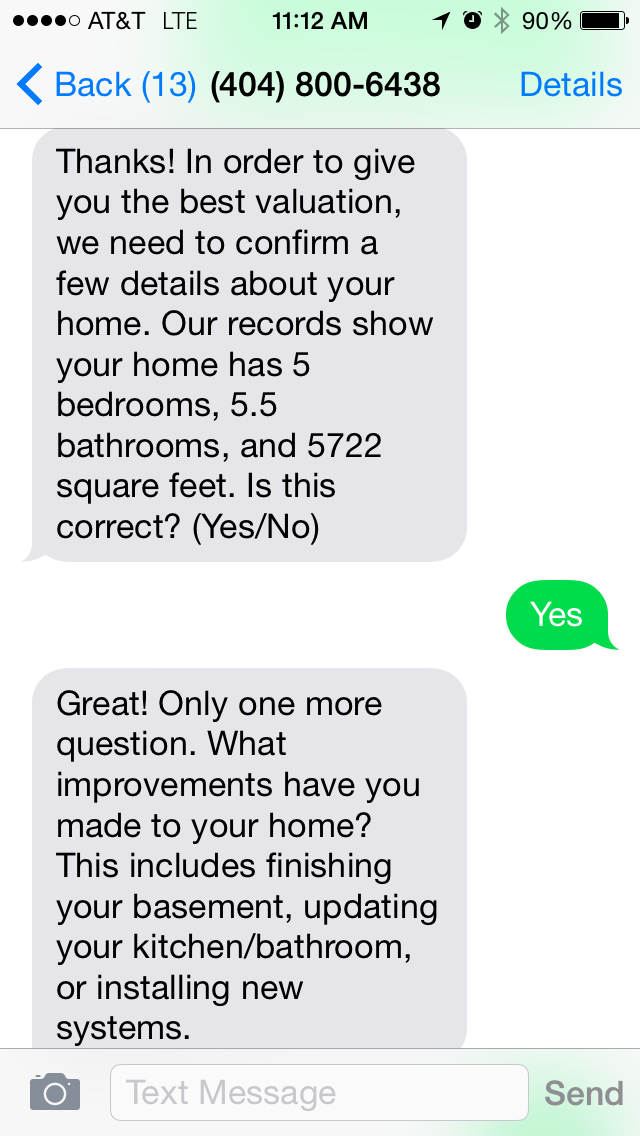 Text message from Virgent Realty's valuation tool. 
Among other suggestions, some millennials advised the firm to allow sellers to request and receive home valuations via text message.
The brokerage listened, Rasmus said.
New home valuation tools on the rise
Prompts like Virgent's text-message bed/bath/square-footage confirmation are becoming a common feature of new home valuation tools, such as the tool that Opendoor uses to make lightning-fast offers to sellers. They combine technology and human judgment to generate an estimate that can be more thoughtful than instant valuations while remaining relatively timely.
"We'll text you back within one business day with our recommended valuation," Virgent Realty says, after the seller has listed any improvements.
Thanks to another suggestion from a millennial, the text won't include the estimate but instead will link to the estimate on Virgent's website.
Incorporating sellers' opinions of home value
The brokerage is also heeding feedback from users by looking for ways to factor a seller's own opinion of the value of their home into its estimates.
At least partly "validating" a seller's view of the value of their home — which is generally much more accurate than in the past, thanks to online tools — is "really important," Rasmus said.
Increasing efficiency
Part of the reason why Virgent Realty says it can afford to charge only $5,000 to sellers is because it uses proprietary software to maximize efficiency, according to Rasmus.
The brokerage's pricing tool for clients, which builds on the estimates Virgent Realty can send to leads via text message, lets a seller set an initial price based on comparable homes and then finalize that price through a discussion with a Virgent Realty agent.
Virgent Realty also allegedly reduces business costs by paying agents salaries, using teams of two to process transactions and communicating only with clients remotely, not in person.