Takeaways:
The San Francisco Association of Realtors is launching a new private social network to ensure more off-MLS deals get recorded into its database.
Real estate social network RESAAS powers the database.
The "MLS Messenger" network launches in approximately two months; other MLSs in hot markets are in discussion with RESAAS to build similar networks.
Nearly a quarter of homes sold in San Francisco never make it to the MLS, according to San Francisco Association of Realtors CEO Walt Baczkowski.
Some listing agents and brokerages keep listings off the MLS to increase the chances that they capture both sides of a deal or to respect sellers' privacy wishes. But a good portion just don't want to deal with the tedium of creating a listing in the MLS in such a blazing market, Baczkowski said.
MLS Messenger allows members to post "lite" versions of listings
That's where the RESAAS-powered "MLS Messenger" comes in. To ensure his MLS records more home sales, Baczkowski brought on real estate social media network RESAAS to build a private service that allows MLS members to quickly post "lite" versions of their listings, which any of its 4,200 members can access.
With MLS Messenger, agents can enter a "lite" listing of just six fields in as little as four minutes. The six fields are:
Number of bedrooms
Number of bathrooms
The home's address
The home's area
Co-brokerage compensation rate
Price
The "prelistings" stay on the MLS Messenger network for 30 days before dropping off if they haven't sold. If a home sells while on the network, its details jump to SFAR's MLS within 30 days of closing.
The service will go live in approximately two months.
The rise of off-MLS deals
While an MLS' marketing role becomes less critical in hot markets like San Francisco, the accuracy of its listing database and past sales data also erodes when a significant number of homes for sale don't appear in the MLS.
Off-MLS deals have skyrocketed in some markets. MLS Messenger joins existing efforts by MLSs, such as the introduction of "Coming Soon" designations, to ensure their data doesn't take a hit even if they're not a listing agent's central marketing vehicle.
Streamlining a listing
A standard SFAR listing requires agents to fill out 40 fields. "By the time agents fill out the listing, they could have sold the home three times," Bacskowski said. Communication in the MLS system is "awful," he added.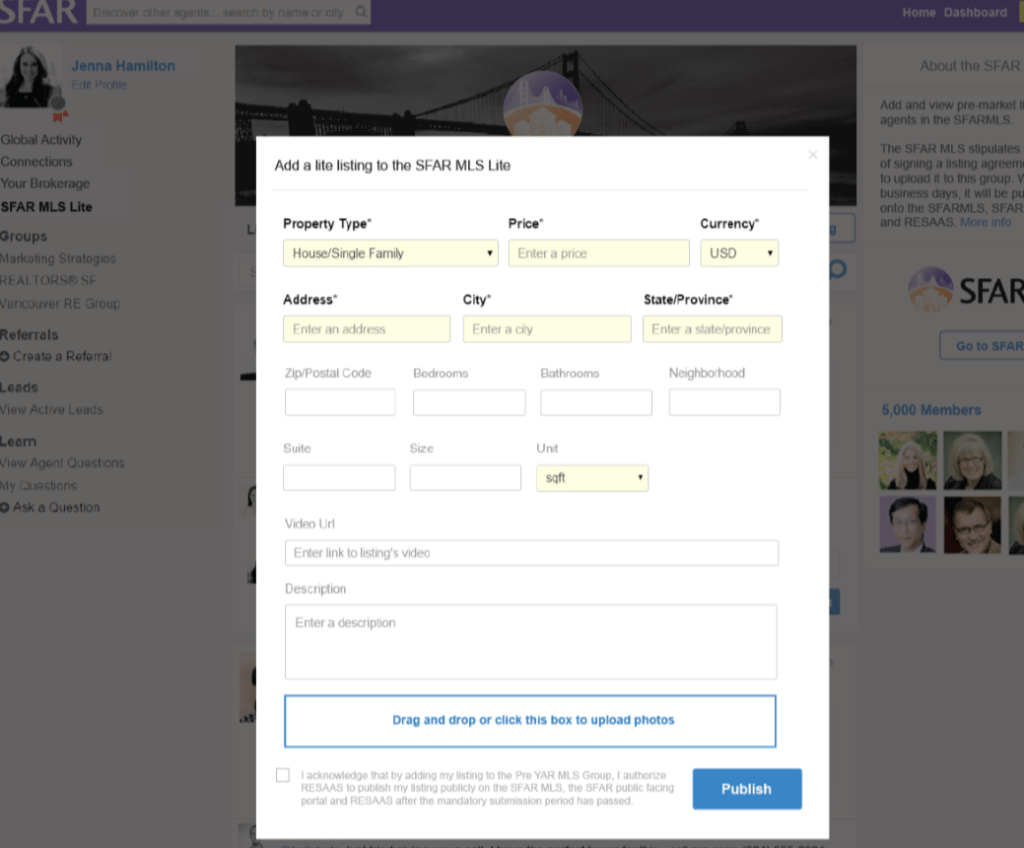 Sample of SFAR's MLS Messenger "lite" listing form.
RESAAS has integrated the MLS Messenger database with SFAR's MLS software provider, Rapattoni, so agents don't need to re-enter data.
Any of SFAR's members can access all the listings in the database at any time and can set up alerts that notify them when a house with specific characteristics hits the database.
Agent alerts, communication and cost
Agents can alert specific groups — like other agents in their brokerage — to their new prelistings in the database.
MLS members can also leverage MLS Messenger and RESAAS' Facebook-like design to communicate with each other.
SFAR will pay a flat monthly fee for the service and may pass off some of the expense to agents, who use it at a rate of $2.50 per month, Baczkowski said.
RESAAS is in discussions with MLSs in other hot markets to build similar premarket networks, according to RESAAS President Tom Rossiter. The service's fee structure is flexible, he added. In some cases MLSs will absorb more of the cost; in others, they'll pass more of it on to members.
Editor's note: This story has been updated to note that the MLS Messenger fee structure is flexible and may vary from MLS to MLS.