Inman is profiling independent brokers for a new series. Here's Jami Bertrand of Elite Real Estate Services.
Why do you stay independent when there are so many great franchises to join?
The fact that there are so many great franchises to join is exactly why I choose to stay independent. We get to establish our own rules and are able to adapt to the ever-changing state of real estate without having to wait for corporate to jump on the trends. By the time most of them adapt, we're on to something else!
When did you decide to launch your independent brokerage and why?
I decided to launch my firm, Elite Real Estate Services, in July of 2014. I was licensed with a national brand that has been around for nearly 50 years … their commission structure reflected that.
What factored into that decision?
The major factor was being on a 50/50 commission structure, with my portion of the 50 percent going toward fees and marketing. Along with that, the support wasn't there; it was too stuffy an atmosphere. Real estate just wasn't fun anymore.
Why did you think it was the right time and the right move for you?
I knew it was the right time because I always stood out. My marketing perspective is young, hip, fresh, fun … I mean, let's face it, the millennials will be (if they are not already) the driving force behind real estate and technology. I felt like I wasn't living up to my full potential; I reached the point where I no longer wanted to get out of bed; the motivation just wasn't there. However, I never lost the love and passion for real estate.
What was the biggest challenge you faced in getting your brokerage off the ground?
The biggest challenge was trying to land relocation contracts with companies like Cartus and Weichert Relocation.
What was the easiest part of getting your brokerage off the ground?
The easiest part was attracting the right agents to join my team. I secured agents without recruiting. I had agents who left my former brokerage prior to me securing brick and mortar. They just saw the vision and believed!
What's your approximate agent-to-staff ratio?
Currently, my husband and I run this company. Together, we manage seven agents.
Are you part of an independent brokerage network?
We are not a part of any independent brokerage network.
What's the quirkiest thing about your firm?
I would say the quirkiest thing about our firm is, oftentimes we show homes in Converse. Kinda cool, huh? LOL!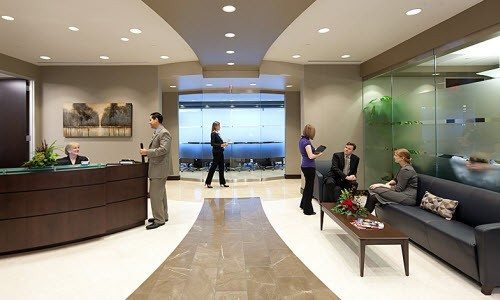 Describe your office. Where is it located? What does it look like?
Our office is located in an affluent suburb named Sugar Land. We are in what's called a Town Center. Lots of shopping and fine dining. We are in a class A building with a mortgage bank and luxury homebuilder. It's very chic and inviting — marble floors, glass doors, one board room, one conference room, one training room and a lounge for our social events and open houses, which also houses four cubicle spaces.
What kind of floor plan do you use?
Our floor plan is more open, with private areas (the boardrooms) to conduct business.
How many agents, offices do you have?
We have seven agents and one office.
How do you recruit new agents? 
We occasionally recruit at the local real estate schools. However, agents have been joining by either social media or word of mouth.
Where and how do you market your brokerage?
We market our brokerage on almost all of the real estate sites, "Homes and Land" magazine, our personal website, social media. We are big on charity, so we sponsor a lot of events. I personally took a different approach to marketing by freelancing for the Houston Chronicle, "Houston Style Magazine," "Houstonia Magazine" and others. Not just about real estate, but about lifestyle, which is a major part of real estate.
Do you have office parties? What are they like?
We do have social events, not about real estate, but networking and getting to know other professionals, wine tastings and so on. The catch is, the invites are exclusive. What I'm trying to achieve is making and establishing valuable connections.
Describe your brokerage's digital presence. Do you have a website? What publishing platform do you use? Are you active on social media? Which channels?
I think I may have answered part of this question above. However, our web address is www.texaseliteliving.com. We market using Yelp, Twitter, Facebook, Instagram and LinkedIn.
What would you say are the biggest advantages to operating as an independent brokerage versus as a franchised firm? What are the biggest challenges?
The biggest advantage is, I make the rules, I set the stage and I'm accessible to my agents; there are no gatekeepers.
The biggest challenges … there are no gatekeepers! I have to run everything in addition to being accessible for agents and clients, as I'm still an active selling broker. Catch-22, right? But it's worth it.
What sets your brokerage apart? What makes you different from your competition?
What set us apart is we're ahead of the curve, and we're technology-driven. Although independent, we're streamlined. We're bold, faster, new, trendsetters. If people like you, they'll listen to you. If they trust you, they'll do business with you. We are speaking the language of the new generation, but we also walk the walk.
What's the biggest business improvement you made last year? What's the biggest improvement you have planned for this year?
The biggest improvement I think we've made was to delegate. Our plan is to open another office in the fourth quarter of 2015.
Are you an independent broker who'd like to participate in our profile series? Email amber@inman.com.