In Town has a pretty balanced real estate market on an annual basis
South End saw a whopping 45.2 percent increase in home sales
Average and median sales upticked in Estate Section
The Valore Group, a division of Keyes Luxury Real Estate, recently released its third quarter market report for Palm Beach.
North End | Palm Beach Island real estate
The market always extends a warm welcome to stable trends, and sales and prices were just that. Even with a few declines in metrics, the underlying tones of the market are quite positive this quarter.
Single-family residential sales experienced some drops in average square footage, but closed sales increased.
Top sale: $14.5 Million
1320 N Lake Way is a lakefront villa that includes more than 6,200 square feet of living space with eight bedrooms and eight bathrooms. The estate includes a courtyard entryway, four-car garage, deep-water dock, two cabanas, a guest house and a huge pool.

Estate Section | Palm Beach Island real estate
A quiet third quarter in the Estate Section saw two closed sales with a lower average square footage. However, average and median sales prices, plus price per-square-foot roared ahead. All three benchmarks jumped.
There were fewer sales but higher prices in the estate section this quarter.
Top sale: $14 Million 
650 Island Drive was built in 2007 with 6,630 square feet of living space. The five-bedroom, five-bathroom, Venetian-style villa includes a large boat dock with lift and two climate controlled wine vaults. Kicking back with a glass of wine by the water never sounded so good.

In Town | Palm Beach Island real estate
There were fewer sales this quarter, but prices and average square footage were both up across property types. All told, five fewer sales in quarter three 2015 versus the same time in 2014 is still representative of a balanced sales market.
Price per-square-foot jumped for condo/co-op/townhomes, while median sales price fared well for single family homes.
Top sale single-family: $11.9 million 
15 S Lake Trail is a classic waterfront estate from the 1920s, complete with seven bedrooms, seven-and-a-half bathrooms and plenty of outdoor patios for leisurely sprawl and Intracoastal waterway views.
Top sale condominium: $4.2 Million 
419 Chilean Ave Unit 3 is in great condition and features an exterior reconstruction from 2014–2015, landscaping, copper drains and wonderful floors. This is condo living at its finest.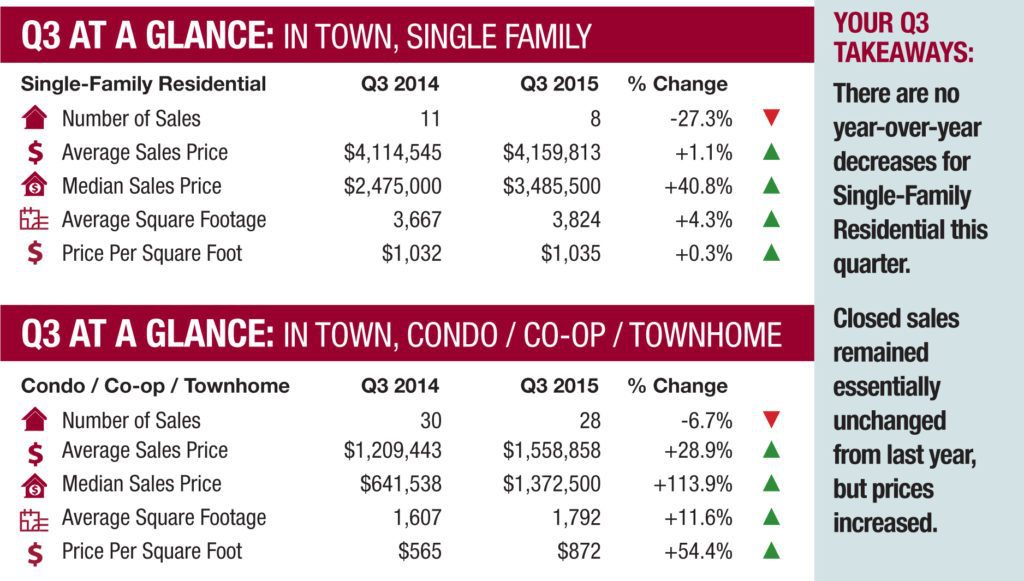 South End | Palm Beach Island real estate
At a time of year when a seasonal drop in activity is expected, the total number of sales increased by an impressive 45.2 percent.
Sales were up dramatically but prices remained roughly the same. More inventory will likely create more of the same.
Top Sale Single Family: $3.2 Million
2244 Ibis Isle W Rd is a three-bedroom, two-and-a-half-bathroom Bermuda with 100 feet of Intracoastal and a complete renovation, including new roof, windows, doors, marble floors, bathroom and kitchen with modern amenities.

Kevin Leonard is the founder and CEO of Luxury Agent Coaching.