The NAR Realtor Confidence Index for November showed the same good feelings as in October.
San Francisco has an average home price at well over $1 million
The state of California is primed for strong growth the next six months for single-family homes, condos and townhomes.
Even though the real estate market is humming along, realtor confidence just held steady in November.
According to the most recent research report into matters of the market, the National Association of Realtors (NAR) the overall mood is optimistic.
The November 2015 version of The Realtors Confidence Index (RCI) is based on the responses of 2,643 Realtors about local market conditions they saw for that month. The respondents are also questioned about a variety of aspects of their most recent sale in that month.
The survey respondents were upbeat about the economy and issues related to credit accessibility for homebuyers. Low unemployment and interest rates showed that the optimism still had momentum. The housing market continues to recover, and attempts to ease the burden of borrowing and increase credit accessibility was helping buyers get back in the game in large numbers.
The state of California is one considered to have a strong outlook for the next six months for single-family homes, condos and townhomes. Buyer traffic conditions are also strong in the state.
Many of those recent buyers were testing the waters for the first time: 30 percent of November's sales were to first-timers. That percentage stayed consistent from October's reading.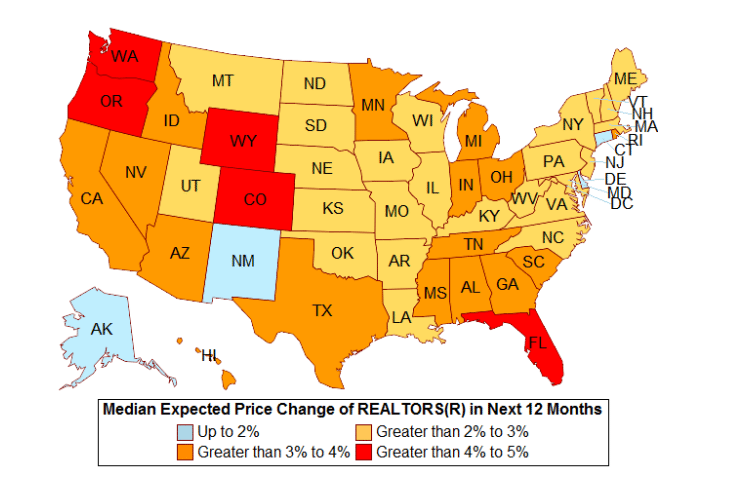 The recovery of the market is showing signs of stress from a variety of sources. The October implementation of the TILA/RESPA Integrated Disclosure (TRID) regulations is cited in a slowdown in the settlement of contracts and some express the opinion that TRID is impacting sales.
Proof that that opinion may be rooted in real experience was in the fact that the days to close a sale did tick upward quite a bit of late. According to the November survey, it typically 40 days to close a sale, up from 35 days in July 2015.
Across the country, and most definitely in the larger cities, markets are constrained by slim inventories, decreased affordability, and ramping up of credit standards. Some markets, like Washington, D.C., have struggled with inventory around the two-month supply mark for more than three years.
And in the larger metros, properties just don't linger on the market very long. San Francisco is the poster child for eye-popping prices, with an average home in that county going for well over $1 million.
Median home prices are expected to climb higher next year. In the state of California, the 12-month change is anticipated to be 3 percent to 4 percent or greater.
The NAR RCI survey was conducted online from December 2-9, 2015. The research team also points out in the report that "all real estate is local" and individual market results and opinions may vary from national numbers.