Nationwide rents grew 0.9 percent in May over the previous month and 6 percent on an annual basis.
Chicago occupancy rates reported at 96.5 percent in April 2016, which was unchanged from the previous month.
Rent is forecasted to grow 2 percent by the end of 2016 in Chicago.
Rental prices continue to make strong strides, growing month by month and year by year. According to Yardi's month survey of 119 metros throughout the nation, the U.S. saw a rent increase of 6 percent in May 2016 since May 2014 to another all-time high of $1,204.
The rental market is holding on, increasing about $10 over April, or 0.9 percent. Housing market forecasters are still banking on the transition of millennials turning from renters into homeowners, but the rental market is reaping the benefits in the meantime.
Seattle, Sacramento and Portland posted the biggest gains, all above 11 percent. The three cities were pretty close to one another in gains and about 4 percent higher than the fourth highest city, Pheonix. Houston saw the smallest increase in year-over-year rent growth.
Miami and Las Vegas were the closest cities to neutral in terms of growth, with Miami posting slightly lower figures.
In the 12-month trailing average from April, national rents in all asset classes increased 6.3 percent. Mature markets like Washington D.C. and Richmond have remained toward the bottom end of the totem poll with rental growth, but Houston fell six spots in May. Washington D.C. remained in the same slot.
Miami dropped below the neutral line, falling three spots and putting it below the national average. Miami nearly flip-flopped with Las Vegas, which bumped up three spots.
Occupancy rates are historically high
Yardi Matrix expanded its coverage into occupancy rates throughout the nation on average and on a market basis. In April 2016, the occupancy rate was 96 percent over April 2015's 95 percent.
The report found that even markets on the low end of the spectrum are doing well by historical standards. In the coming year, occupancy rates are expected to decline.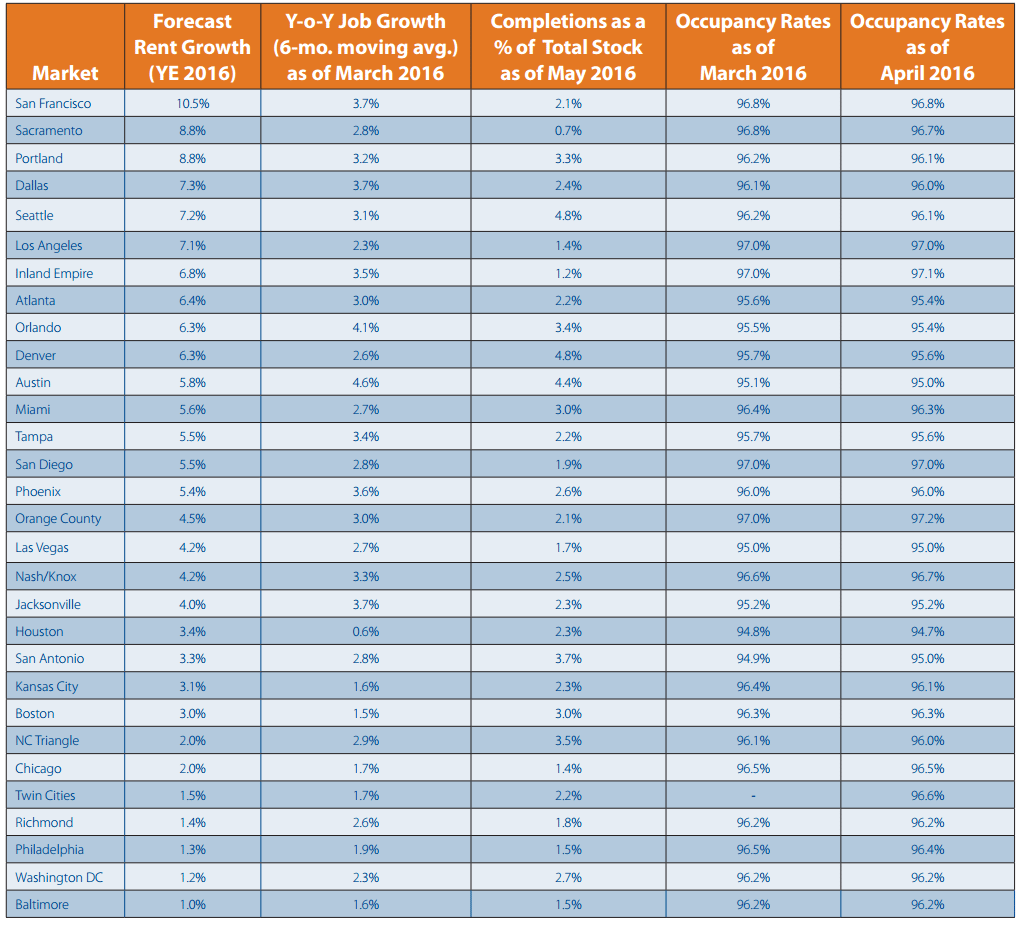 Occupancy rates in Chicago are fairly strong, remaining consistent month-over-month in May at 96.5 percent — but rent growth isn't expected to be much. The year-end 2016 forecast rent growth for Chicago was 2 percent, far below the top growth city of San Francisco — although, to be fair, every city outside of the Northwest is.
And while renters are a big population in Chicago, job growth seems to be playing a role in keeping rental prices down. Year-over-year job growth in Chicago as of March 2016 (based on a six-month moving average) was 1.7 percent.